Thames Valley League division 2 match played at the Willoughby Arms, Kingston on 14 March 2022
Maidenhead A came to Fortress Willoughby sitting proudly atop division 2 of the Thames Valley League, having pushed past long-time leaders Richmond B. They had come well prepared too, with a team averaging close to 2000 in rating terms. Maidenhead have not always been the best of travellers – they do, after all, face a lot of long away journeys – but this season have been performing well and this was a good team to muster for an expedition to Kingston in mid-March. It was certainly stronger than the team that lost 4.5 to 1.5 away to Surbiton B a month ago. Some stops had been pulled out as they eyed promotion.
But we were also strong, with Peter Lalic and David Maycock – the two young players whose arrival has galvanised Kingston this season – on boards 1 and 2 and a matchless set of Kingston stalwarts on boards 3 to 6: FM Julian Way, club chair John Foley, club secretary (and Scottish international) Alan Scrimgour and Jon Eckert, who had been in tremendous form this year. All marshalled by another great Kingston veteran, Nick Grey, in the continuing absence of yours truly, who is still trying to get over brain-deadening Covid and writing this report on the basis of scraps of information what's-apped by Nick and the faithful band of Kingston supporters on the night. We have actually been doing rather well in my absence, and I sense a growing movement to keep me locked away at home.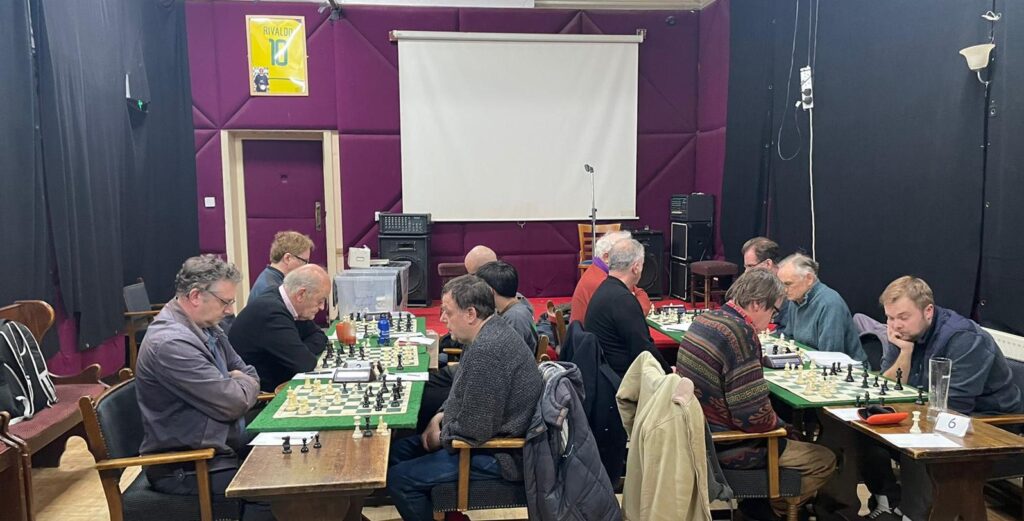 We had lost to Maidenhead when we made the reverse journey at the start of the season, but we had been without Lalic and Maycock that night, though the other four had all played. Having the two young guns on the top boards, though, changes the complexion of the team, and we surely started as warm favourites, despite the wealth of experience in the Maidenhead ranks, animated by their excellent captain Nigel Smith.
That prediction was rapidly born out. Playing White, David Maycock made short work of beating Anthony Milnes on board 2 in an Advanced French, and Alan Scrimgour, playing a sharp line of his trusty Sicilian, put Kingston 2-0 up with a smooth success against another veteran, Nigel Dennis, on board 5. With Jon Eckert a piece to the good on board 6, it all looked very promising for Kingston.
Eckert eventually overcame his opponent's concerted efforts to get a perpetual and converted his winning position, and John Foley, appropriately given his pivotal position at the club, secured the draw against Nigel Smith that took Kingston over the winning line. There was, though, a sting in the tail, with Charles Bullock beating Julian Way on board 3 in a Benoni that had at one point seemed to favour Black, and Stephen James making light of a 200-point rating difference to get a draw with Peter Lalic on board 1.
That made the final score 4-2 to Kingston, who are gradually manoeuvring themselves into the promotion fight and can start to dream of a berth in the bearpit that is Thames Valley Division 1 next season. But there are five tough matches still to come, with a crucial visit to promotion rivals Richmond B looming next week, so the ginger beer has not yet been put on ice.
Stephen Moss, (still indisposed) Kingston Thames Valley captain