Kingston Chess Club serves the chess-playing community on the borders between south-west London and Surrey. We have been around since at least 1880, making us one of the longest-established clubs in the UK. We are also among the friendliest.
Where we meet
We meet every Monday at the Willoughby Arms, a splendidly welcoming and idiosyncratic pub situated at 47 Willoughby Road, Kingston upon Thames KT2 6LN, close to both Kingston and Norbiton railway stations and Kingston's main bus depot (all a 10-minute walk away). Matches and organised events usually get under way at 7.30pm.
Visitors are welcome
Club officials are sometimes there a little earlier to welcome members, play some social chess and start preparing the room for whatever activity is planned for that evening. The club meets and plays competitive matches and social chess in a large, sound-proofed room upstairs, but the gardens (which have heated areas where chess can be played) and bars are also well used. Whatever your chess strength, do come along and give it a try.
We play in a traditional pub
The pub is in a warren of similar-looking Victorian suburban streets and you might get lost when you first look for it. But persevere: it will be worth it. The landlord, Rick Robinson, is great fun and a keen supporter of the club; his son Jack also plays from time to time, when he's not playing pool against Peter Lalić (one of our strongest players – at both chess and pool). A traditional Irish music group meets downstairs on Mondays and, from the chess-playing room upstairs, you can occasionally catch a traditional air drifting on the evening air.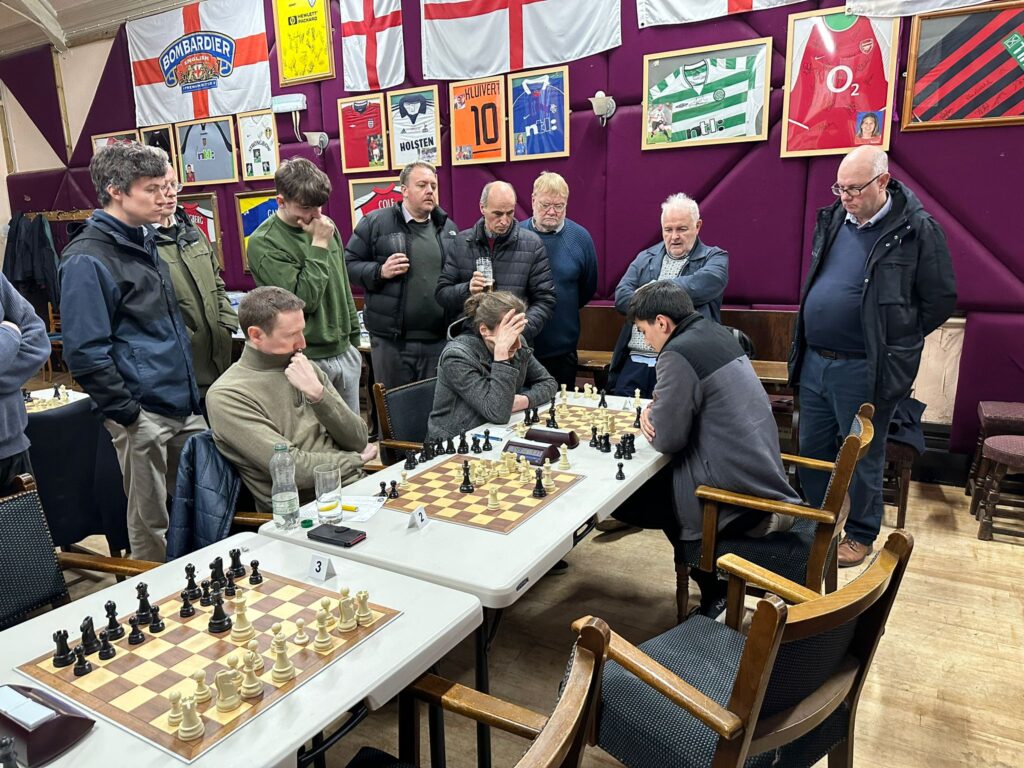 Competitive and social chess
We play competitive chess in both the Surrey and Thames Valley leagues (see below for details), but we also strive to offer social chess and a variety of activities – simultaneous displays by titled players, talks, demonstrations, study groups, mentoring by strong players – that encourage newcomers, allow them to explore chess and help make them better, more complete players. We don't believe that sitting around playing endless blitz is either fun or instructive. It has its place, but we want to offer something more structured and more progressive. We also don't believe in a club that is run for strong players who just want to play match chess. At Kingston, everyone who comes along and makes a contribution is equal, whether you're a master-strength player or someone who became fascinated by chess because you saw The Queen's Gambit on Netflix. We want our strong players to be fulfilled and our new players to be fascinated – and over time to become highly competitive and creative players.
The club aims to strike a balance between competitive match chess and social chess. It accepts that match chess is at the heart of the life of a chess club, but insists that social players must not feel excluded and supports the idea of joining league feeder divisions intended to give new players match-playing experience, with its requirements to score and observe certain playing conventions. Match chess should not be a closed circle, and where new players want to become tournament players – which means joining the English Chess Federation, learning how to keep a score of their game and transitioning from the mentality of five-minute blitz to a couple of hours of deep thought – we promise to help them.
Recent club successes
The club has been on a successful run in recent times. We won the national team championships known as 4NCL (4 Nations Chess League) when it was online in 2020. In the 2021/22 season, as chess (and the country generally) emerged from the pandemic, we entered five competitions and won all of them. We are most proud to have won the Alexander Cup, the Surrey open team championship, for the first time since 1975/76. Also in the knockout format, we won the Lauder Trophy, the Surrey competition with the teams constrained to a maximum total rating. In the leagues, we dominated Surrey League division 2, winning the Beaumont Cup. We also won division 2 of the Thames Valley League with two matches to spare. We were fortunate to win division 4 of the Surrey League by a margin of half a game point and gain the Centenary Trophy.
The 2022/23 season was even more successful, historic even. The club achieved a unique "Quadruple" – winning the Surrey League for the first time since 1975, the Thames Valley League for the first time since 1984, the Alexander Cup for the second year in a row and the Thames Valley Knockout for the first time since 2012. This incredible Quadruple is not just unique to Kingston. As far as we know, no club has ever managed to win the two first division titles and the two premier knockout trophies in one season. It was a remarkable performance, and left us wondering what we should aim for now. We are at the summit, peering down slightly anxiously.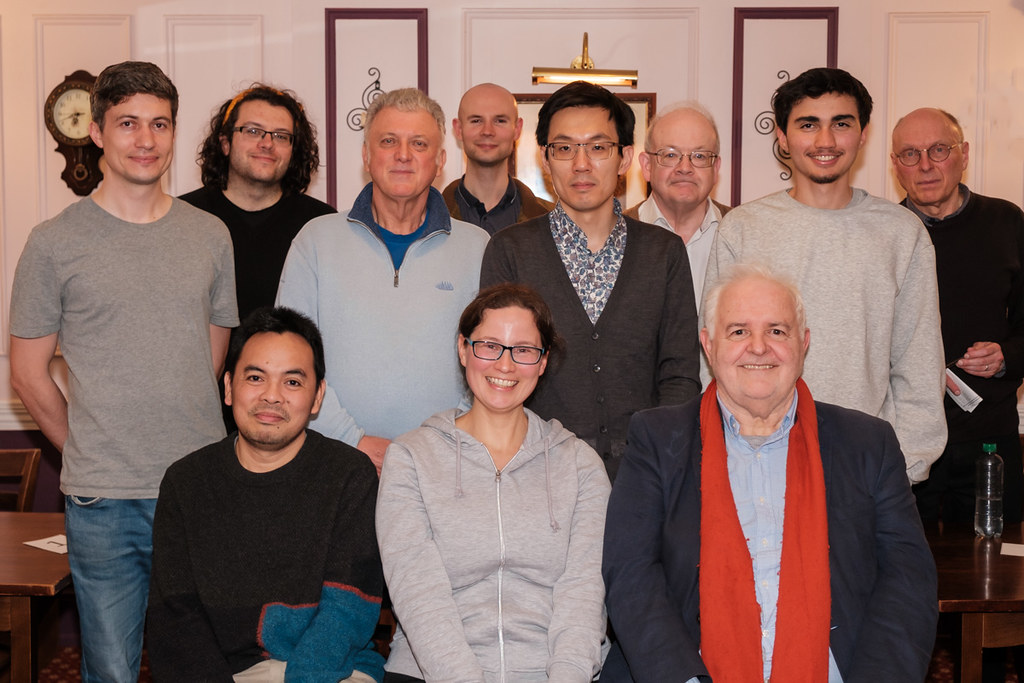 We encourage you to come along
So please come along to the Willoughby, where you will receive a warm welcome. Matches against other clubs, if we have one that evening, usually start at 7.30pm, as do talks, mini-tournaments and other events, but even when a match is in progress there will be an opportunity to play social chess – quietly in the playing room (because formal matches do need tranquillity) or more raucously in the other parts of the pub. If you arrive a little before 7.30pm you may find one of the club officials already in residence, ready to welcome members and preparing the playing room for whatever activity is planned that evening.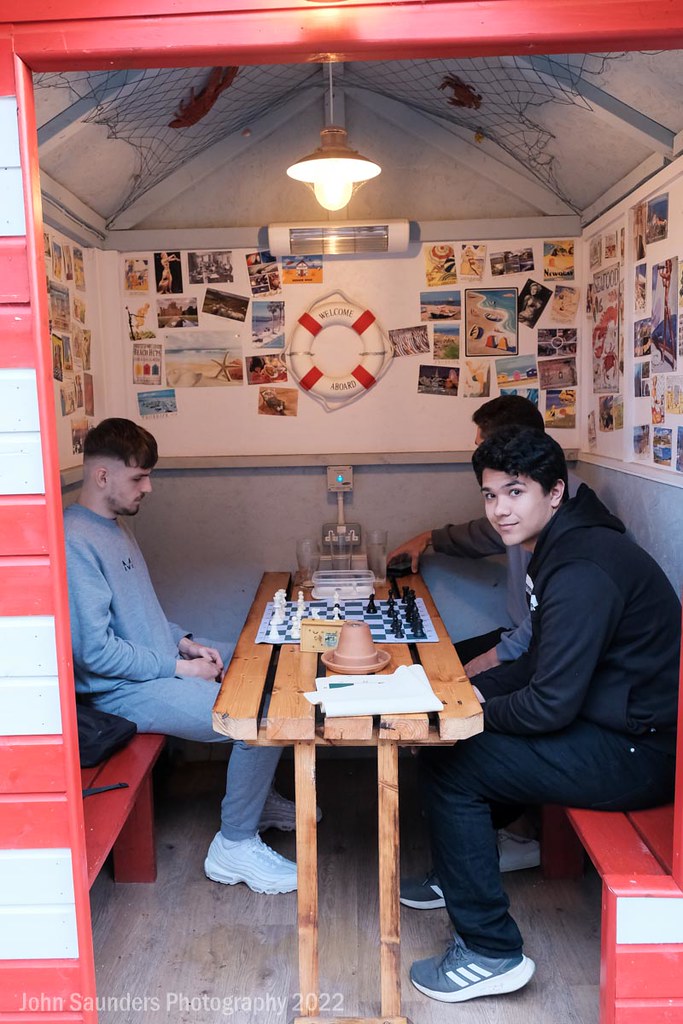 A buoyant, booming club
We don't have all the answers to creating a buoyant, inclusive chess club – in an era when clubs generally have been in decline as internet chess has taken over and work patterns have changed – but we are looking for them and would love you to join our quest. Veteran chess-watcher Leonard Barden recently said in his Financial Times column that the Kingston club was "booming". This may be a slight overstatement, but we intend to prove him right over the next few years as we head towards our 150th anniversary in 2025.
You can follow and contact the club via its Twitter account. But better still, come down to the Willoughby one Monday and start playing.
Level of play
We cater for all levels of play from beginner to international master. The annotated games on this website give you an idea of the thoughts that go through the heads of our players. We encourage each of our members to write up at least one of their better games during the season.
Juniors
We accept juniors on the condition that they are accompanied by a parent or responsible adult for safeguarding reasons. We do not impose any entry restrictions on anybody older than 16. Note that some of our members are DBS-checked.
Leagues
Surrey League
We play teams from around the county at home or away. We run Kingston teams in the Surrey Trophy (ie first division), the Beaumont Cup (second division), the Centenary Trophy (fourth division) and the Minor Trophy (fifth division), as well as in two knockout competitions – the Alexander Cup and the Lauder Trophy. Matches take place from September through to May, leaving the summer free for social chess and special events.
Thames Valley League
We run Kingston teams in the first and second divisions of this league – and in Div X, a training league for new players. Matches take place in the Thames Valley area from September to May.
4NCL
We run two teams in the Four Nations Chess League (4NCL). Our first team comprises eight players and is in the second division. Our second team is in the third division. The team is a joint venture with Chess in Schools and Communities (CSC).
Membership fees for 2022-23
The annual club subscription is £30. This is the lowest cost of any hobby that the world has ever seen. The money goes towards running the club, subscriptions, equipment and league fees.
For details on how to join, go to our membership page