Alexander Cup final between Kingston and Wimbledon, played at the Adelaide, Teddington, on 16 June 2022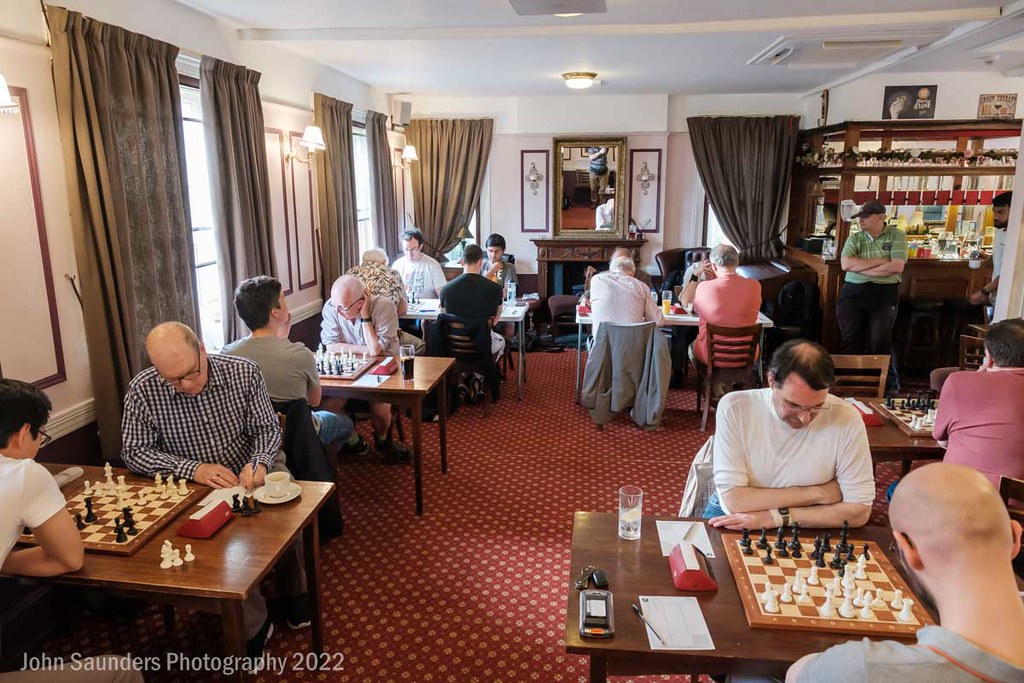 This match meant so much to Kingston. The club had not won the Alexander Cup, Surrey's premier knockout competition, since 1976 – 46 long, often frustrating years. We had come through the earlier rounds at a canter and were now up against Wimbledon in a match played at the neutral venue of the Adelaide pub in Teddington, home of Richmond and Twickenham Chess Club, to whom thanks are once again due for hosting the final.
Before the start of the match, Wimbledon's Russell Granat paid tribute to his long-time team-mate Nick Keene, whose death had been announced on the very day of the match. Keene was a strong player who had been associated with Wimbledon for many years. His playing style was highly original – early cramped positions suddenly bursting into life, as Granat explained – and he was noted for his sporting and gentlemanly approach to the game. The players stood and observed a minute's silence in Keene's honour.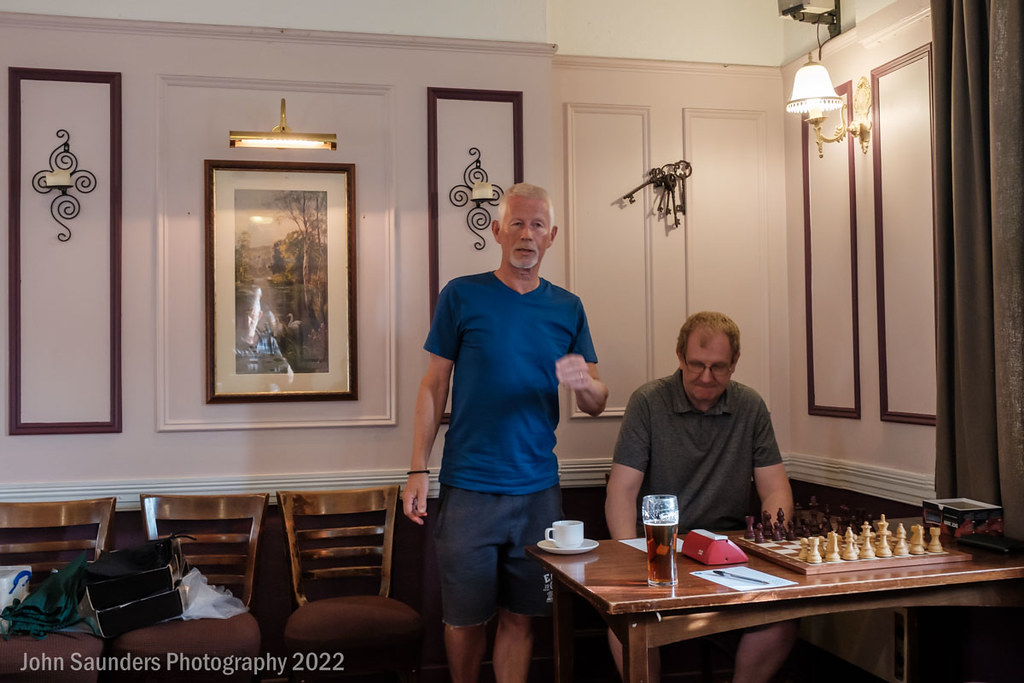 Wimbledon had brought a strong team to the final, spearheaded by IM Alberto Suarez Real on board 1. So strong, in fact, that John Foley, who had intended to be non-playing captain, decided at the eleventh hour to play himself, exchanging roles with Jon Eckert, who, freed from playing responsibilities, captained Kingston on the night. Eckert also won an important toss, giving Kingston's board 1, Mike Healey, White against Wimbledon's IM.
We had hopes of picking up points on the lower boards, where we outrated Wimbledon, but as so often those hopes were to be confounded. Indeed, we were quickly in trouble on board 8, where Ivan Georgiev was struggling against rising star Shahvez Ali. A recent win against Coulsdon's Chino Atako tells you just how good young Ali is, and his official Surrey rating of 1773 (set back in August 2021) gives no clue as to his true strength. His live ECF rating is 1988 and he is clearly a 2200-plus player in the making.
Ali played a mainline closed Catalan and, by advancing his b and c pawns, exerted early pressure. Georgiev went wrong, was forced to give up a piece for a pawn, and by move 23 was effectively busted. He bravely fought on, blitzing out another 40 moves, but the game was up, and Wimbledon had first blood. Captain Eckert and the Kingston contingent who had come along to support were aghast.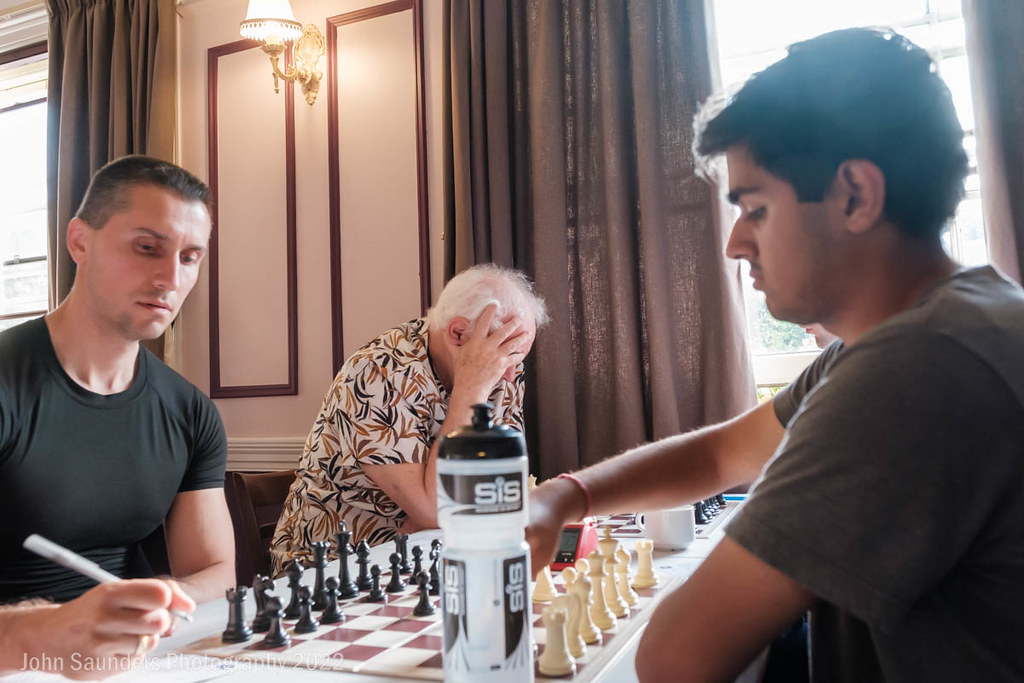 Things were not going according to plan. Foley was doing well on board 7 and so was Alan Scrimgour on board 9, until he missed a combination that would have netted two pieces for a rook. But Vladimir Li, whom we had considered our banker on board 4, was in trouble in the opening, most of the other games were level and the rarefied proceedings on board 1 were largely impenetrable.
Still, accentuate the positive. Foley, who this week was elected president of Kingston Chess Club, opted for the mildewed London System and played a beautifully controlled game, picking up a couple of pawns before polishing off his opponent with what we can only call a "cheapo" that either won a piece or forced mate. His opponent, Oliver Weiss, decided to fall on his sword: 1-1 and match on.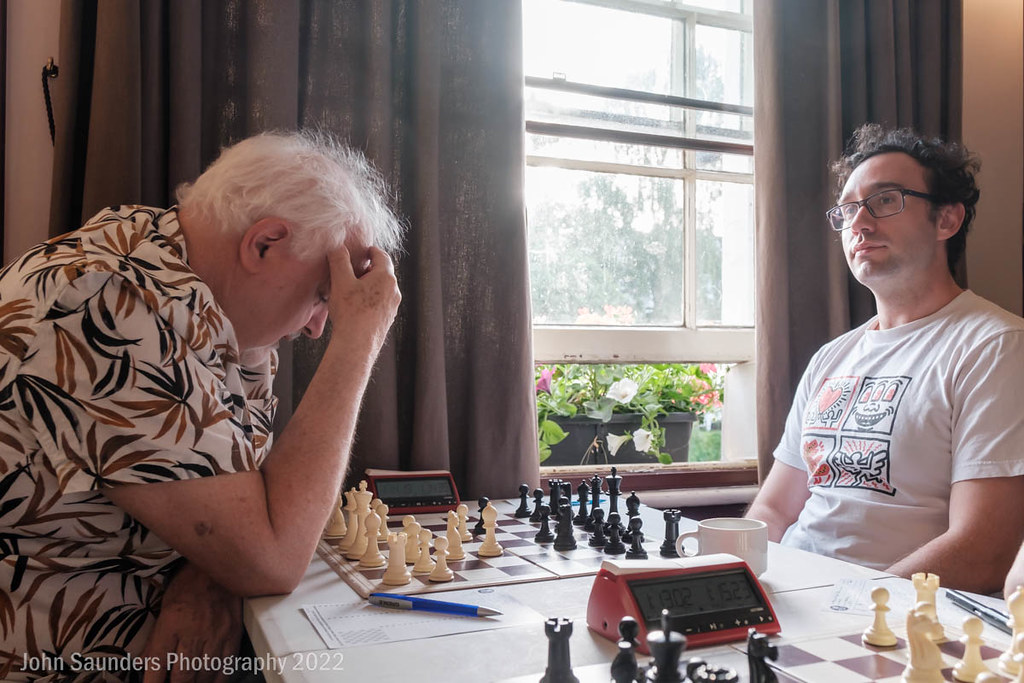 On board 10, once Scrimgour had missed (or, as it later transpired, deliberately chosen not to play) his early tactical shot, the game had turned somewhat and, if anything, it was Wimbledon's Sean Ingle who held a small edge as the game moved towards the endgame. Ingle, though, who was outrated by a fair margin, sought peace, and Scrimgour, with an expert assessment of how the game stood, concurred. All square at 1.5 to 1.5.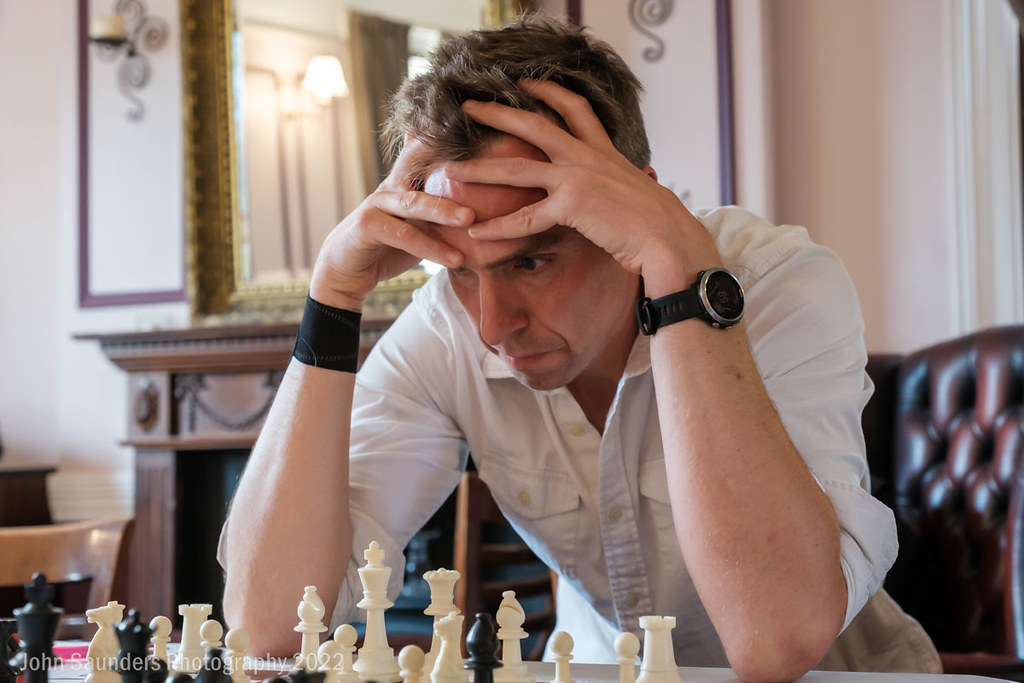 The match was in the balance and Kingston backers were still far from happy. Vladimir Li was in what looked like terminal trouble, Wimbledon's Suarez Real was turning the screw on board 1, and the other games were too close to call. Where were Kingston's points going to come from? Board 3 possibly, where Peter Lalić was playing a tricky anti-Dutch system against the experienced Dan Rosen. Eckert, himself a keen Dutch player, reckoned Rosen was playing a Dutch that had gone wrong. A "double Dutch", one wag suggested.
On board 6, Julian Way's game against Haridas Girinath was very tight. Girinath played a solid Modern Defence, and a draw was agreed after 24 moves, but Way – distracted by his opponent's draw offer – missed a neat tactic in the final position that would have given him an advantage of +3 (the exchange and a pawn). One that got away for Kingston, and, with the scores tied at 2-2, it still felt as if Wimbledon had a slight edge in the remaining games.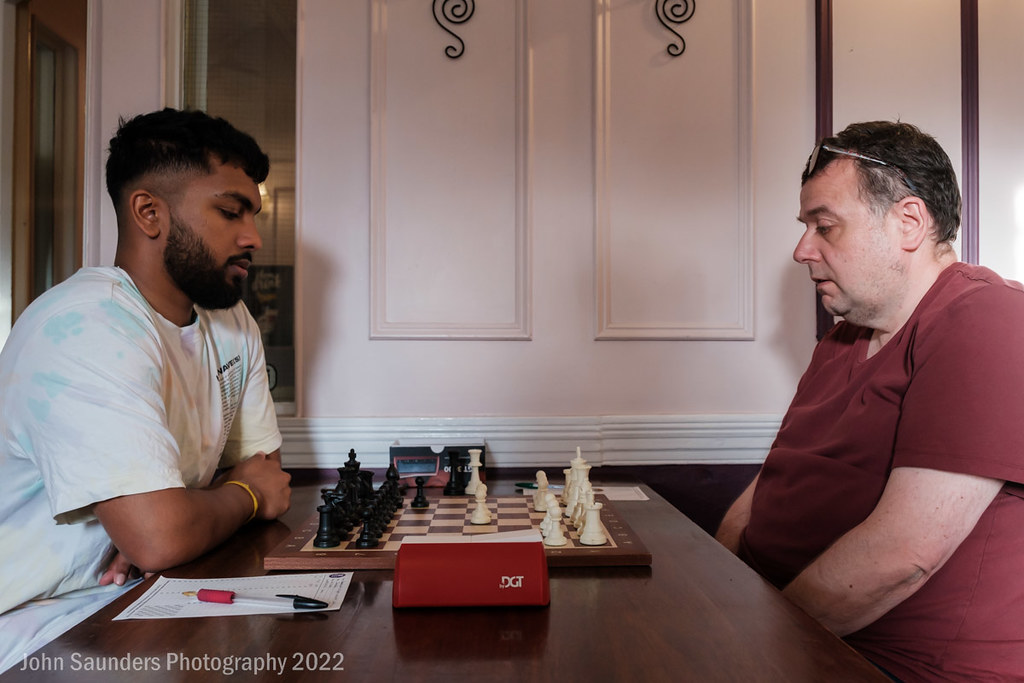 We were in the middle of a spate of draws. Peter Andrews, playing his trusty English against Wimbledon veteran Paul Barasi (not a man to sit in his seat if he can be having a cigarette outside the pub), had had the worst of the opening exchanges and overlooked a tactic that allowed Barasi to grab a pawn. He said later that the oversight affected his confidence and, despite outrating Barasi, was happy to take a draw with the position level. Kingston's ratings advantage on the bottom boards had not yielded the hoped-for dividends, and now we had to look at the top boards, where fierce battles were raging.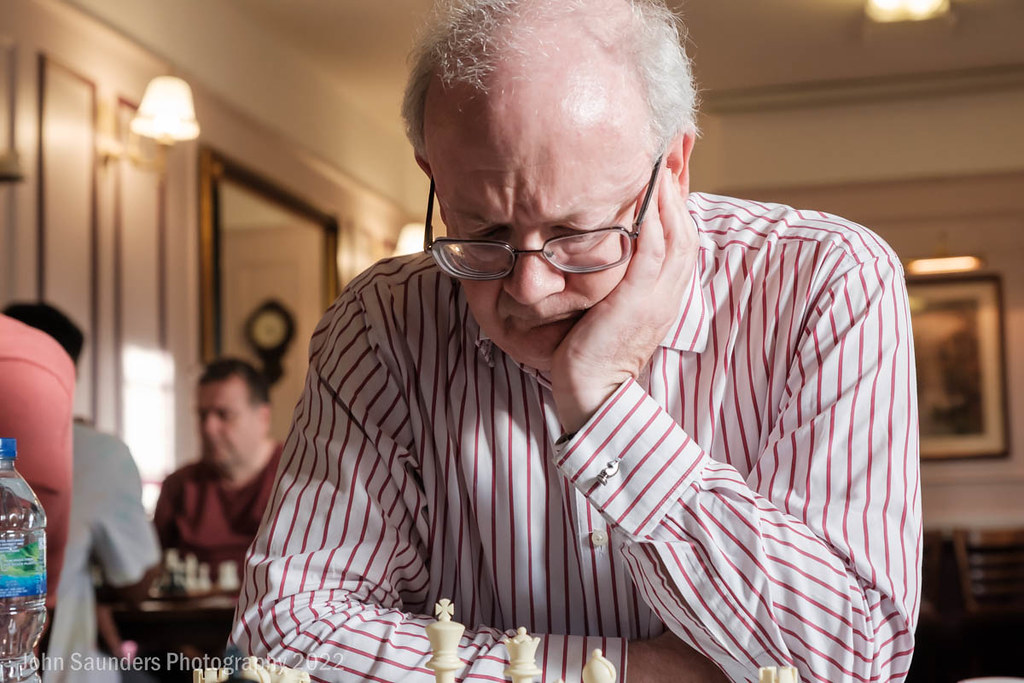 In many ways, or so it seemed in retrospect, the crucial game was board 4, where Kingston's Vladimir Li had been struggling from the start against another Wimbledon veteran, Ian Heppell. Heppell played the Alapin variation against Li's Sicilian, and enjoyed a tiny edge in the opening which quickly built into something more substantial in the middle game.
That resolved into an endgame where Heppell had knight and six pawns against Li's bishop and five pawns. Some observers thought Li was a goner, but Ljubica Lazarevic, who was tweeting and what's apping the match for Kingston, reckoned the long-range capabilities of Li's bishop gave him a fighting chance, and Heppell clearly agreed. With a time scramble beckoning, he bailed out, and a draw was agreed. The engine suggests Heppell was almost +2 in the final position.
With that unexpected draw, Kingston started to believe, especially as the four players left to get us over the line – Mike Healey, David Maycock, Peter Lalić and Will Taylor – all had youth on their side. Draws are on the whole not in their vocabulary – they would be pushing for wins. At least that was what the exhausted and sweltering Kingston contingent in the bar hoped.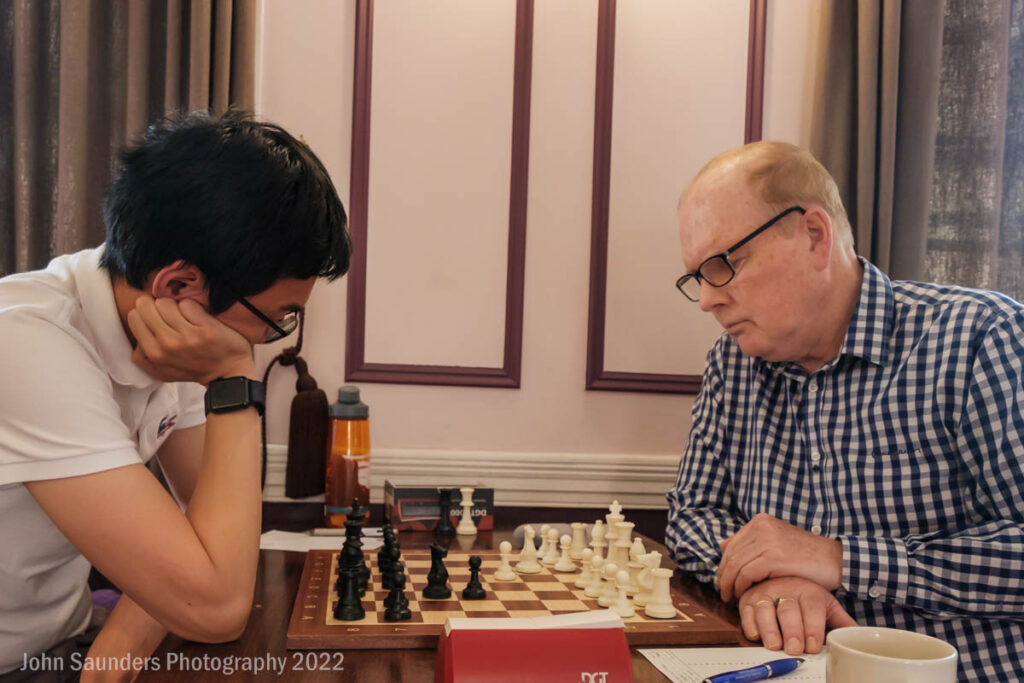 The first crack in the Wimbledon dam came on board 3, where Peter Lalić – a towering presence in Kingston's first team all season – was up against Dan Rosen. Lalić established an early advantage; Rosen fought back to equality; Lalić, playing beautifully (as so often) with the bishop pair, re-established his advantage and had what looked like a decisive pawn on the a-file, with Rosen's remaining rook and black-squared bishop (pitted against Lalić's rook and white-squared bishop) tied down. Rosen resigned.
But, as a post mortem in the bar quickly revealed, the resignation was premature. The engine, despite the fact that Rosen was in a near-zugzwang, only gives Lalić plus 0.5 in the final position. Psychology may have been the key. Lalić has a reputation as a ferocious blitz player, and Rosen is in effect saying "In a time scramble, I know you will win this." Lalić's win made it 4-3 to Kingston, and suddenly the door was open – though whether dams have doors is a moot point. The heat was getting to the match reporters as well as the players.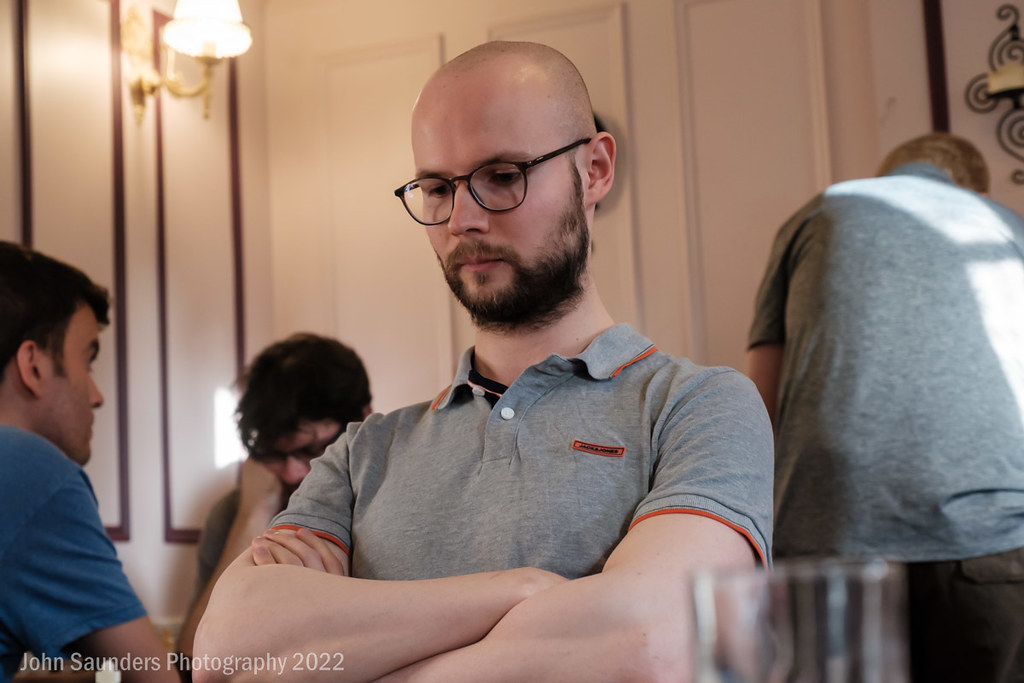 The news got even better a few minutes later when David Maycock, playing Black, won a magnificent game against Russell Granat, a highly rated and very attacking player who has been a mainstay of a succession of strong Wimbledon sides for decades. Granat had played the very sharp Worrall attack in the Ruy Lopez, which Maycock had first neutralised and then, with a flamboyant set of pawn pushes, repelled.
Granat's pawns became uncoordinated, Maycock consolidated his advantage with some lovely tactics, and on move 48, faced with a phalanx of unstoppable pawns, Granat resigned. Maycock and Lalić have been galvanising figures for Kingston all season and here they were again, delivering against very strong and experienced players when it really counted.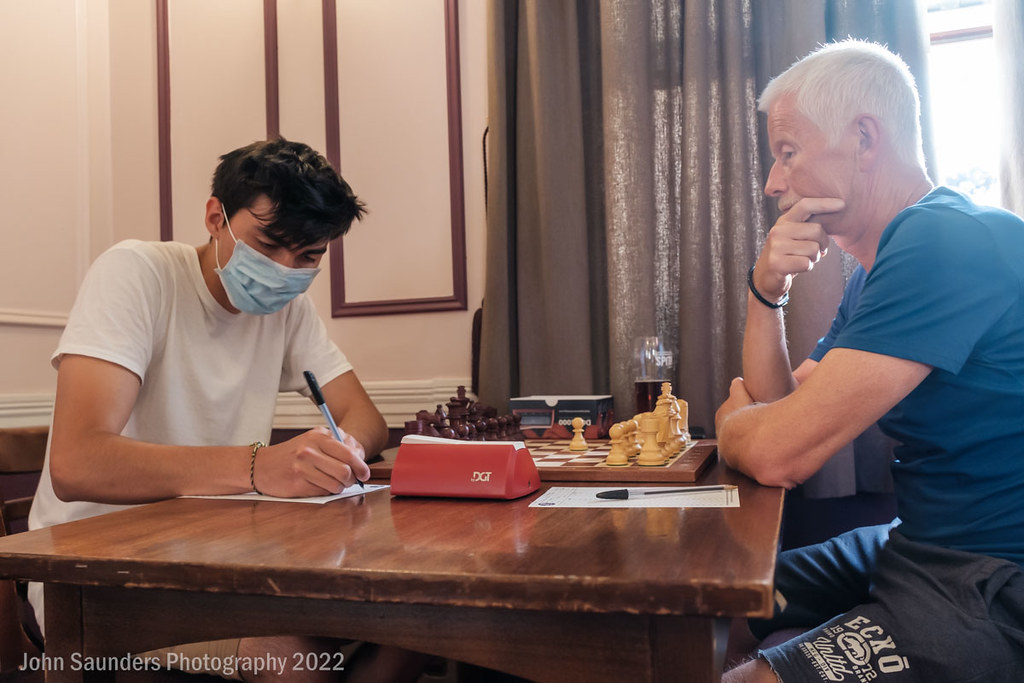 On the subject of counting, that was exactly what the Kingstonians were now trying to do. With the score at 5-3 in our favour, would we win on board count even if the final two games went against us? Happily, the maths were not tested, because Kingston soon recorded their third victory in the space of 10 minutes when the rock-solid Will Taylor, playing Black on board 6, defeated Anthony Hughes – another triumph of youth over experience.
Hughes had played the Botvinnik System of the English, with an early e4; Taylor easily equalised and then traded pieces to leave himself in a middle game where a better pawn structure gave him an edge. It was still defensible with best play, but time pressure, the occasion and the heat were starting to take their toll, and Wimbledon's Hughes blundered horribly, dropping a rook for nothing.
The game, the match and the Alexander Cup were, in an instant, all gone. Or as Lazarevic put it on the club What's App: "Will wins on board 6! Kingston have done it! Winners of the Alexander Cup!" We do not stint on exclamation marks on these historic occasions. And, as we discovered, where there's a way there's a Will.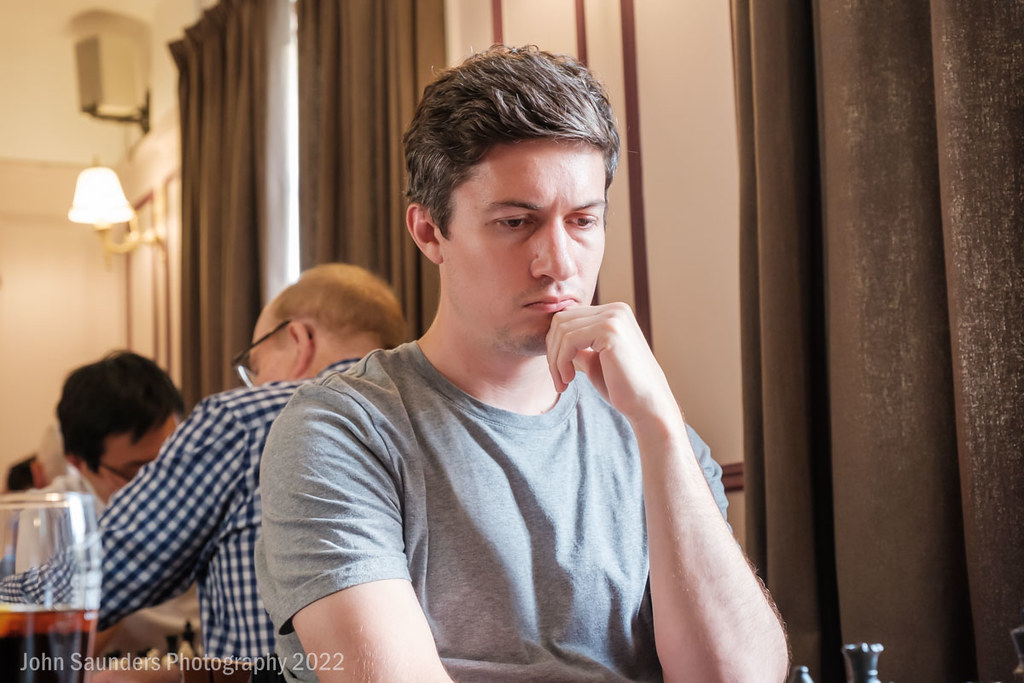 The match was won, but on board 1 Mike Healey and Alberto Suarez Real were still locked in an epic struggle. Healey, ever inventive, had responded to Suarez Real's Sicilian with the so-called Chameleon variation (1.e4 c5 2.Nc3 Nc6 3.Nge2 Nf6 4.g3 g6 5.Bg2 Bg7 6.d3 d6 7.O-O O-O). Suarez Real won the exchange, and Healey's love of knights looked unlikely to save him. But even IMs make mistakes, and Suaraz went wrong in time trouble, handed the exchange back to get rid of a troublesome knight on e7 supported by a pawn that had been planted on f6 all game, and stumbled into a theoretical draw.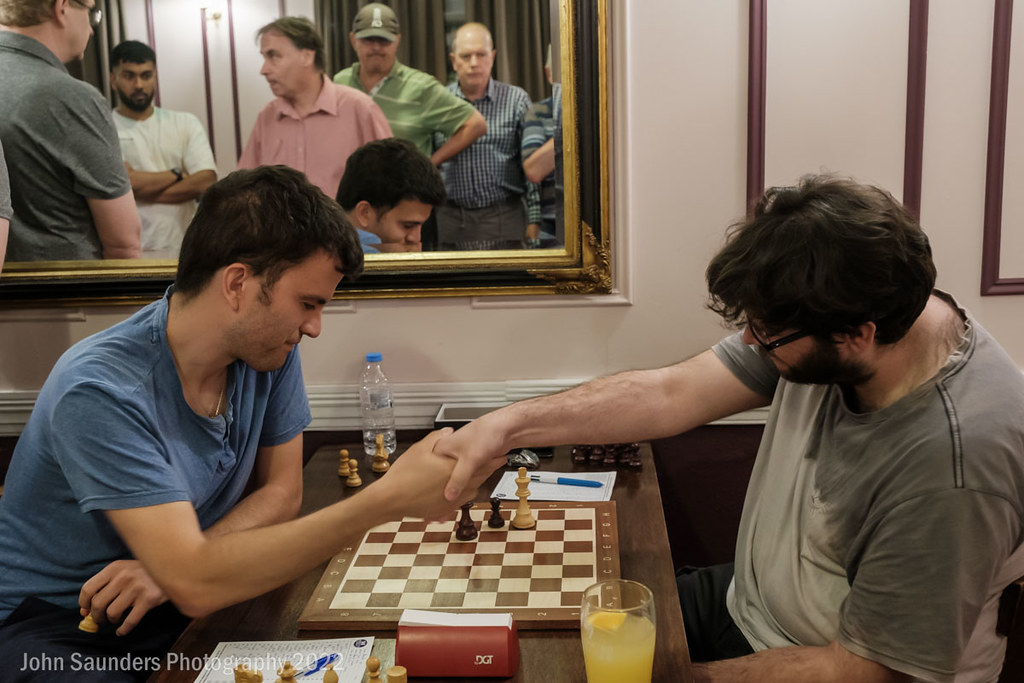 That made it 6.5 to 3.5 to Kingston and the celebrations in the bar could start in earnest. Even the abstemious David Maycock had a half of bitter. Let's hope this is not the start of a slippery slope to perdition for the immensely talented 18-year-old. We need him firing on all cylinders next season, along with the rest of this terrific team if we are to have any chance of retaining this much-vaunted trophy.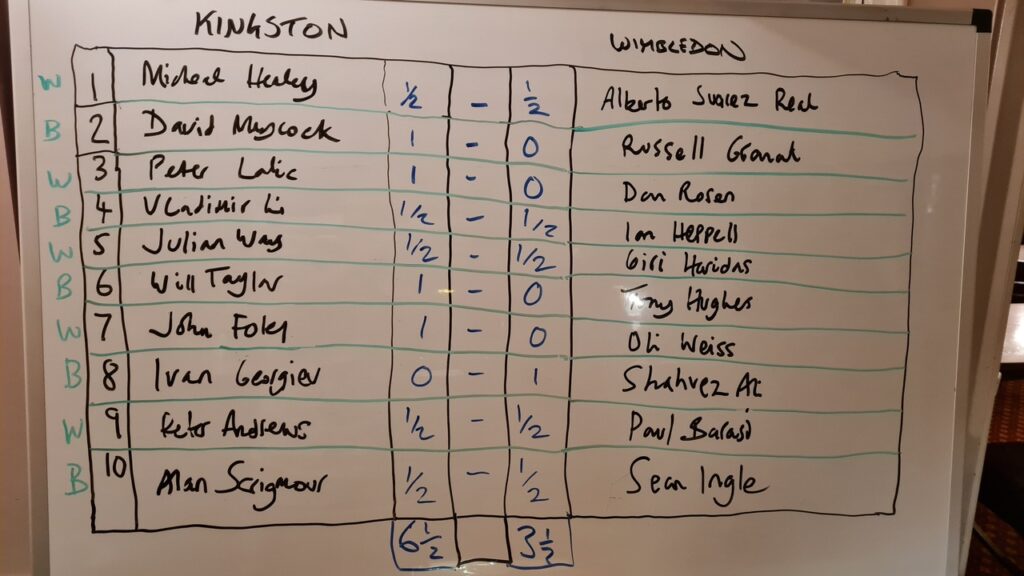 This was Kingston's first win in the Alexander Cup for 46 years, and the club's fifth victory in the competition overall in its 100-year history. We won it previously in 1932, 1946, 1975 and 1976. In 1932, Kingston did the "double", winning the Alexander Cup and the Surrey Trophy (division 1 of the Surrey League). This is the only time so far that Kingston have managed that.
Remember that this season we won Surrey's premier knockout trophy as a second-division club – we had already wrapped up the second-division title. John Saunders, who was at the final taking the terrific photographs which adorn this report, likened it to Sunderland beating Leeds in the 1973 FA cup final, a second-division club downing a strong first-division side. Kingston, who a few years ago were going nowhere, had suddenly emerged to claim the crown.
Now what? Do we have the spirit and the strength in depth to compete for the title in division one next season? Could we even hope to repeat that achievement of 1932 and do the double again, with all the effort, stress and pain that will require? Even in triumph, you feel a certain sense of anti-climax, a sense of "Is that it; is that all there is?" And there is a nagging fear that maybe the only way now is down. This season Kingston were the insurgents; next year we are the targets.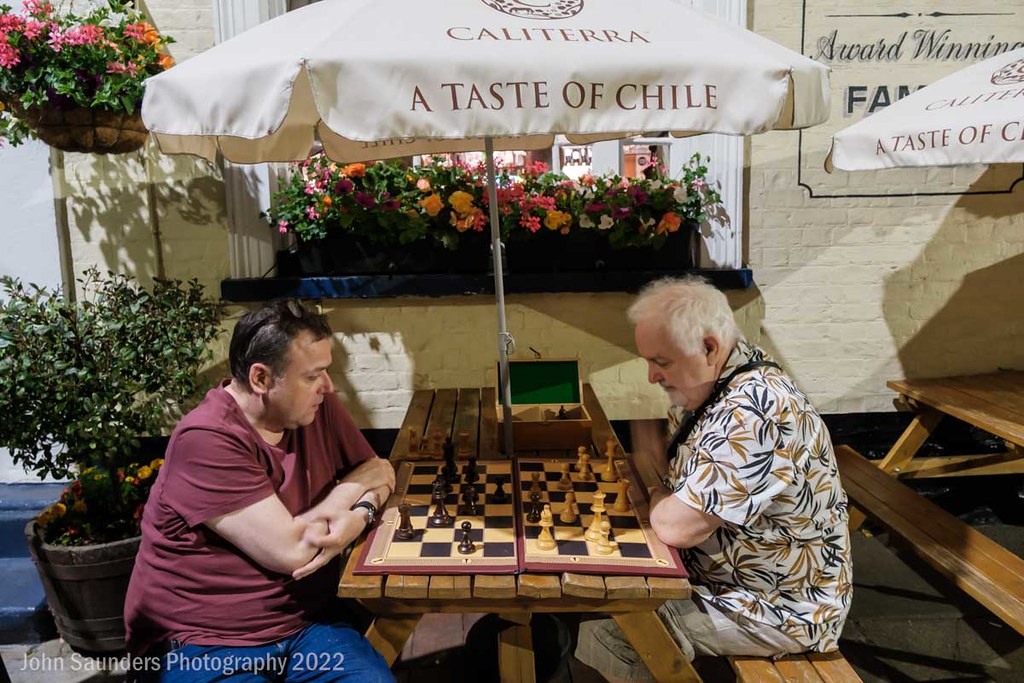 Kingston have been very strong twice in our history: in the 1930s and the 1970s. We may now be entering a third golden age. But success comes with a warning. Mitcham dominated Surrey chess in the 1980s and 90s; Redhill in the first 15 years of this century. Both those clubs no longer field teams in the Surrey League. Sic transit gloria mundi.
Saunders was a member of the Mitcham team which won eight Alexander Cups in 10 years. A fantastic achievement. They must have been utterly knackered. So knackered, in fact, that within a few years the key organisers had left and the club was on the way out. Becoming so dominant, winning eight Alexander cups in so short a space of time, is a great aspiration. But the fate of once-mighty Mitcham is also a memento mori. Roman generals returning in victory supposedly had slaves whispering in their ear "Remember you must die." For the moment we will celebrate, but we will not forget how fragile success is. We have had the luckiest and most memorable of seasons. Next year we will discover if that success is etched into granite or founded on sand.
Jon Eckert and Stephen Moss