An impressive performance against a strong field gives Peter Lalić victory in the third Kingston Summer Blitz tournament
The final blitz tournament of the Kingston Summer Blitz Series was won by Peter Lalić. He scored 5.5/6 to hold off a strong field which included two titled players, some very talented juniors and a few new faces. Peter defeated Staines' Ye Kyaw in the final round to clinch first place. Kyaw (4/6), who had a very impressive tournament, took the U2000 grading prize.
There was a titanic battle in round 4, with FM Vladimir Li taking on IM Graeme Buckley. A minor piece and pawns endgame went on for well over 100 moves, with both managing to promote. A tense finish, with Buckley playing on the increment, eventually ended in a draw, with the engrossed crowd (and tournament organisers fearing a very late night) breathing a sigh of relief.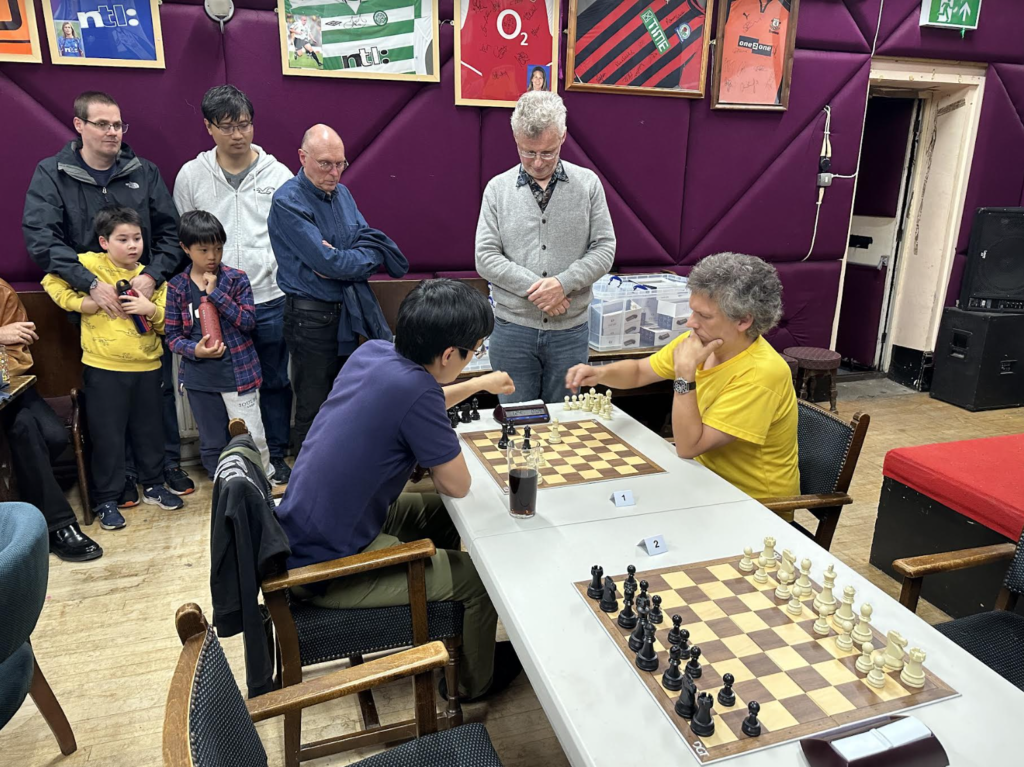 However, stealing the show as ever was the seven-strong junior contingent, playing with confidence and poise. Youngsters William Lin (2.5/6) and Ethan Bogerd (3/6) picked up some impressive results and look like promising prospects, while Jaden Mistry again mopped up the giantkiller prize with another two victories against 2000-rated opponents. Jaden continues to go from strength to strength.
Special mention to Ben Hambridge, who popped his head into the club before heading back to university and picked up the U1600 grading prize with a solid 4/6. And thanks to Julian Way for acting as tournament organiser, allowing me to play this time. We will be back in the winter with the next edition.
Prize winners
1st – Peter Lalić (5.5/6)
2nd – IM Graeme Buckley (5/6)
3rd – FM Vladimir Li (4.5/6)
U2000 grading prize – Ye Kyaw (4/6)
U1600 grading prize – Ben Hambridge (4/6)
Giantkiller prize – Jaden Mistry
Top 10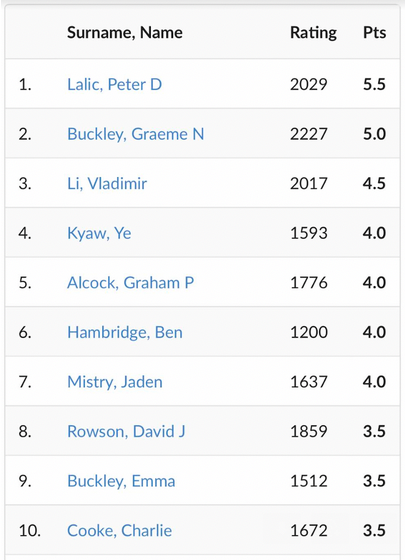 Report by Gregor Smith, Kingston Summer Blitz organiser