Lauder Trophy final between Kingston and Chessington, played at the Adelaide, Teddington, on 14 June 2022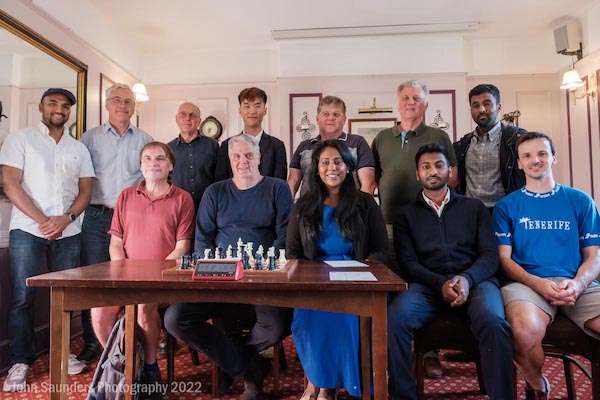 This match was always a potential banana skin for Kingston. Chessington are an ambitious new club which has done very well in its first season – beating the Lauder Trophy holders South Norwood in the semi-final of the competition was surely the shock of the season. Their pool of players is small and we outrated them substantially, but that made it something of a no-win situation for Kingston. When David meets Goliath, who wants to be the big guy?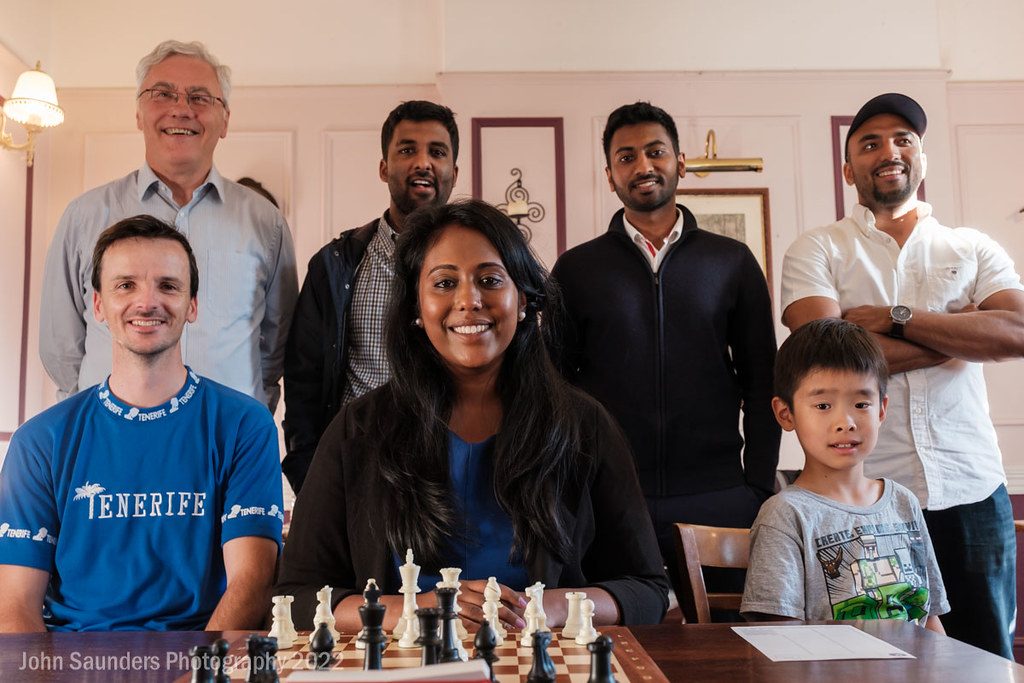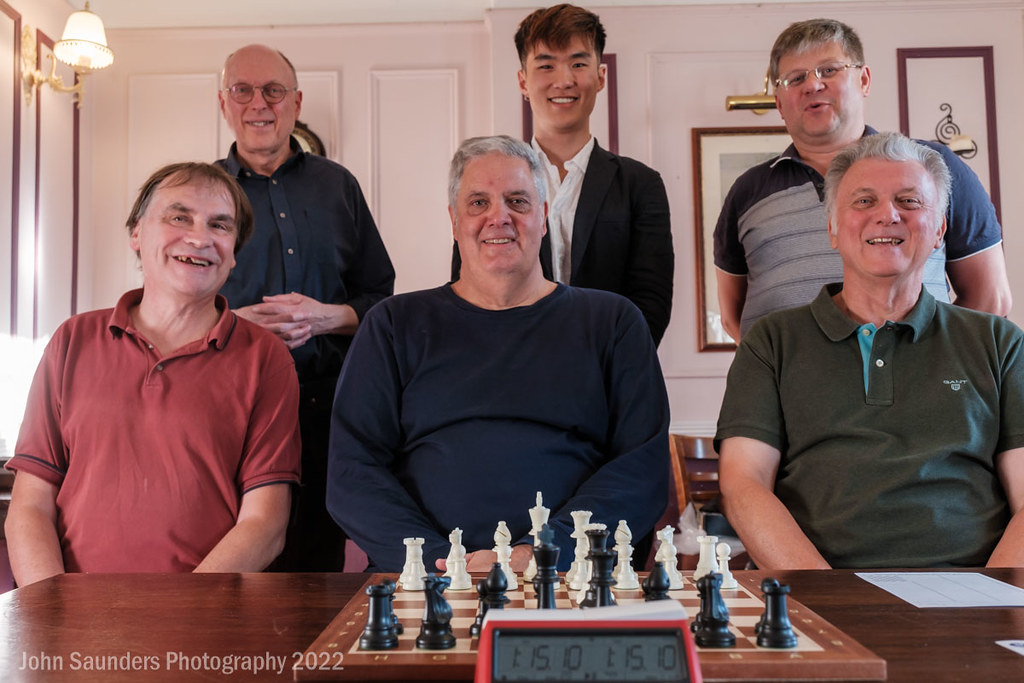 The two teams were meeting at the neutral venue of the Adelaide pub in Teddington, home of Richmond and Twickenham Chess Club. Many thanks to Richmond for hosting, and to Huw Williams for setting up and overseeing a match played in a great spirit. Thanks, too, to John Saunders for taking the photographs that accompany this report, and for collating game scores.
The match started in the worst possible way for Kingston. Jake Grubb was up against the talented junior Harvey Li on board 6 and was quickly drawn into a tactical melee which saw him go the exchange down. Worse was to follow as the eight-year-old Li played a neat combination that gave Grubb the unenviable choice of losing queen for rook and knight or being mated. Grubb took the third option – resignation. Well played Harvey Li, clearly a name to look out for. First blood to Chessington.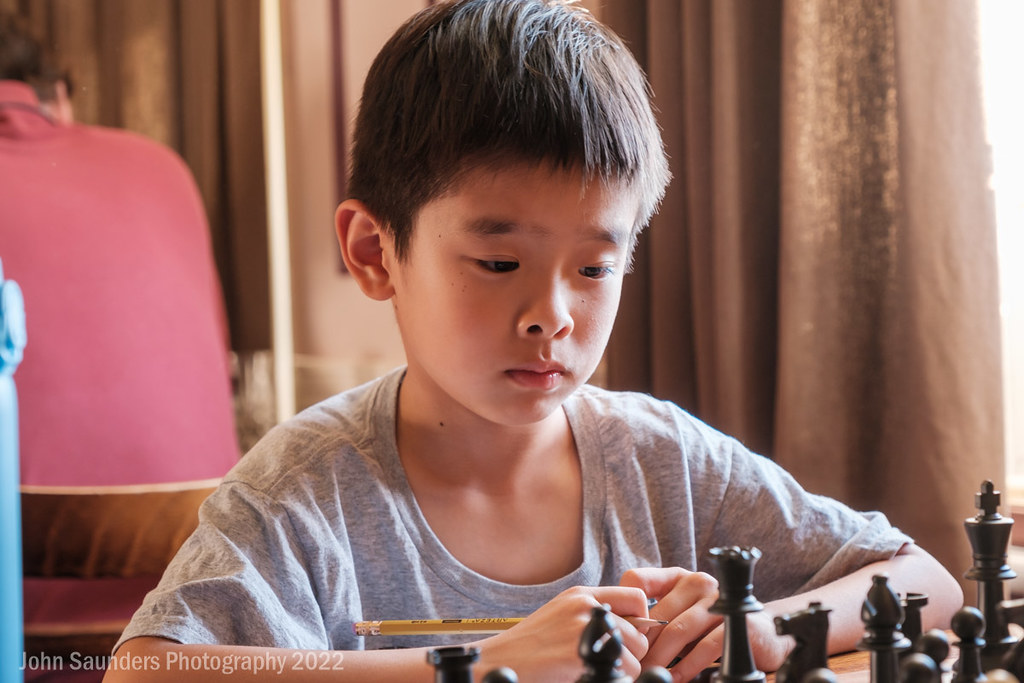 Black to play and win (solution at the end)
The special feature of the Lauder Trophy is that the collective ratings of the six players cannot exceed 10,500 ECF points (an average rating of 1750 across the team), so you have to strike a balance between strong players and relative novices. It's always fascinating to see how captains slice the cake. A junior such as Li is perfect for the Lauder because he gets into the team with a rating of 1350, but his true strength as a fast-improving player will be several hundred points above that.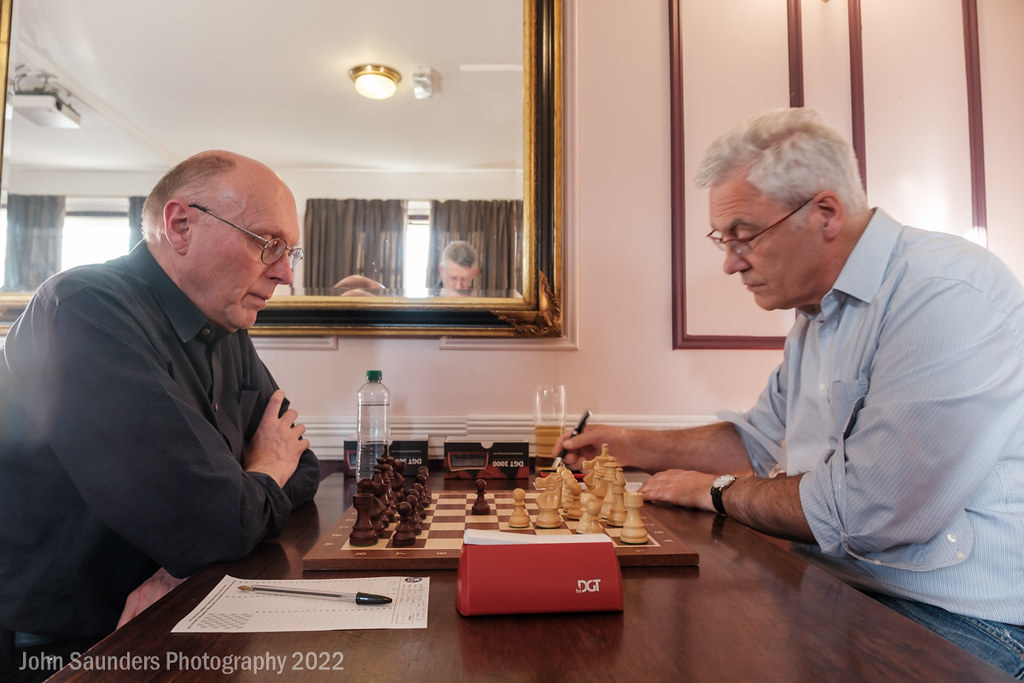 By contrast, on board 1 were two vastly experienced players, Kingston's David Rowson and Chessington's James McCarthy. Their 2000 rating strength has been tested over decades, they knew each other's games inside out, and unsurprisingly perhaps they played a short and cagey draw that ended with a repetition of moves. On the surface, a decent result for Kingston, as David had been Black, but one that still left the team in deficit, at a time when two of the remaining games were even and Kingston's board 3, Vladimirs Bovtramovics, had a very passive position and looked like he was being squeezed. Frankly, as Kingston's Lauder captain I was worried, though not as worried as England football manager Gareth Southgate, whose team had just gone 4-0 down at home to Hungary in a match that was being avidly followed by the regulars in the bar downstairs who seemed oblivious to the drama unfolding in the chess room upstairs.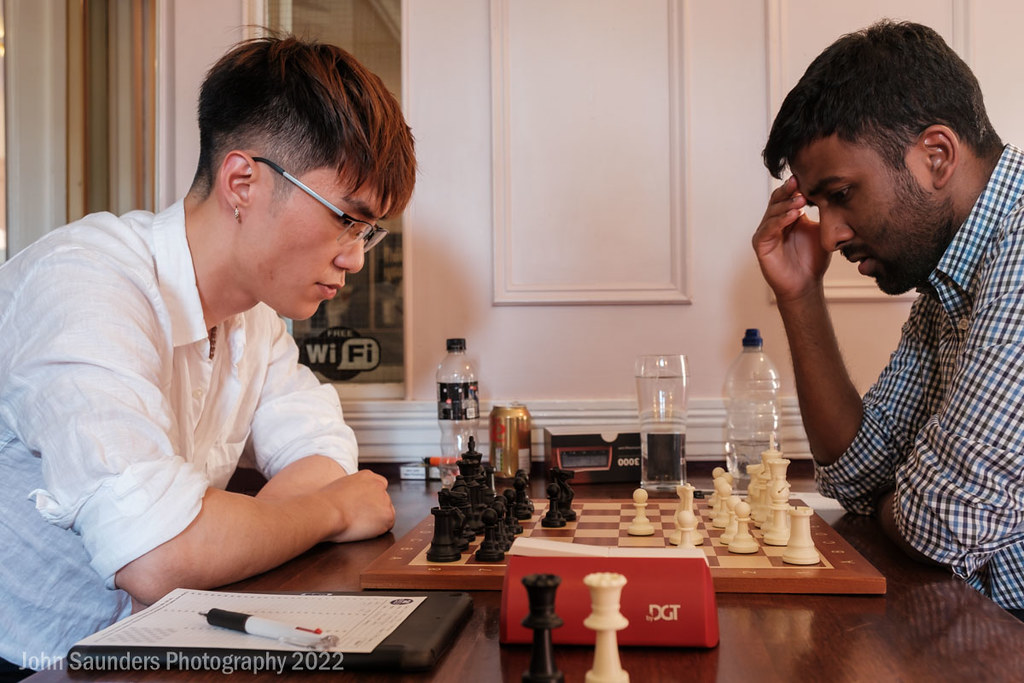 Gradually, things started to improve – at Teddington, that is, not Wembley. On board 5, Kingston's Yae Chan Yang – a key figure and banker winner in the Lauder team throughout the season – had been on top all game, and his opponent succumbed to a crushing attack that ended in checkmate. Now it was 1.5 to 1.5, with boards 2 and 4 level and Vladimirs fighting for equality on board 3. Thoughts of what would happen in the event of a 3-3 draw – board count and, if it was still drawn, bottom-board eliminator – started to enter my head.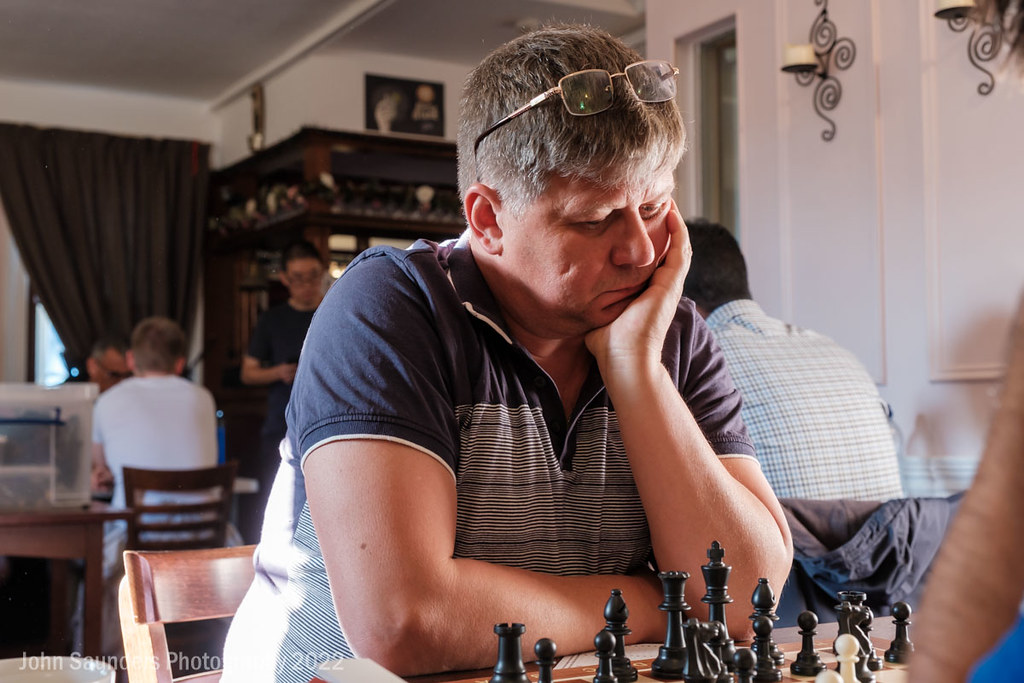 Looking at the board 3 game afterwards, Chessington's Kevin Martin's apparent advantage was largely visual. His rooks dominated the e-file and his queen was lurking menacingly, while Vladimirs' heavy artillery was entirely committed to defence and he was forced into some ugly manoeuvres with his knight. But the engine suggests he was never worse than 0.5, and after Martin, in his frustration to make his space advantage tell, had lashed out with g4 the position quickly became level. By the time they agreed a draw on move 48, with queens and rooks exchanged to leave knight v knight and an equal number of immobile pawns on each side, it was dead drawn.
Kingston's fate was now in the experienced hands of Scottish international Alan Scrimgour on board 2 and Jon Eckert, who had been lauded at the club's AGM the previous evening for a season in which he had scored 14.5/18 for Kingston, on board 4. They did not let us down.
Scrimgour, with the bishop pair, had a small edge for most of his game, but his opponent, Visagan Ravindran, had turned the tables by move 34 and looked like he could go into an endgame a pawn up. Scrimgour perhaps realised the tide had turned more quickly than his opponent, and cannily offered a draw, which the heavily outrated Ravindran accepted after a minute's consideration.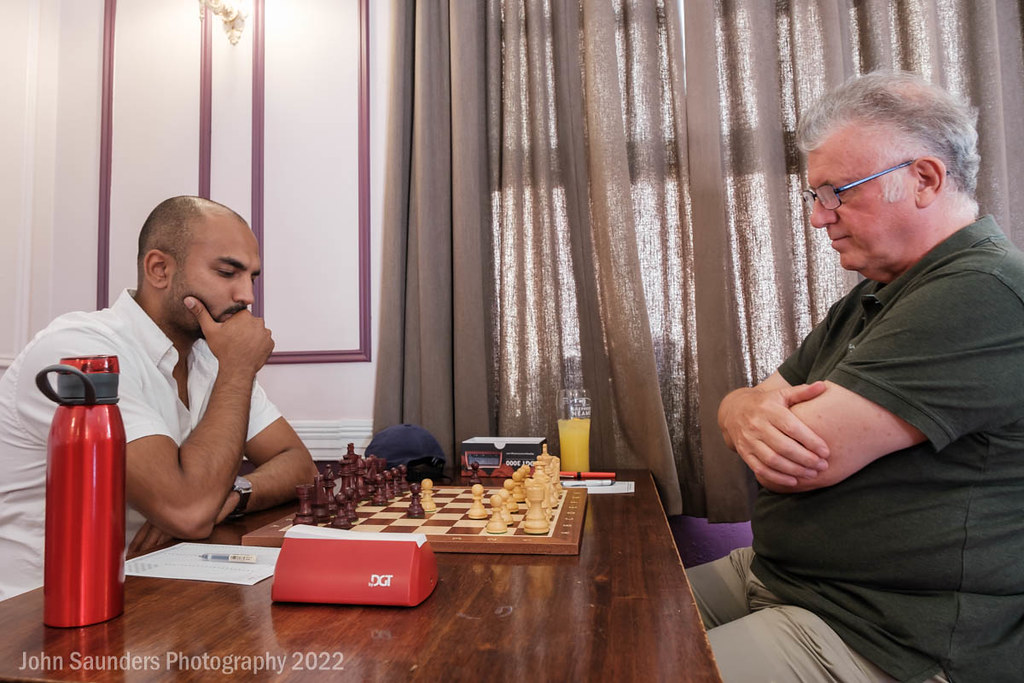 That left Jon Eckert's game on board 4 against Murugan Kanagasapay. The ever enterprising Eckert had played the Vienna Gambit and managed to get a small edge in the opening. But Kanagasapay fought back to equality, with both having queen, rook and potentially dangerous advanced pawns. The big difference was time: Eckert had 10 minutes left, while Kanagasapay was virtually playing on the increment. Kanagasapay blundered away a rook, and Eckert pressed home his advantage and forced checkmate.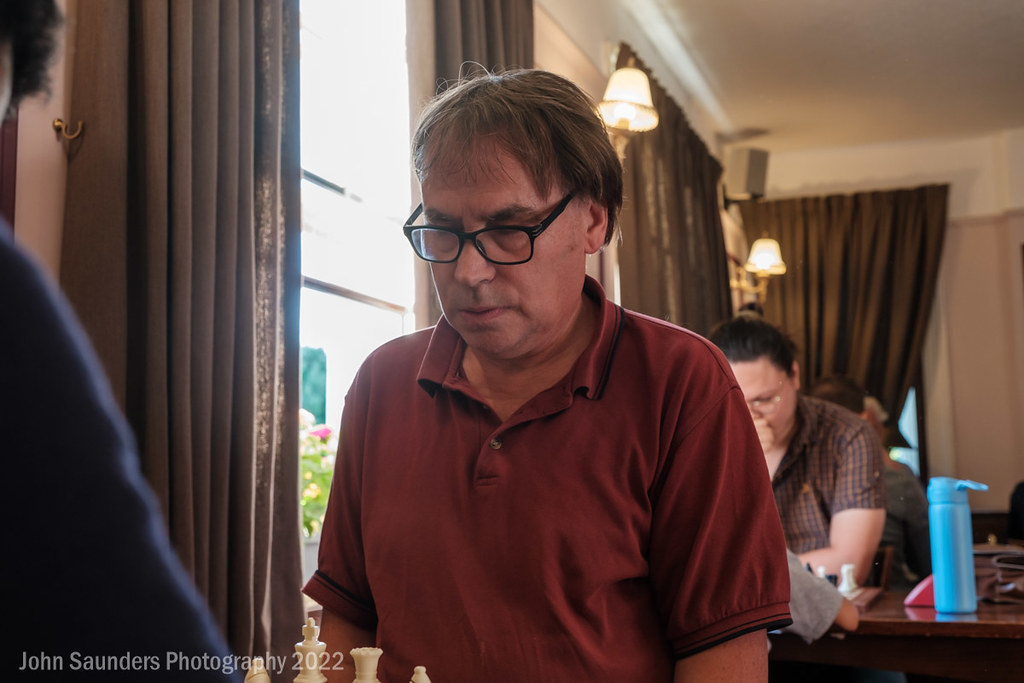 Kingston had won the match 3.5 to 2.5 to regain the trophy they won in 2018/19 and then lost in the final to South Norwood the following season. That latter final was actually played in the autumn of 2021 after an 18-month Covid delay, which might make a nice quiz question: which was the season in which Kingston managed to both lose and win the Lauder Trophy? Answer: 2021/22.
Kanagasapay (who, in another ironic twist, had played for Kingston in that previous Lauder final) looked devastated by his loss in the decisive game. He co-founded the Chessington club with his sister (and captain on the night) Meena Santhosh, and knew how much this meant in its debut year. But the enterprising Chessington club, which has a booming junior section, will be back and are well on the way to being a force in Surrey chess.
The end of the game produced a round of applause, and Eckert calmly took the plaudits from his delighted team-mates. Had it been me, I would have insisted on a lap of honour along Park Road, which runs alongside the Adelaide, but Eckert was the very model of modesty. On the hottest evening of the year so far, his cool under extreme pressure was admirable.
Stephen Moss, Kingston Lauder Trophy captain

Grubb v Li, Teddington, 14 June 2022 1… Nde2+! wins the queen. If 2. RxN then Qb1#. In the game, Li played the intermezzo 1…Rxd4 2. cxd4 with the same continuation as above 2…Nde2++