Surrey League division 2 (Beaumont Cup) match played at West Thornton Community Centre on 17 March 2022
An epic match: twists and turns on nearly every board, luck (it can happen in chess) playing a crucial role, and the outcome unclear until the final game was decided, the players down to 10-second increments. This more than lived up to its significance as the encounter that would determine the Beaumont Cup winners.
Hannibal crossing the Alps, Napoleon's trip to Russia … prior to match day, the Kingston team's concerns were all about the logistics of getting to the South Norwood venue, due to the distance to be covered and the potential public transport complications. In the event, there were no problems and all the players arrived on time. However, that was when we suddenly realised that the real challenge was actually matching the strong opposition team facing us over the board. The arrival, not the journey, mattered.
If we could win this match, we would be Beaumont Cup champions with the prize of promotion to Surrey's top division. So far, the plan we might have envisioned at the start of the season had been, if not a doddle, at least followed to the letter, and the team had built up a confidence in its own strength. Hubris? Our collective confidence was very soon shaken, as our two "banker" players, John Foley and Jon Eckert, both lost without really getting into their games. It was John's first classical chess loss for three years, and for Jon it came on the back of a 10-victory run. Were we about to be found out?
I redressed the balance to some extent by winning against Paul Dupré. He played the quirky Lion variation of the Philidor, advancing with h6 and g5 just out of the opening. I risked exposing my king with f4, giving his rook the g file after the pawn exchange. The first 14 moves were a rerun of a game we played about three years ago, when I won a piece with a two-move combination. Paul remembered that and varied, but my control of the centre made it very hard for him to coordinate his pieces in the long run.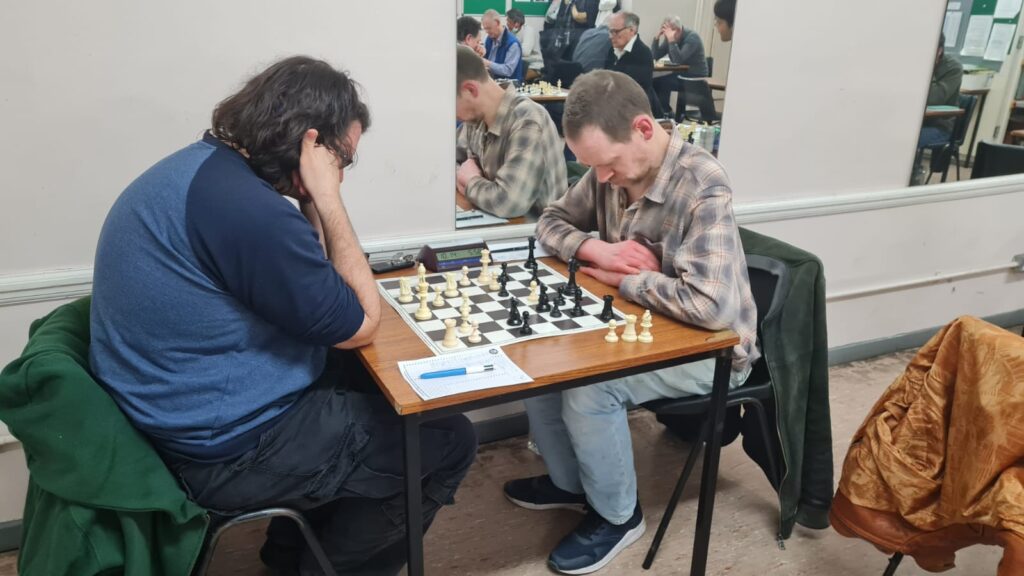 On board one Mike Healey had opened with his favourite Polish, and a strategically complex battle was under way. Suddenly, those observing were taken aback to see that Mike was a queen to a piece and some pawns down. His reputation is such that we thought this had to be a brilliant sacrifice, and waited expectantly for the compensation payoff to be revealed. Sadly, as Mike admitted afterwards, it had all been a mistake, and Marcus Osborne avoided any tactical traps to win and make the score 3-1 to South Norwood.
So we needed an unlikely three wins from the three remaining games to win the match, and they were not looking good for us. On board 6, from an unusual Benoni (White castled queenside), Alan Scrimgour was the exchange down. Initially it wasn't clear if he had compensation for this, but, after he downed a three-spoonful cup of coffee, Alan's pieces managed to open up lines to attack his opponent's king. A discovered check sequence led to that king having to run to the other side of the board, where Alan found a neat forced mate. 3-2 to South Norwood.
Julian Way had not originally been down to play in the match, but when Peter Andrews unfortunately had to drop out due to illness, Julian very decently stepped in as a replacement.  A super-sub for our super-sub. Julian has recently been trying out Alekhine's Defence, but this time he found himself in a rather passive position, with Roy Reddin's pieces massed around his queenside-castled king. At the start of play Roy and Julian had opted for adjudication. Now, with Roy about to win a pawn and time nearly due to be called, things looked ominous for Julian. There might be no point in sending the game off for adjudication. But on move 35 Roy sat tight and didn't make the last move required by the time control. When his flag fell Julian pointed out politely that his opponent had lost on time. It turned out that Roy had missed writing the moves on one line of his scoresheet, so thought he'd already made 35 moves. Terrible luck for South Norwood, but this was the fillip which Kingston needed. We had drawn level, 3-3, with only board 2 to be decided.
Peter Lalić was so absorbed in his game that I couldn't find an opportunity to tell him the match situation. I think that he had already turned down a draw offer. Should Kingston be cautious and accept a tied match, instead of risking defeat, having come back from the nearly dead? Peter had been pressing, but Tariq Oozeerally found a combination to win a pawn. In compensation, Peter's pieces, rook, knight and king, had a grip on the centre of the board. As players from both teams gathered round to watch the tense finale, Peter and Tariq barely had more time on their clocks than the 10-second increments per move. All the while John Foley was hammering out updates on What's App for the Kingston members who had not ventured over to South Norwood.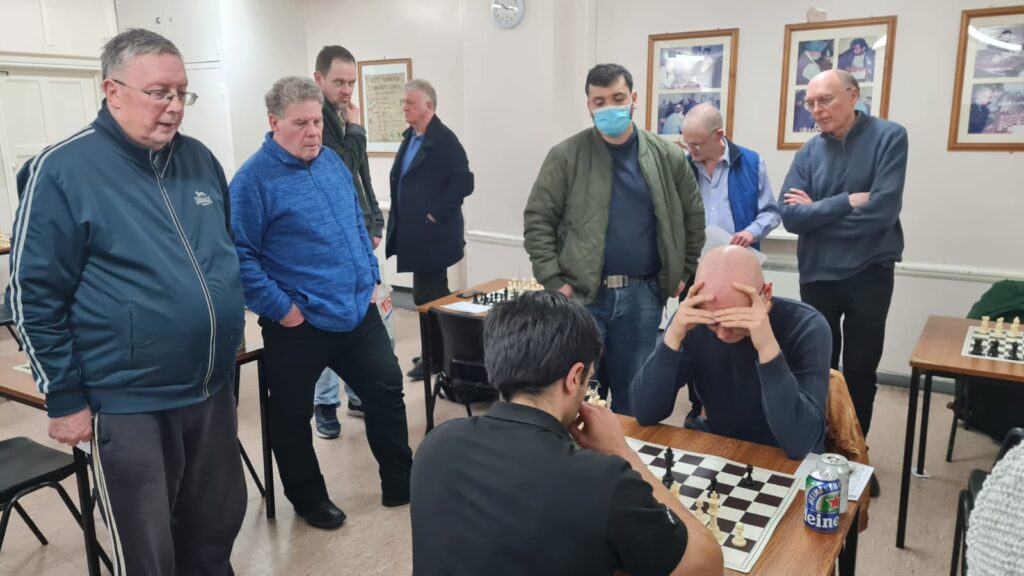 In time trouble situations like this, games turn on the proverbial knife edge. Tariq allowed Peter to win back a pawn and the latter, coolly and accurately upping the pressure despite his time shortage, won White's bishop and then efficiently saw off Tariq's final attempts to fight back. South Norwood had tested us to the limits and were very sporting in defeat. Against all the earlier run of play, Kingston had won 4-3, and were the Beaumont Cup champions with a match to spare. We still have Surbiton 2 to play, but we can already celebrate.
David Rowson, Kingston Beaumont Cup (Surrey League division 2) captain