Thames Valley League division 2 match played at Actonians Sports Club, Ealing on 17 April 2023
Kingston B captain Gregor Smith was taking no risks with this match, which had to be won if his team were to escape the relegation zone in division 2 of the Thames Valley League. Ever since a surprise defeat at home to Surbiton C last October, we have been struggling at the foot of the table. Out two matches, home and away to already relegated Ealing B who have lost nine out of nine in this division, had to be our salvation.
Gregor brought out the big guns, John Foley and Alan Scrimgour (both very strong players and happily not "nominated" to play only first-team chess, so free to play for the seconds), on boards 1 and 2. I filled in at the last minute on board 3 for an indisposed player, and we had Gregor himself on 4, Nick Grey on 5 and Charlie Cooke on 6 – solidity personified.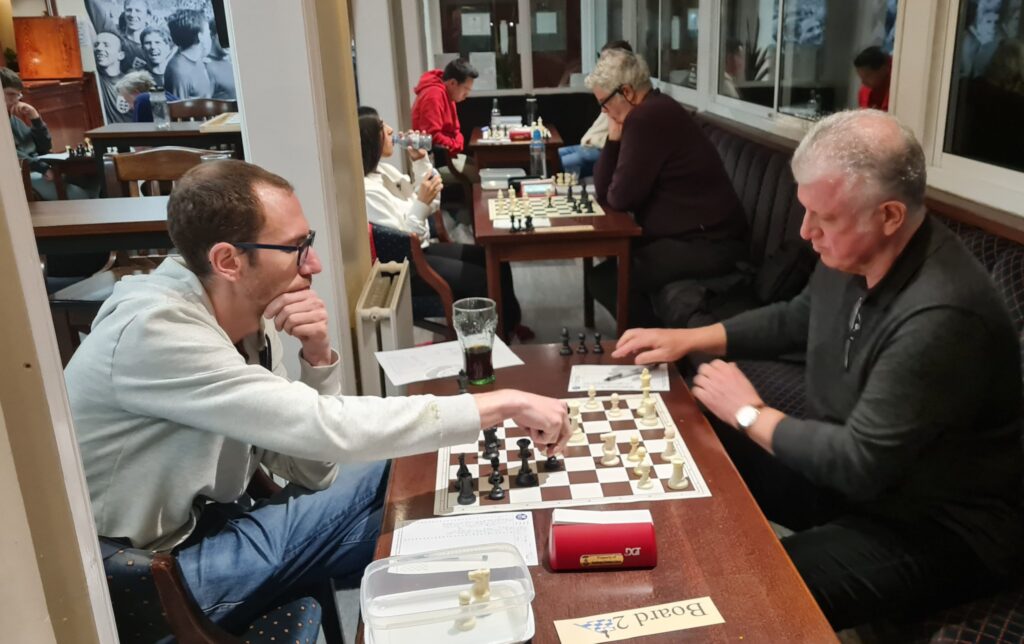 We outgraded our opponents by an average of more than 300 points a board, and that was reflected in the scale of the victory – 5.5-0.5. John Foley gave his customary display of endgame expertise: go a pawn up, plant an impregnable knight, win. Alan had too much nous for his opponent. Mine blundered early on and, despite playing with my usual lack of precision, I managed not to blunder back quite as badly. Gregor won a pleasing game, which was level for a long time before skilfully coordinated his forces and broke through. Nick drew – all credit to Gabriele Palmer for avoiding the whitewash. And Charlie overwhelmed his opponent to win very rapidly.
Apologies to the largely youthful Ealing team for being a bit OTT with team selection, but this was about survival. Our main rivals for the drop, Surbiton C, now face two tough away trips to finish their season. We also have some tricky matches to come – champions-elect Maidenhead A away! – but at least, for the first time this season, we have our noses in front of Surbiton and the scars of that defeat back in October are almost healed.
Stephen Moss