Surrey League division 1 match played at the Guildford Institute on 14 November 2022
Guildford are the strongest club in Surrey and a trip there is never easy, even when you're playing their second team. They field two sides in division 1 of the Surrey League, and on the strength of their performance against a Kingston first team at close to full strength you can see why. This was indeed a second team that many clubs would be happy to have as their firsts.
Sebastian Galer is a strong board 1, rated close to 2100, but he was facing David Maycock, who is at least 200 points higher. Maycock also had White and, confronting Galer's Modern Defence, slowly increased the positional pressure before smoothly converting. Another fine game from Kingston's young star.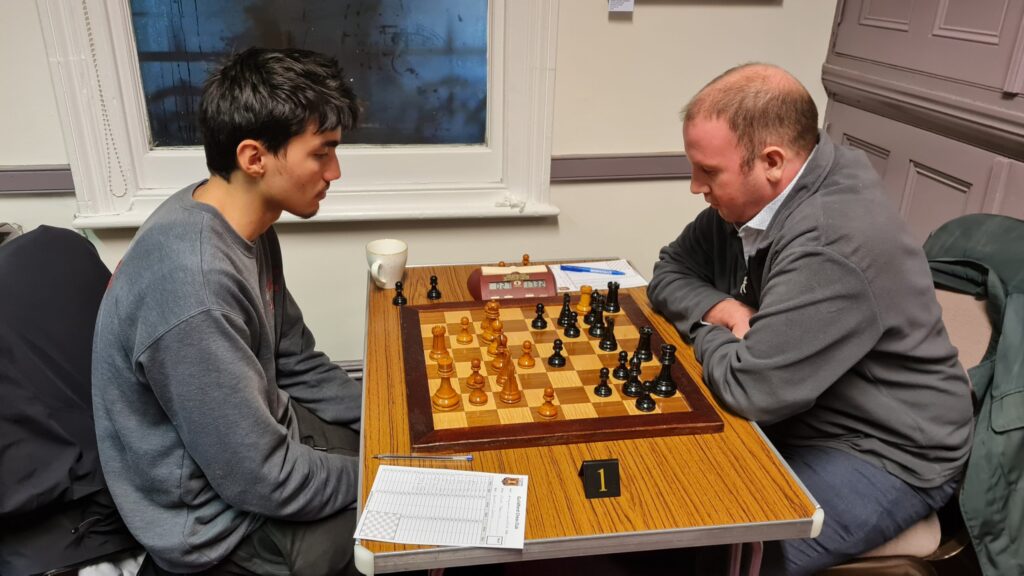 On board 2, the equally reliable Peter Lalić was up against Jai Kothari, a junior rated 1892 whom Guildford rate so highly that they played him above the experienced James Toon (rated 2046). There was some discussion about whether this rating difference was permissible – some leeway in the ratings gap is allowed for fast-rising juniors – and it does appear that league rules were broken, as the league has penalised Guildford for a board order infringement.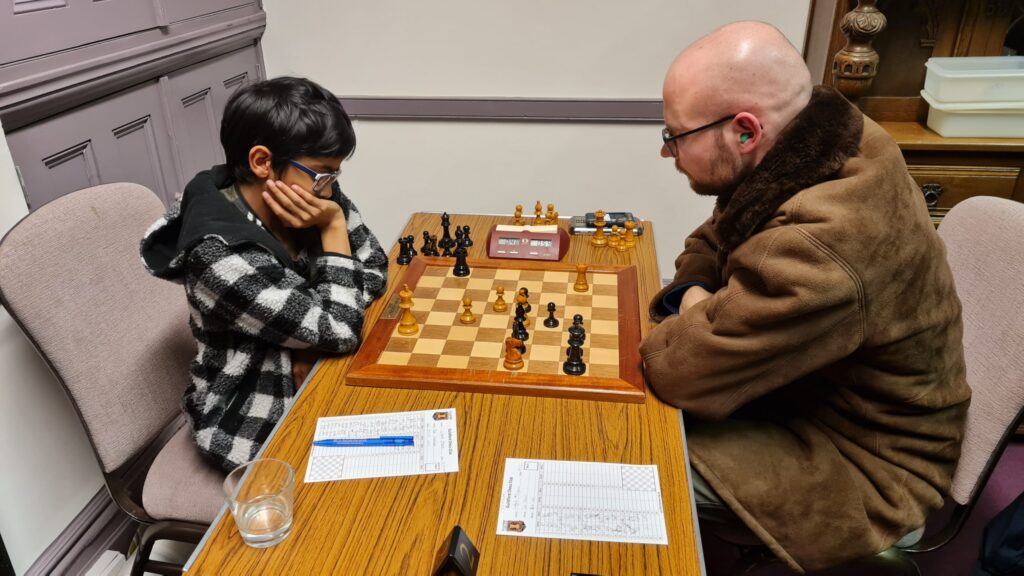 The game itself was full of dynamic ideas, and Lalić later remarked on Kothari's "confidence and decisiveness". Kothari opened with d4 and played the rare Chigorin Variation: 1. d4 d5 2. Nc3 Bf5 3. Bf4 e6 4. e3 a6 5. g4! A misplaced knight cost Kothari several tempi and Lalić gained an edge, but the youngster was way ahead on the clock (in the photograph above, it shows 48 minutes for White and just 59 seconds for Black!), and only Lalić's ability to play wonderfully creative chess on the 10-second increment saw him through, extending his advantage and establish a mating net to win the game in 38 moves. Judging by his play here and his club's confidence in him, Kothari is a name to watch.
These victories on the top two boards were enough to give Kingston a 4.5-3.5 victory on the night (adjusted to 5-2 because of the board order infringement), but the other six boards were a dogfight. Guildford's James Toon secured a hard-fought draw against Silverio Abasolo on board 3 in a game between two highly rated players that was nip and tuck throughout, while on board 4 Peter Stimpson's London System had David Rowson in a spot of bother. Both kings were in the centre, but Stimpson's looked safer and it was a surprise when he allowed a queen exchange which gave Rowson a slight advantage, though not enough to try to force a win.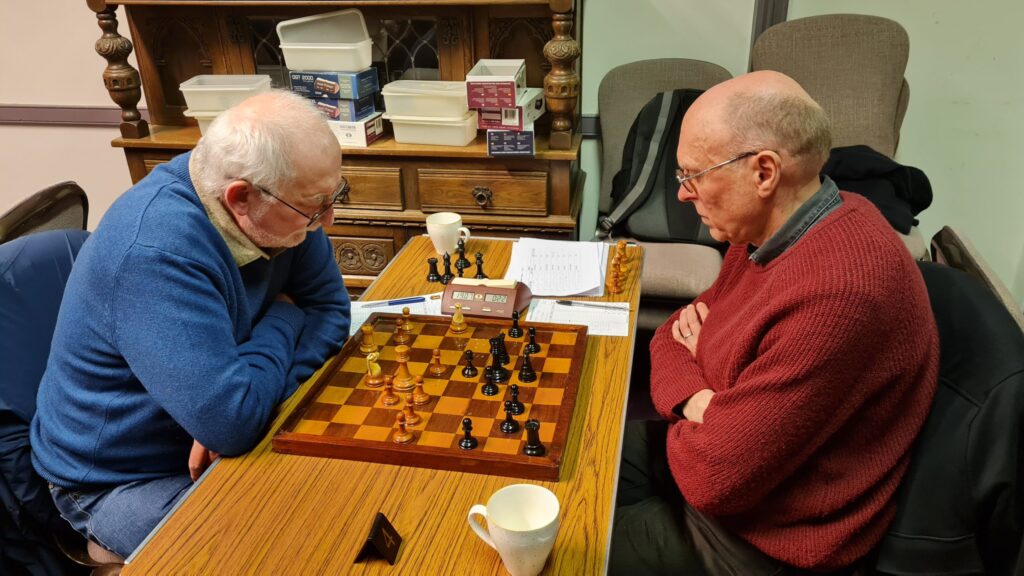 Board 5 was another draw – John Foley dropped a pawn early to Julien Shepley but had active compensation, with his bishop more active than Shepley's knight in an endgame which saw pawns running on opposite sides. It was the same story for Alan Scrimgour against Ian Deswarte on board 7 – another pawn down, another draw. But the key escape for Kingston was Julian Way's on board 6. Way's opponent, Michael Morgan, cleverly transposed moves against the Philidor Defence and Julian lost two pawns. However, Julian resourcefully sacrificed another pawn, his b-pawn, to get pressure with his rooks on the b-file and made life so difficult for his opponent that he agreed a draw. This was the crucial save for Kingston.
On board 8, Jon Eckert played a complex French Defence – his opponent chose the Tarrasch Variation – and was doing OK until in mutual time trouble Jon opened up the position. His opponent, Rob Merriman, infiltrated and had too many threats. That made the match 4.5 to 3.5 to Kingston – a narrow win that puts us level on 2/2 with Guildford 1 at the top of Surrey League division. The away match to Guildford's first team on 9 January is going to be a match to savour.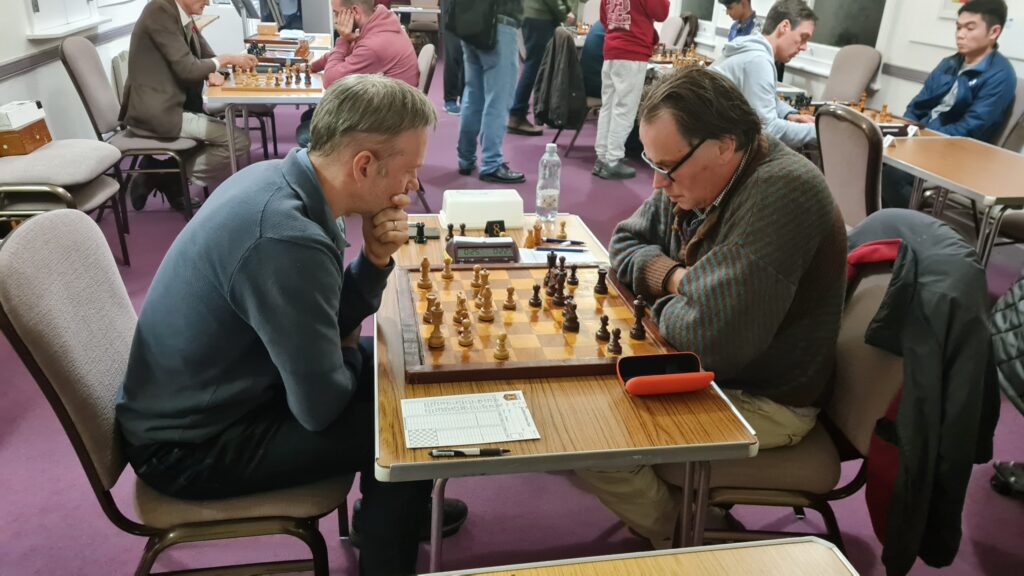 The trip down to Guildford is one of the team's longer journeys, and Kingston first-team captain David Rowson would like to thank John Foley and Jon Eckert for offering lifts to other players, and Peter Lalić for undertaking an even longer drive into deepest Surrey. On the return journey, the A3 was closed and so we had to drive slowly in the dark along narrow country roads through small villages. One of the places was Ockham, birthplace of William of Ockham who is famous for the ontological principle that "entities must be be multiplied needlessly".
Kingston's third team also played at Guildford on the same evening – see Stephen Daines' report below – and getting 14 players there was no mean effort.
David Rowson and Stephen Moss