Thames Valley division X match played at the United Reformed Church, Tolworth on 15 November 2022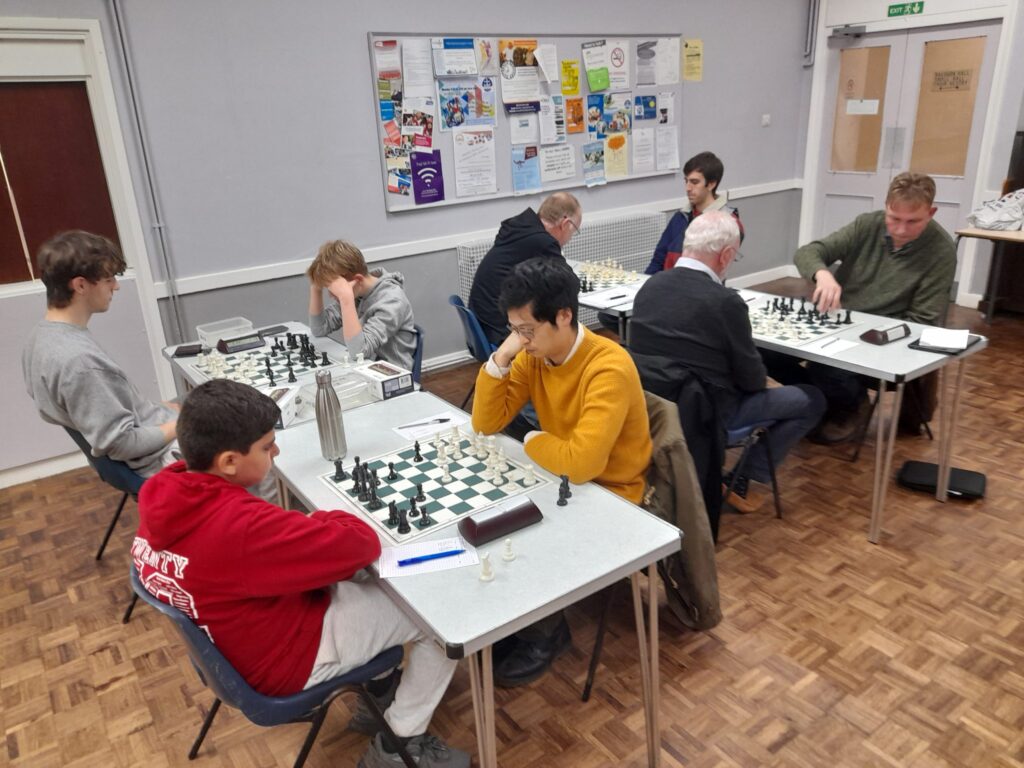 This was a very entertaining and hard-fought match between Surbiton D and Kingston C – two four-person teams made up of promising juniors and other players either relatively new to chess or, as in my case, scraping away the rust of 40 years of inactivity.
On board 1, Hayden Holden fought out an encouraging draw against Surbiton's JoJo Morrison, whose official rating is 1658 but who is a good 100 points stronger than that. An excellent result for Hayden, and you could tell from the two youngsters' animated post-match analysis that they had both enjoyed the game and been bursting with attacking ideas throughout.
The middle game had been very double-edged and Hayden felt he had missed a win when he had a chance to infiltrate with his queen. But it eventually resolved itself into a bishop v knight endgame in which Morrison had an extra pawn. With a long grind beckoning and school work still waiting to be done at home, peace was declared. The joys of evening chess!

Kingston junior Jaden Mistry took another step on his learning curve with a tight game against Colin Li, a relative newcomer to chess but one who shows enormous promise and works hard at his game. Li already has a rating of 1600 and will soon be pushing way beyond that. Jaden played well, but Li had too much ammunition, winning a couple of pawns and marching one of them up the board, with Jaden's queen helpless in the face of two rooks and a knight.

Max Mikardo-Greaves and Surbiton's Phil Goodings had the most complex game of the evening, with all the pieces clustered in the middle of the board and a unfathomable range of tactical possibilities on offer. Max went the exchange down and then lost further material, but with Goodings' rook slow to get into the game the piece count hardly mattered as Max launched a desperate attack. It looked very likely to succeed until Max went wrong in time trouble and let a possible mating attack with queen and bishop slip away. With that chance gone, Goodings was able to press home his material advantage. A tremendous game and a gallant performance from Max.

On board 4, my opponent Kim Cross and I played rapidly – the game was over in just 45 minutes. I turned a strong positional plus into a material advantage and, with Cross's king uncastled, saw what I thought was a forced mate in eight moves, using my queen and bishop to trap White's king in the centre. Amazingly, my analysis proved correct! I blitzed my way through my last seven moves, and my opponent resigned one move away from checkmate.
Alas it was not enough for the Kingston team, who lost the match 2.5-1.5. But given the rating disparities that was about what we expected, and there were creditable performances from all the players. Jaden is not the only one on a learning curve.
Stephen Daines