Surrey League division 1 match played at the Guildford Institute, Guildford on 9 January 2023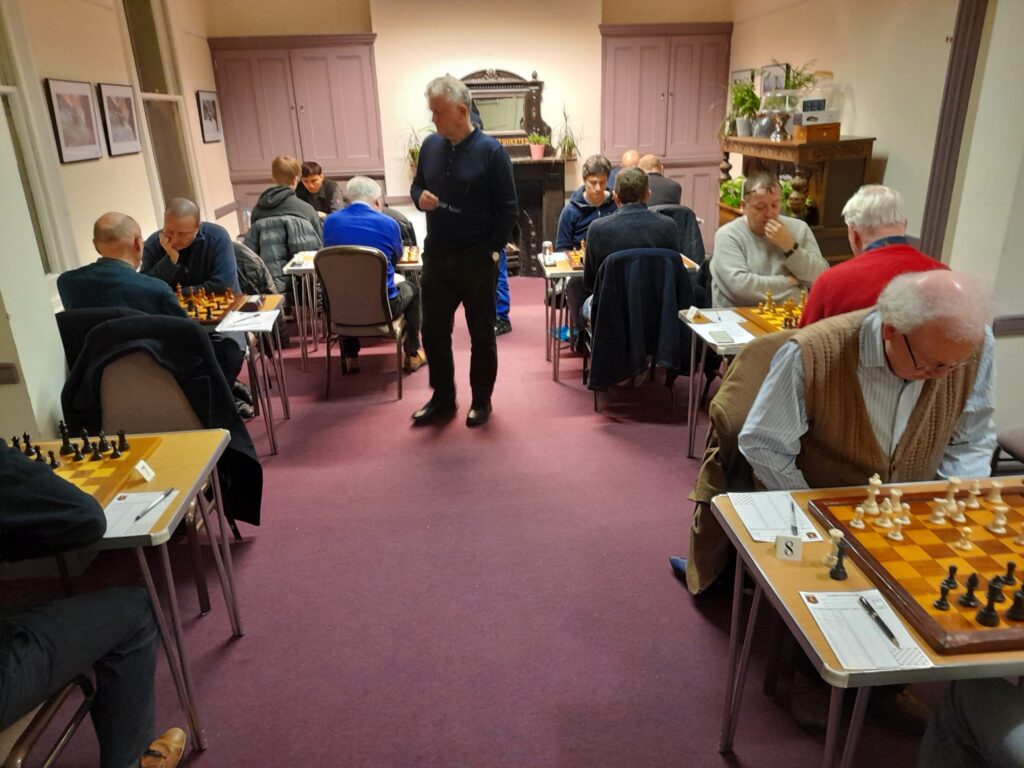 Guildford are the reigning champions in the Surrey League; Kingston, with no disrespect to several other strong sides, might be seen as their main rivals for this year's division 1 title. So this encounter away at Guildford was always likely to have a crucial bearing on the fate of this year's championship.
Both teams were very strong, with all 16 players involved rated above 2000, and the top boards contested by stellar talents. Alex Golding, one of the UK's strongest young players, faced Kingston's David Maycock on board 1, and got his team off to the best of possible starts with a win in what was the first game to finish.
Golding, with White, played the Glek Variation of the Four Knights (characterised by White's early g3). Maycock turned what can be quite a stodgy opening into a much sharper position by playing d4 and following it up with a pawn sac that gave him attacking chances. But he used up far too much time on labyrinthine calculations – he admitted later that he "overthought" the position – trying to turn what was no more than +1 into something more decisive. Golding, playing good, pragmatic moves, was soon an hour ahead on the clock; David was playing on the increment and went wrong, dropping a piece and soon after the game.
On board 2, Peter Lalić was up against IM Nigel Povah. Peter chose his favoured Dunst Opening – it was a night for offbeat opening aficionados to savour on the top boards – and the first 16 moves were wild. But Povah, perhaps influenced by Golding's win on board 1, then offered a draw, and Peter, who feared his opponent's bishop pair, accepted. Still advantage Guildford.
Kingston immediately landed a counter-blow on board 3, where Vladimir Li, with the black pieces, defeated Roger Emerson in a powerfully played Queen's Gambit Declined where he locked up the centre before storming through on the queenside. A magnificent game by Vladimir and a crucial riposte by Kingston, leaving the match all square.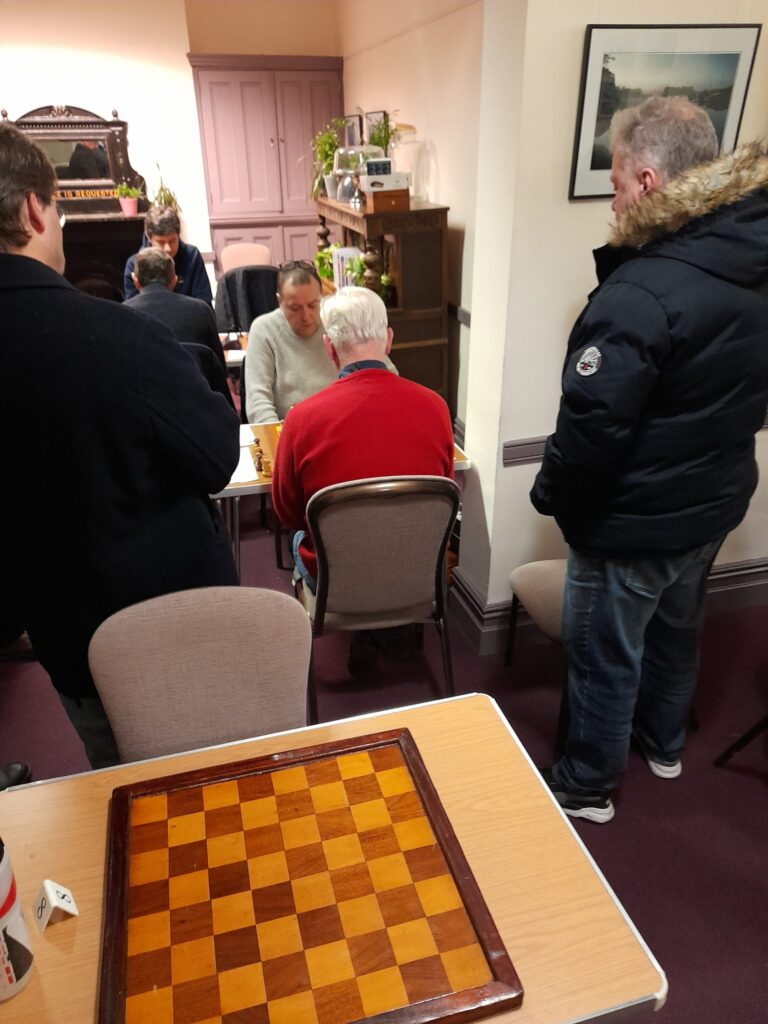 Kingston president John Foley's dictum that the top boards are generally the last to finish proved not to be the case on this occasion. The top three boards were already done and dusted, but it was to be a good half hour before we had another result as the other five games were all nip and tuck.
The next result came on board 8, where Peter Andrews, playing the English, drew against James Toon. Two-all. Craig Young then restored Guildford's advantage by beating Kingston captain David Rowson on board 5 in a game in which Rowson, essaying an Old Indian Defence which transposed into a King's Indian, felt he was playing catch-up throughout. He never did quite catch up and Guildford were ahead 3-2.
We were, though, still very hopeful. Julian Way was material up against Guildford skipper Nigel White on board 6; Will Taylor certainly wasn't worse against Clive Frostick on board 4 and indeed said later that he felt he had stood better and had a half-hour time advantage at one point; and on board 7, Alan Scrimgour, who had played his time-honoured Sicilian, had a small time advantage and marginally more mobile pieces in a rooks-and-knight endgame against Sebastian Galer. Had I been a betting man, I would probably have plumped for a 4-4 draw being the likely outcome at that point.
But it proved better than that for Kingston. In the Galer-Scrimgour game, the time advantage became crucial, with Galer starting to struggle to find good moves and eventually blundering to give Scrimgour a vital win. Now, for the first time in the match, Kingston held the advantage. A memorable victory suddenly looked possible.
With both players running short on time, Frostick and Taylor agreed a draw. That left the score tied at 3.5-3.5, with Way v White to decide the match. Theirs had been a complicated, well-contested game. Julian had countered White's Sicilian Defence with the Moscow Attack and, after some strategic shuffling, the game reached this position:
White chose the right move, Nxe4, but used the wrong knight for the capture. The knight he chose, the one on the c-file, gave Way a significant plus, because it opens up the a3-f8 diagonal. Taking with the knight on f6 would have given Black (or in this case White as Black, if you get my drift) a slight advantage. The game proceeded: 23…Ncxe4 24.Ne7+ Kf8 25.Qb4 Nxg5 26.Nxc8+ Kg8 27.Ne7+ Kh8 28.Nc6 Qa8 29.Nxd8 Bxg2 30.Nxf7+ Nxf7 31.Qc3, and Way is left with several ways to win. The dangers of a mate on g2 are nullified by the immediate threat of a forced exchange of queens on the back rank.
The game continued for a few moves more, but Black's (ie White's) cause was hopeless. Way had played calmly to convert his advantage, oblivious to the spectators clustered around the board, and Kingston had won the match 4.5-3.5 to go top of the Surrey League division 1 table. Kingston last won the Surrey Trophy – the cup awarded to the winners of division 1 – in the 1974/75 season, and before that, for the only other time in its history, in 1931/32. Thus we have been division 1 champions just twice in the 140 years the Surrey League has been in existence. Is it too soon to dream that this could be the year of a historic third success?
Stephen Moss