How would 11-year-old Kingston junior Jaden Mistry fare at the outdoor "Chess Arena" on the seafront in India's bustling commercial metropolis?
Malcolm Mistry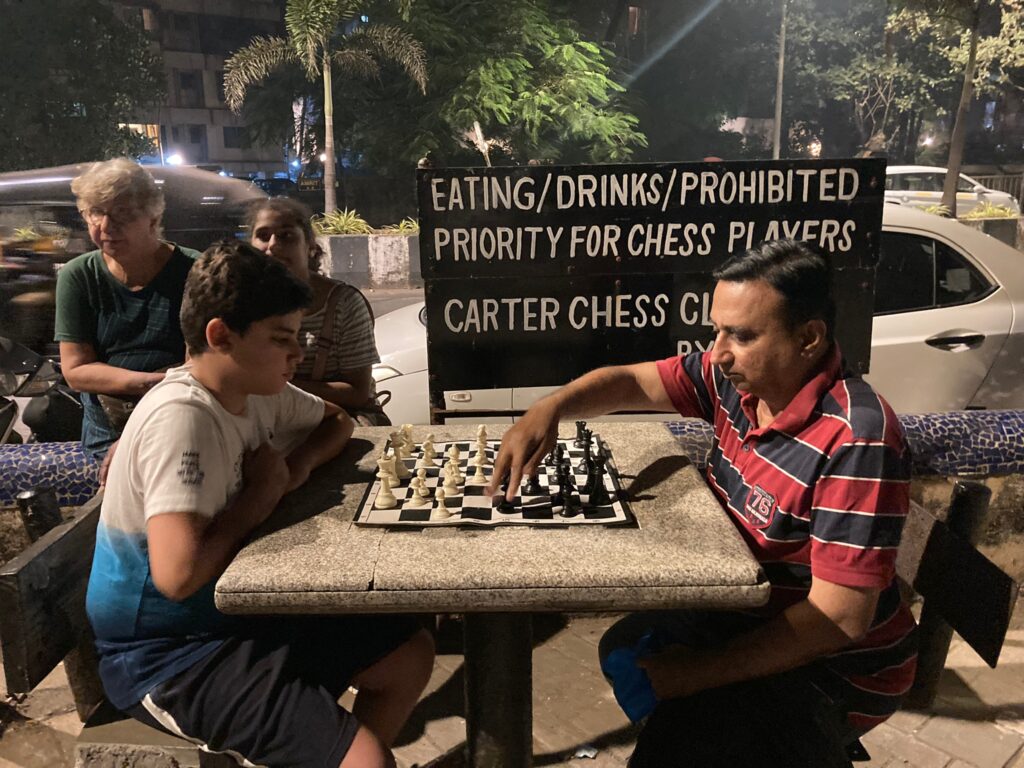 A recent holiday back home in our native city Mumbai was meant to be a relaxing Christmas break with family and friends. Little did I imagine the intended time off from my demanding work schedule, and a well-deserved pause for my 11-year-old son Jaden from doing his homework and playing league chess for Kingston, would have some surprises in store.
With an estimated population of 27 million, Mumbai is the second most populous city in India after the capital New Delhi. Located on the west coast of India overlooking the Arabian sea, Mumbai never sleeps: it is the epicentre of fashion, the commercial and entertainment capital of India, and home to both the mega-rich and the poor.
As in most parts of India, cricket is the sport that defines the city and unifies people across all social groups. Chess may not yet have the universal appeal of cricket, but it is catching up. Encouraged by a growing number of enthusiastic parents, schoolchildren now take chess seriously as a sport, aiming to emulate old heroes such as former world champion Viswanathan Anand ("Vishy") and new stars such as Rameshbabu Praggnanandhaa ("Praggy").
Both Vishy and Praggy hail from the southern Indian state of Tamil Nadu, and in part thanks to their achievements chess is most popular in the south. Club chess and coaching are increasing in Mumbai, though still not at the same pace as in the south of the country, but intriguingly one can also now often find chess being played in cafés, malls and workspaces.
An interesting open-air spot along the picturesque Arabian sea where I accidentally discovered street chess being played by young and old alike was on the promenade at Carter Road in Bandra, an up-market suburb of Mumbai. The promenade itself, a mile-long walkway along the Arabian sea, is popular with fitness enthusiasts and casual walkers. Carter Road is one of the most expensive areas in Mumbai, filled with cafés, street food stalls and fine-dining restaurants.
Strolling with Jaden on a pleasant Christmas Eve morning, we were intrigued by an array of marble tables and makeshift benches and chairs made from a mix of wood, stone, iron and steel at the northern end of the Carter Road promenade. We asked some locals about them, and were told that players and spectators were usually to be found in the evenings at the so-called "Chess Arena", as well as occasionally in the mornings on weekends and holidays.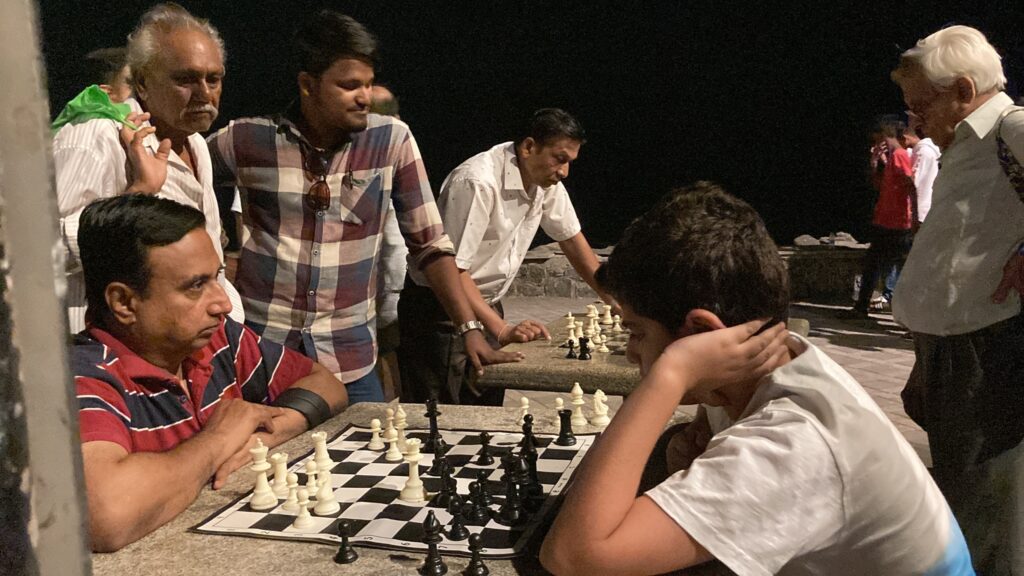 A local resident who was himself a social chess player gave us some background on the arena. He said that, drawing inspiration from open-air chess in the parks of New York, two chess boards set in marble and stone were initially erected in 2009 by the Carter Road association, with help from the local council. Subsequent interest from visitors prompted the council to add another 14 boards, though the monsoon rains from June to September and the salty sea breeze have since corroded some of the metallic structures, reducing the number of playable chessboards to about a dozen.
Armed with this history of the Chess Arena on a promenade where I walked with my wife on our first date (on 26 May, 2007, to be precise), I couldn't help but reflect on the positive changes that my childhood city had undergone in recent years. Encouraged by Jaden, who in a café not far away from the promenade was being told about his parents' first date, our natural instinct was to try to play a quick morning game on one of the medieval-looking marble boards. To our disappointment, we discovered there were no pieces – and no players either. I promised Jaden we would come back in the evening with our own chess pieces.
For Jaden, the wait until evening was the longest in his two-week of holiday back home in India. When the time arrived, I don't think I have ever seen him get ready more rapidly. Soon we arrived at the same spot as in the morning, and were pleasantly surprised to see five of the chessboards already occupied. These were serious chessplayers, though playing without clocks.
There were also a number of onlookers loudly offering advice in a mix of local (Marathi) and national (Hindi) languages. I was impressed by the focus of the players and their indifference to the banter. The post-mortems after the games were even more intriguing, with the spectators having memorised the moves better than some of the players, who generally did not keep score.
Sensing Jaden's impatience, I approached one of the players, who had just won a close game, to see if he would play a game with my son. He agreed, and with twilight descending we moved to another chessboard nearer a streetlight. Jaden's first Chess Arena opponent was called Raju, quite a common name in India. He said he was a frequent player at the arena and reckoned he was rated about 1500.
Raju asked Jaden in a strong south Indian accent if he was a newcomer to the arena. Jaden explained how he had got involved in club chess in a pub in Kingston, London. Jaden's recently acquired southern English accent, accentuated by a tinge of an Italian accent left over from having spent the previous eight years in Italy, and his opponent's south Indian accent meant each of them repeated the same sentence twice to ensure they understood each other. But the beauty of chess is that, as with mathematics, it has a language of its own. A few moves into the game, Jaden and Raju seemed to understand each other perfectly. So here we were, within no time, my son making his international street-chess debut in his birth city and opting for e4 as White.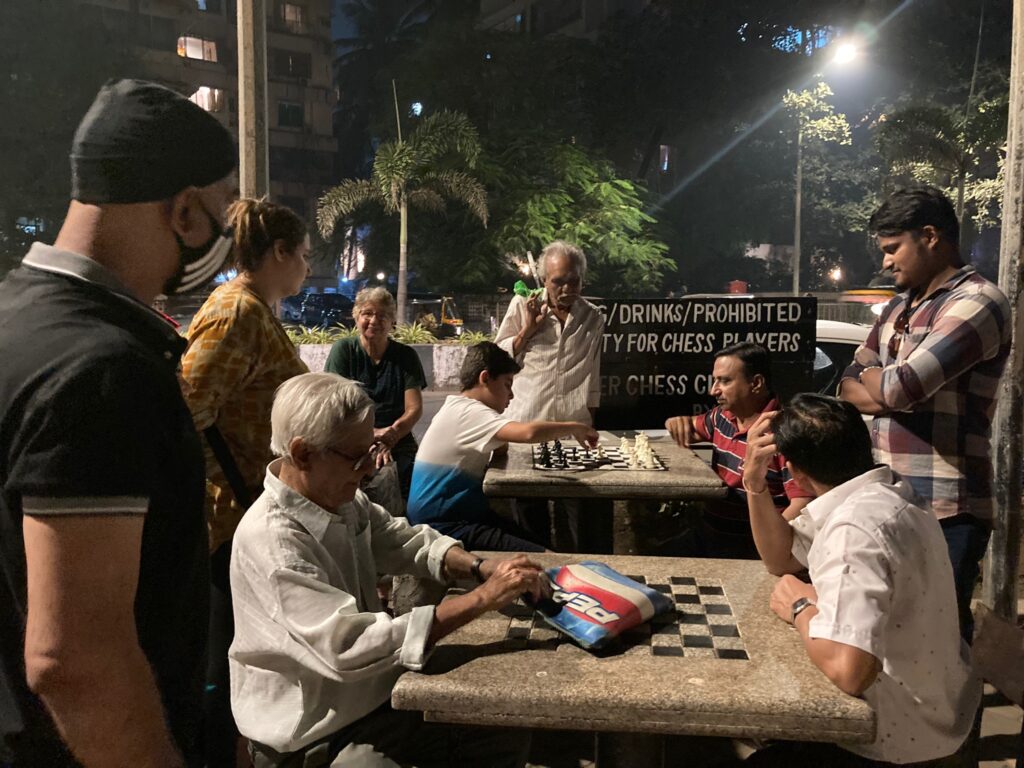 Faced with high-decibel traffic in this busy Mumbai suburb, and surrounded by curious and vocal onlookers, this was a spectacle Jaden had never encountered in the UK during his short chess career. He asked me if I had any earbuds to reduce the sound – not something I consider carrying in my pockets. Soon the focus of the onlookers at other boards shifted to Jaden's game. The fact that he was by far the youngest player that evening encouraged the vocal chess engines to offer even more uninvited expert opinion. Raju politely reminded the spectators that their shadows falling on the board were dimming the already obscured streetlight.
The game lasted about 45 minutes and, after a rapid exchange of material towards the end, the players agreed a draw. The result drew applause from the spectators. One of them introduced himself as a chess player and coach, and invited me to visit his Facebook page, claiming to be a 1600 Fide-rated player and offering to coach Jaden. Raju later told me it was quite normal to be greeted by self-acclaimed chess trainers and experts, who might or might not have the credentials to coach.
As for Jaden, he appeared relieved to be off the mark in his international chess career. Inspired by his new-found confidence, he quickly made a New Year resolution to score his first points for the Kingston third team. Raju, perhaps sensing he had let an 11-year-old off with a draw, quickly asked Jaden for a rematch. The two of them ended up playing twice more, with honours even at the end of the evening – Jaden had won one, lost one and drawn one. Much to my amusement, our two hours at the Chess Arena had seen a succession of players and spectators observing and commenting on different boards in a variety of regional dialects, some of which I couldn't fully comprehend myself.   
We visited the Chess Arena a few more times during our stay in Mumbai. I lost count of the number of games Jaden played, but what is embedded in my memory – and perhaps in Jaden's as well – are the buzz and vibrancy around the Chess Arena. In many ways, it felt nothing less than a carnival of street chess.