Thames Valley League division 2 match played at the Willoughby Arms, Kingston on 24 January 2022
At last the Kingston Thames Valley team showed its true ability and credentials as a promotion contender with a 5-1 win over league leaders Richmond. It was Kingston's A team up against Richmond B, so Kingston started strong favourites. But Richmond like to spice their second team with a few first-team regulars, so it was by no means plain sailing.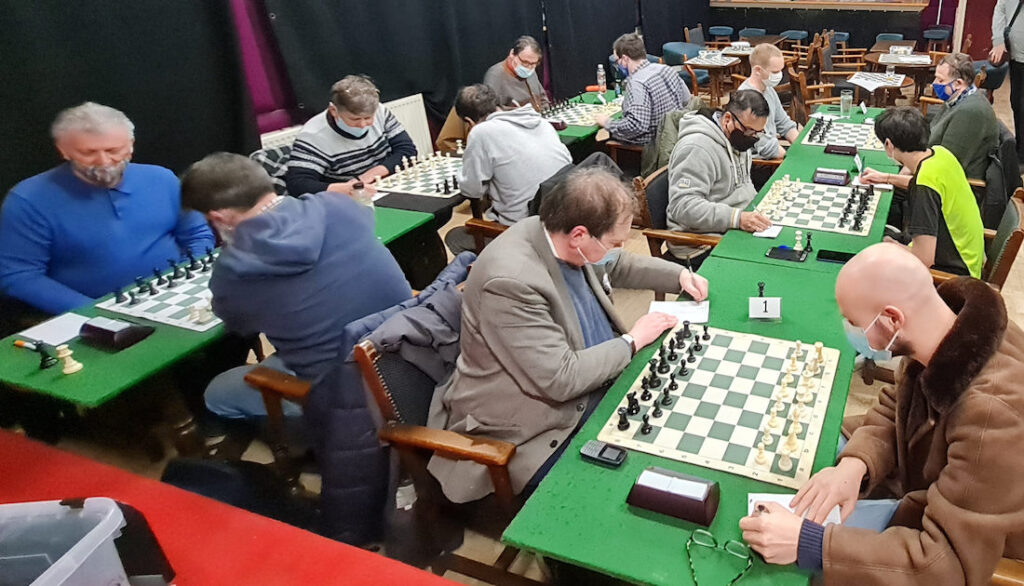 Jon Eckert, on board 6, led the way for Kingston with a swift win over Rob Hunter. Eckert grabbed a piece for three pawns and was for a while worried that his king was exposed by being unable to castle, but two bishops working in harmony gave him control and the piece advantage quickly told. Kingston were up and running.
Kingston stalwarts Julian Way and Alan Scrimgour, on boards 3 and 4, got solid draws against highly competitive opponents, and the scene was set for the conclusion of the game of the night on top board between Kingston's Peter Lalic and Richmond's Bertie Barlow, who has been having a terrific season and is no respecter of reputations or players rated 240 points above him.
Barlow tends to play quickly and Lalic fell behind on the clock, but despite playing on the increment (the time control for this game was 65 minutes and a 10-second increment) for quite a few moves as the game reached its climax, Peter constructed a masterful attack, doubling his rooks and throwing in a knight to corner Bertie's beleaguered king. Loss of a piece was inevitable but Barlow bravely tried to complicate, only to end up being mated by Lalic's marauding rooks.
David Maycock won on board 2, but you wouldn't have known he had just secured victory immediately after the game. He had a face like thunder and said he had played poorly, getting himself into a positional tangle against a player rated more than 400 points below him. David is a perfectionist – surely a good thing as long as he allows himself to enjoy some of the pleasures of victory. Isn't the ability to "win ugly" part of a strong player's armoury? Not every game can be an aesthetic triumph.
That made it 4-1 and left Vladimir Bovtromovich to finish off his game against Pablo Soriano. He was winning comfortably in an endgame that pitted rook and five pawns against rook and three, but made life difficult for himself by getting his king offside and allowing his opponent's king and rook to get a pawn home first. Bovtromovich had to sac his rook and enter a complicated endgame where he had four pawns against rook and pawn, which sounds – and indeed looked – a little troublesome.
The position was tricky, but an active king and the fact that two of his pawns were well advanced meant Bovtromovich almost certainly still had an edge. In the event, Soriano went wrong before the full complexity of the position could be tested, grabbing a pawn in an effort to get his own sole survivor through but managing only to allow one of Bovtromovich's quartet to queen first.
That made it 5-1, and it was time to go to the bar, which was buzzing with activity. This was the final match at Kingston in which masks were mandatory in the playing room; they will be optional from next week. The issue has been divisive and we are pleased to be through the compulsory mask phase – we hope forever.
Stephen Moss, Kingston Thames Valley captain