Surrey League division 2 match played at the United Reformed Church, Tolworth on 11 April 2023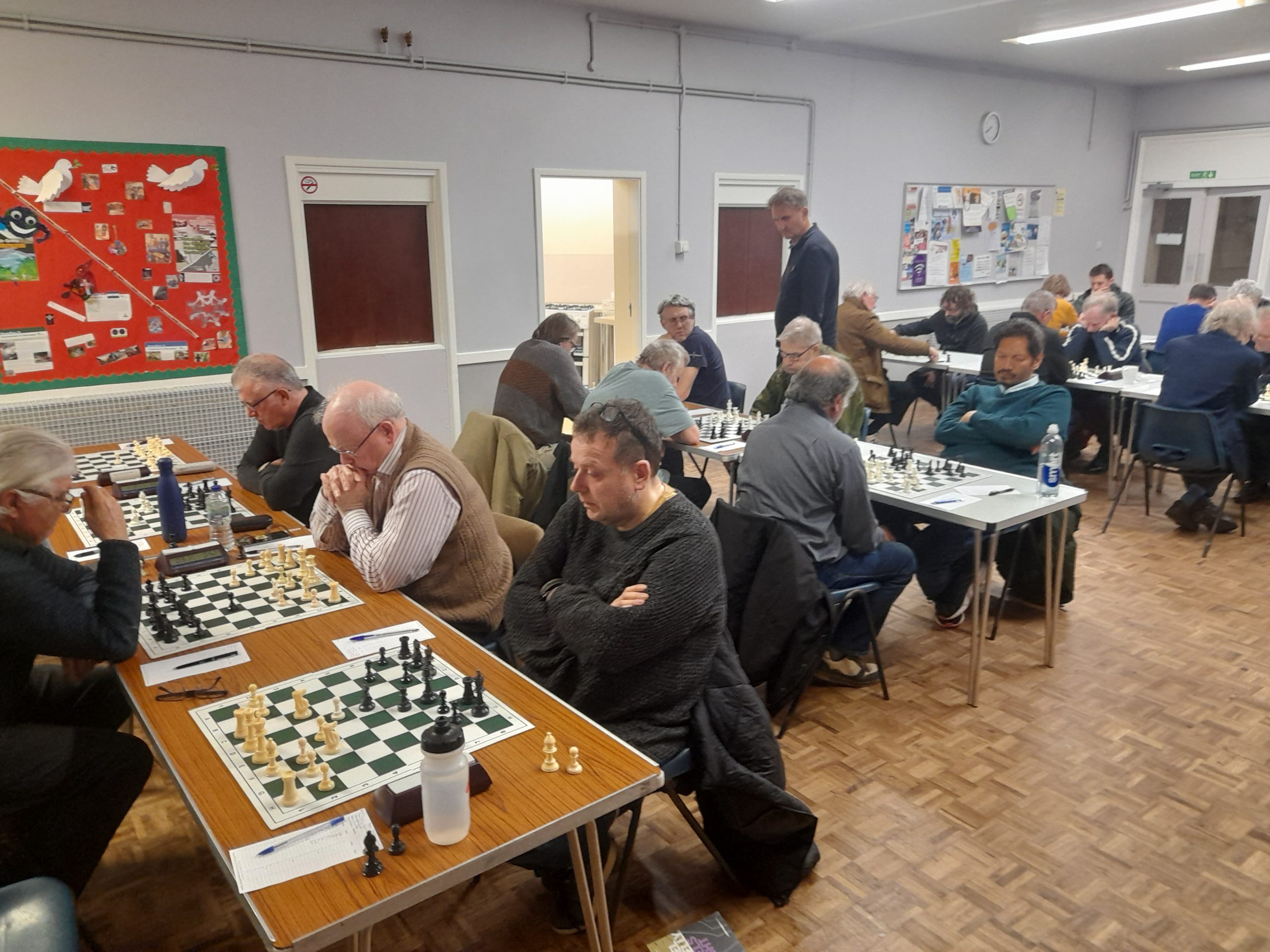 Oh, how the wheel of fortune turns. Five or six years ago, at the apogee of their success, Surbiton 2 would routinely beat Kingston 1. Here the roles were reversed, with Kingston 2 getting the better of Surbiton 1 by 5-2. It was a vital win for Kingston 2, who are threatened with relegation after a season in which we have struggled to put out our strongest possible second teams. Thankfully, here we had a powerful line-up and were rewarded with a victory which gives the club a chance of survival in division 2. One of Kingston, South Norwood and Surbiton will be relegated, with the crunch match being Kingston 2 v South Norwood 1 at Kingston on Monday 29 May.
It helped Kingston's cause that Surbiton were missing several key players, notably Mark Josse, Chris Briscoe and David Scott, and that their board 1 failed to show up. John Foley sat patiently until the default time of half an hour, then claimed the point. Surbiton's engaging captain Graham Alcock apologised for the Kingston president's wasted journey, but frankly we were just happy with a free point.
Jon Eckert, with White, launched a vigorous attack against Alcock on board 5 that for a moment looked promising, but the Surbiton skipper repelled it comfortably and a draw was quickly agreed. That made it 1.5-0.5 to Kingston and we were starting to feel confident, though Surrey veterans Nick Grey and Paul Durrant were engaged in a messy struggle on board 6, and some of the other games were far from clear.
Peter Andrews was playing Nick Faulks, against whom he reckoned he'd played half a dozen games in the past, on board 3, and Faulks established a tiny plus against Peter's English Opening, reaching this position on move 11, with Black to play:
Faulks played 11…Bd7 here, which Peter says is overly passive – Bg4 is better. The denouement followed remarkably quickly: 12. Na4 Bxb2 13. Nxb2 b6 14. Nc4 f6 15. d4 cxd4 16. Nxd4 Nxd4 17. Qxd4 Be6 18. Qe3 Bc8 19. Rfd1 Qe8 20. Nxb6 Rxb6 21. Rxc7 1-0
Peter wondered at the time if resignation here was premature, but engines bear out Faulks's decision. Stockfish makes it +7 for White, and even my more conservative engines gives a +4.5 advantage. The a-pawn is falling, White's rook on the seventh is a monster, and White's pieces are very well coordinated. Peter's win made it 2.5-0.5, and now we could really start to believe.
On board 7 David Shalom, who has made an excellent return to competitive chess this season, was playing an interesting game against Ye Kyaw. David played the London System very adventurously, recapturing a piece on g3 with the f-pawn to open up the f-file and then giving up a pawn in the centre to mobilise his rooks. This was the position on move 18. White has just played 18. Rae1 to gain a tempo by attacking the queen.
When I looked at this position I didn't like it for White and feared for David in the game – potentially a crucial one with several other games looking drawish. Does White really have compensation for his pawn? But David clearly has a very well-calibrated positional sense because engines think he does have sufficient compensation, giving the position as more or less level. The problem for Black is the hole on f6, created by the unnecessary 12…g6 earlier in the game. What was it Steinitz said about never moving the pawns in front of your castled king without urgent reason?
This is how the game proceeded: 18… Qd6 19. Rf6 Kg7 20. Ref1 Bb7 21. Qf2 Qe7 22. Qf4.
There is a must-play move here, but Black fails to play it. You can't allow White's queen to occupy e5, and should play 22…e5, or at the very least 22…Rad8 to challenge the White queen on that square with Qd6. But Black has some misguided idea about solidity and plays 22…Rae8?? The end follows swiftly: 23. Qe5 Kg8 24. h4 Qc5+ 25. Kh2 Qc6 26. R1f2 Rd8 27. h5 Qd6 28. Qg5 Kg7? (28. Qd7 staves off mate but is still losing) 29. hxg6 fxg6 30. Rxg6+ Kh8 31. Rg7 1-0 A terrific win by David and now, at 3.5-0.5, we could not lose the match.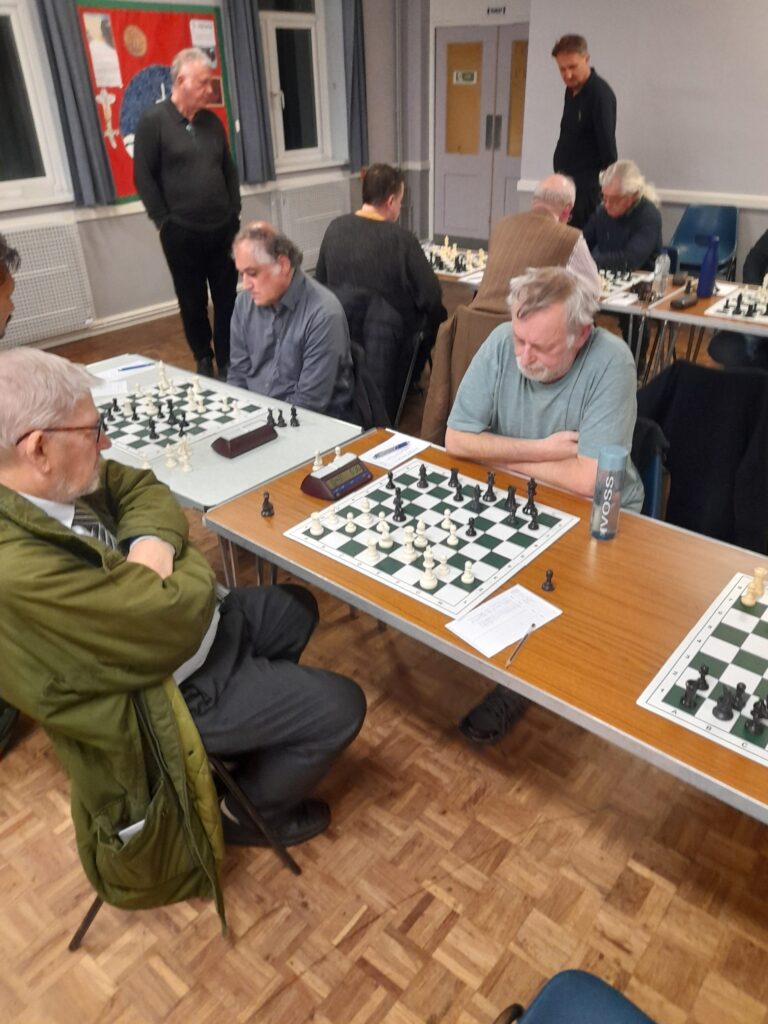 Alan Scrimgour's draw with Angus James on board 2 followed soon after, giving Kingston an unassailable 4-1.5 advantage, and Nick Grey got a perpetual against Paul Durrant on board 6 when a piece for two pawns down. An important "swindle" in a division where relegation could be decided by game points.
With time for the match about to be called at 10.30pm, Julian Way and Andrew Boughen agreed to go to adjudication. Julian was the exchange down but had a passed pawn on e3 supported by an unmoveable knight on d5, so he certainly wasn't losing and thought he might have winning chances. Later computer analysis, however, suggested that, while Black does have a tiny edge, with best play a draw was the most likely result, and that was the result mutually agreed between the players.
All in all, a great evening which gives us bragging rights in the borough of Kingston and, more importantly, makes sure we have a fighting chance of staying in division 2 of the Surrey League. Everything now hinges on that South Norwood match at the end of May.
Stephen Moss, Kingston 2 acting captain in Surrey League