Surrey League division 2 (Beaumont Cup) match played at the Willoughby Arms, Kingston on 21 February 2022
Where to start? It's true that we're only talking about the parochial world of Surrey chess but, within those confines, this was a hugely anticipated clash. This season has seen the birth of a new rivalry, between a re-established and ambitious Epsom and a rejuvenated Kingston. This was the fourth 2021/22 encounter between the two clubs, each one hard-fought. Both sides understood its significance, as it was highly likely that the victor of this match would go on to win the Beaumont Cup.
In recent days Kingston scouts had sniffed out rumours that Epsom were going to reinforce their team with one or even two more international masters. Were they worried that fielding one IM (Peter Large) was not enough to match Kingston? This fomented a great deal of speculation among the Kingston players about possible pairings and how to prepare for them. In the event, there was one especially intriguing match-up on board 1, where Peter Lalić faced his stepfather, IM Graeme Buckley. The other end of the pairings, board 7, would see a generational challenge, as our Scottish national senior team player was up against the British under-12 championship runner-up.
I had decided to sit, or rather, stand, this one out as non-playing captain. This meant I could observe the play without being distracted by my own position, and enjoy (or worry about) each of the games. In the initial stages many of the players seemed to be understandably cagey, apparently not wanting to commit themselves too soon in the opening, with the result that, for me at least, several of the openings defied labelling. One exception to this was the Scrimgour-Patel game, where Alan essayed the King's Gambit, confidently accepted by Zain, and another was the Young-Way opening, as Julian boldly chose Alekhine's Defence. All the games except for board 6 were being played according to the Fischer time control, but on the top boards in particular the players used up a lot of time over the opening stages.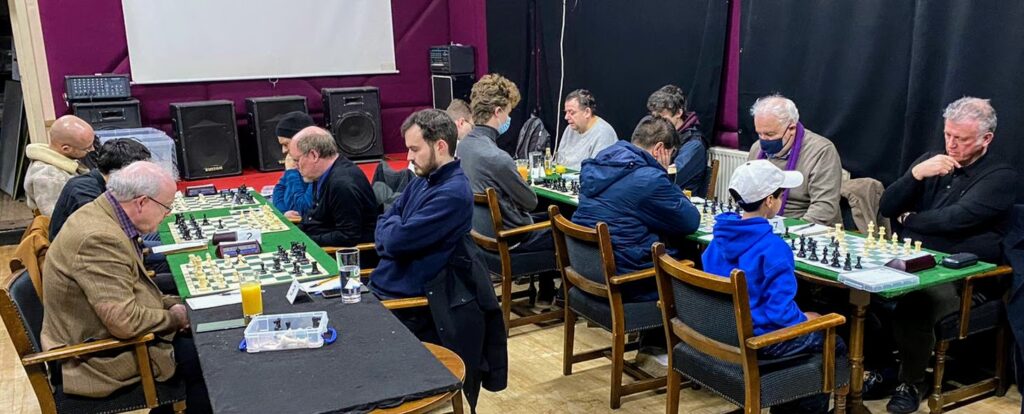 As the first hour passed the outlines of the positions became more clearly defined and the players became more committal. Peter Andrews, our supersub on board 3, playing instead of his captain, carefully built up a positional advantage and cunningly delayed castling in order to attend to more important aspects of his game. Suddenly there was a little flare-up of tactics which resulted in Peter temporarily having two queens on the board, both unfortunately en prise, but with his position subsequently improved.
Around the same time, the other Peter confidently rejected his opponent's draw offer. Alan's King's Gambit went from being strategically to tactically complicated; he acquired two bishops for a rook and several pawns, but his opponent's rooks were inactive and his kingside in the line of fire of most of Alan's pieces. How to take advantage of this? Alan played what looked to me like a winning rook sacrifice on h7, but Zain spotted that a check by his queen on the first rank allowed it simultaneously to return to defeat Alan's threats. Kingston 0 Epsom 1.
Soon after this Kingston got on the scoreboard when Julian came up with a clever defensive exchange sacrifice which resulted in an agreed draw. Then John Foley, who had outplayed his opponent in the central skirmishes of a London System and won a pawn, successfully steered through the complications to win our first whole point. Kingston 1.5 Epsom 1.5.
I hadn't been able to follow what was happening in the Taylor-Gosling game because it was taking place near the far wall, but now I registered with surprise that Will had sacrificed a rook – two rook sacs in one match! Although Marcus Gosling had plenty of pieces, they were positioned in such a way that they were unable to come to defend his king, and Will's attack crashed through – an excellently played game.
So Kingston had won the battle of the lower four boards 2.5-1.5, and everything depended on the top three pairings. Peter Andrews was winning in principle (ie positionally), but his opponent was creating practical threats against his king and time trouble was a factor for both players. The position exploded with each side attacking the opposition's king, but Peter's attack was the unstoppable one and just at that point Michael Dams lost on time. Now Kingston could not lose, but could they win? David Maycock had been holding the very experienced Peter Large well, but in another case of time trouble he lost his way and a pawn, then a piece. Kingston 3.5 Epsom 2.5.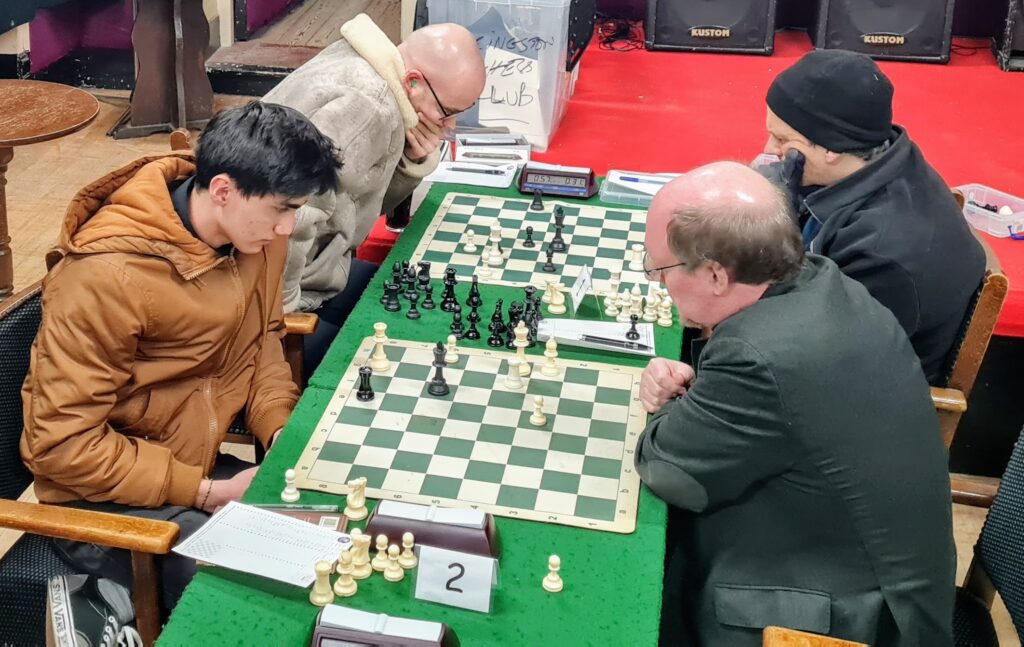 All eyes were now fixed on the board 1 family clash. The opening seemed to me to have followed an original course, with Peter (playing White) occupying the centre and Graeme sniping from the flanks, to the extent that his king's knight was placed on h6. As the denouement drew near, with both sides down to their 10-second increments, the players reached a rook ending in which Black was pressing dangerously (see video below). However, Peter impressively kept cool and managed to reach a position in which he could give up his rook for Graeme's passed pawn while forcing Graeme to return the favour a few moves later. The tension was such that Peter admitted he wasn't sure that it was a draw right up till the final moments, which appropriately finished with just kings left on the board. Peter had ensured that bragging rights were with Kingston, as we edged the match 4-3.
With three wins out of three and this key victory against our most dangerous rivals, we are now favourites to win the Beaumont Cup. However, we still have to make sure we beat South Norwood and Surbiton 2 in the final rounds. Further dramatic encounters with Epsom undoubtedly lie ahead, and we greatly look forward to them.
David Rowson, Kingston Beaumont Cup (Surrey League division 2) captain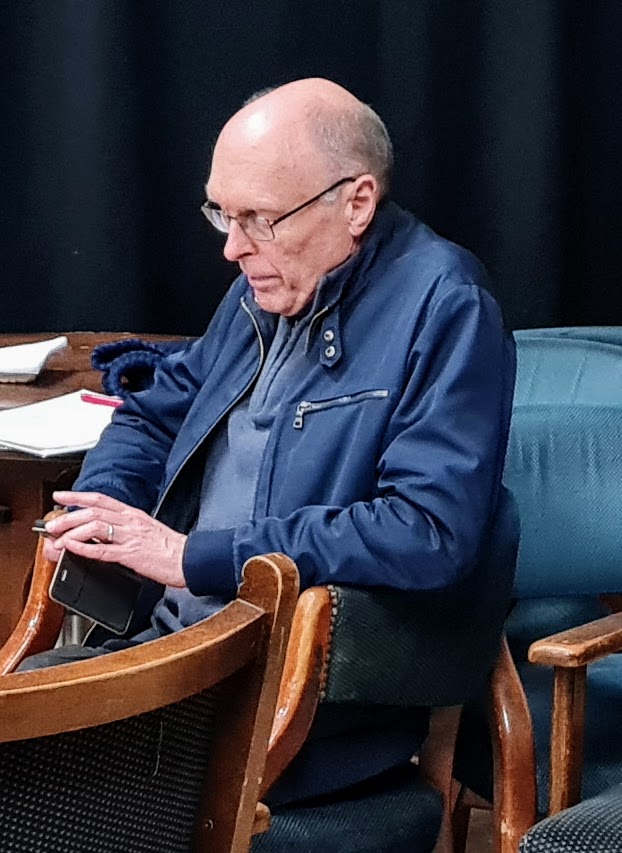 Your match reporter providing a live feed of developments