Surrey League division 2 (Beaumont Cup) match played at the Willoughby Arms, Kingston on 6 December 2021
The first Beaumont Cup match of the season and the captain was nervous. After all, 41 years had passed since he had last led out a Kingston team to take their places at the boards. Did he still have what it takes? The loss of the toss might have suggested otherwise. On paper, given the grading disparity, Guildford 3 should have been no match for the cream of Kingston, but were they a banana skin lying in ambush?
In the event, the Guildford players put up a creditable fight and several of the Kingston players were required to press the grind button to achieve their wins. For some time all the players doggedly stayed in their seats, the atmosphere heavy with concentration. To be honest, it was not so easy to stand up and move around in the central seats anyway, due to a lack of space between the rows, but this was probably all to the good in the case of a player such as myself, who otherwise gets distracted by the other games.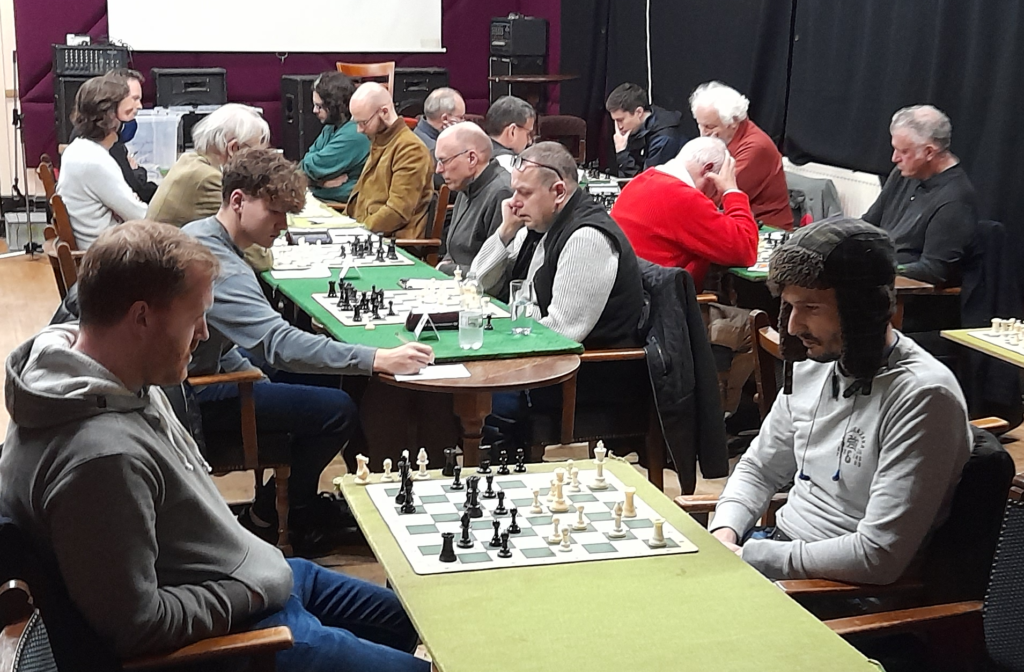 John Foley and Alan Scrimgour made quicker work of it than the rest of us, winning quite early. Mike Healey demonstrated yet again how at home he is defending the Ruy Lopez, and Peter Lalic skilfully tightened the screws on his opponent's Sicilian centre. Almost from the start of his game, Julian Way was nursing a slight advantage, and it looked like his king march to the far side of the board would see his passed pawn home. However, according to Julian the king took the wrong route, and his opponent Henry Loomis's resourcefulness, aided by a mobile knight, resulted in a draw by repetition.
My game followed a pattern which is familiar to me. As Black in an English, I was given the two bishops and complacently assumed that I could slowly let the position win itself with natural moves, whatever they might be. I underestimated Trevor Jones's ability to keep finding strong moves in the middlegame, until the position was looking very good for him, with my king exposed and my pieces not co-ordinating well. I was fortunate to find a way to swap off most of the pieces until an opposite-coloured bishop ending was reached and a draw agreed (game below).
Finally, Will Taylor, who had been a pawn up for much of his game, finished it off in a king and pawn ending. A conclusive win by 6-1. More challenging matches may lie ahead, but it was great that we avoided a banana skin first time out. Thanks to everyone for their participation, and to Greg Heath for all his help in preparing the room for the match.
David Rowson, Kingston Beaumont Cup (Surrey League division 2) captain
---