Thames Valley League division 2 match played at the Royal British Legion, Hounslow, on 28 February 2022
Kingston successfully continued their quest for promotion from Thames Valley division 2 with a win against Hounslow away. The 4.5-1.5 scoreline suggests a comfortable victory for the team, but in the first phase of the match such a result looked unlikely. Fortunately for Kingston, our match fitness told in the final hour.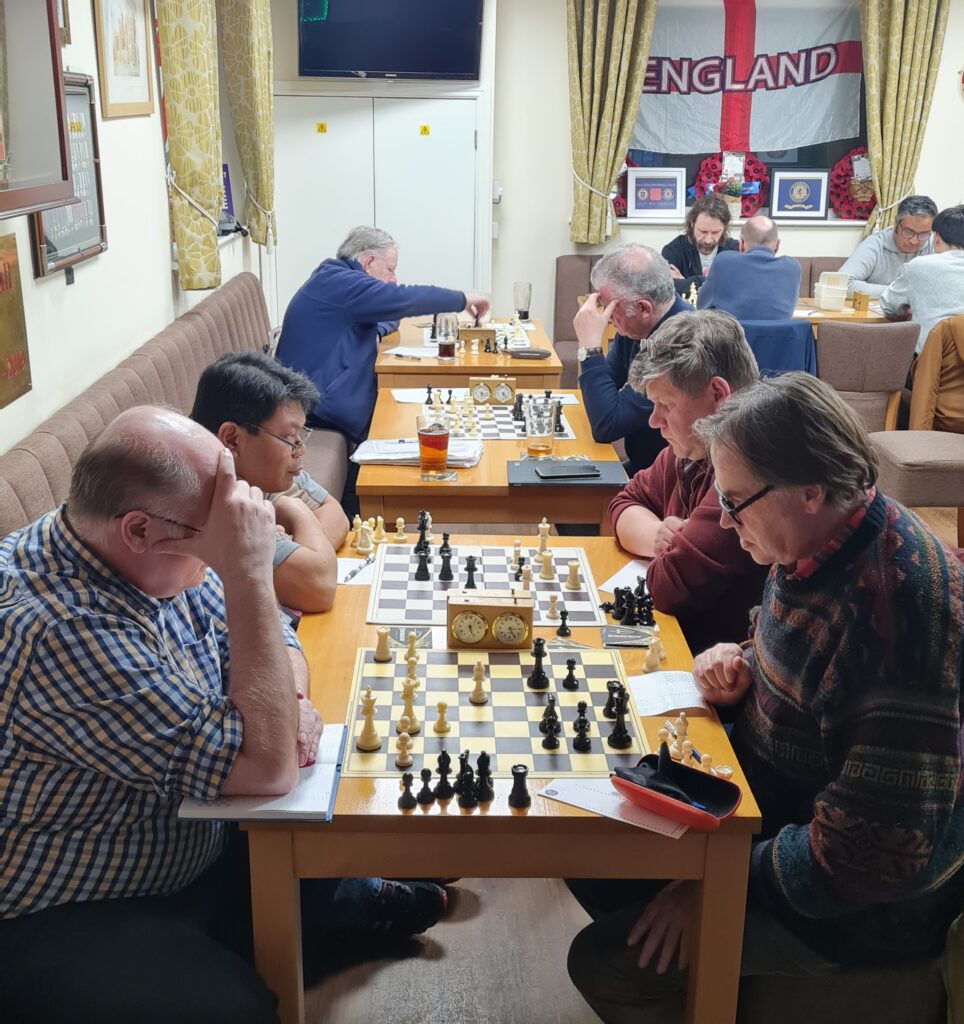 An initial conundrum for captain John Foley was the whereabouts of our board 5, Vladimir Bovtramovic. This was not Vladimir's fault, as he did arrive in time to beat the default count, but was due to the coincidence that there was another Vlad, Vladimir Li, who had come along to the Willoughby Arms for the first time that evening.  John's WhatsApp enquiry "Where is Vlad?" got the response from base "Vlad is here", and it took a few more exchanges of messages to establish that this was the new Vlad, not the one required in Hounslow.  Anyway, it's good to know that we are now very well resourced in the Vlad department. 
Hounslow fielded a strong team, with players rated over 2000 on the top two boards and experience all the way down. In the opening phase it was hard to gauge which side was doing better. Alan Scrimgour looked to have a level game against David White in a c3 Sicilian, and this was quite soon drawn. Jon Eckert was a pawn down in a rather dry position, while in Vladimir's game his centre was in danger of caving in, so he sought compensation on the queenside. The board 1 Maycock-Vaddadi encounter, a Sveshnikov Sicilian, saw White controlling the central white squares in exchange for a sacrificed pawn. In Foley-Fincham a dead drawn opposite-coloured bishop ending had been reached (below), but John then rejected a draw because of the uncertain situation on the other boards. My own position, out of a Bird's Opening (I wished I hadn't missed Mike Basman's recent talk) was a complex one, with play poised right across the board. I thought I had a winning manoeuvre, plunging my knight into a hole on e3, but I had overlooked White's defence and found myself facing a formidable pawn centre.
Foley v Fincham: White managed to win from here due to a more active king
However, the second phase of play turned very much in Kingston's favour.  John's opponent neglected his king and allowed a passed pawn and an active king. David showed that he'd evaluated his positional strengths accurately, and he ended up trapping Black's queen. I was very much on the defensive, but Matt Dydak was worried about his time shortage and offered me a draw – I grabbed his hand without a second thought. The greatest upturn was on board 6, where suddenly Jon was a whole rook up, thanks to a clever sequence of moves resulting in a knight fork. Finally, Vladimir and his opponent agreed a draw and the match was well and truly Kingston's.
David Rowson