Thames Valley League division 2 match played at St Winefride's Church Hall, Wimbledon SW19 on 30 March 2023
Wimbledon A were somewhat weaker than we expected for this match, which at full strength against Kingston's B team they would win easily. But they were still strong enough on the top boards to get the job done, running out comfortable winners by 4.5-1.5, with three wins and three draws.
On top board, Wimbledon's Dan Rosen, avoiding the Caro-Kann with which he had failed to obtain an advantage on a previous outing against John Foley, essayed a King's Gambit, but John, who has had an excellent season, declined it. The game was well controlled with neither side taking any risks. Rosen's slow build up on the kingside was thwarted by Foley's nimble piece-play in the centre and peace was soon declared.
Max Selemir as usual played aggressively against the very confident young Wimbledon player Girinath Haridas on board 2, but some opening inaccuracies proved costly and Max's imaginative attacking play was on this occasion unable to rescue him. Kingston's captain Gregor Smith also lost against the experienced Tony Hughes on board 3, though he felt he was level for a long time and only succumbed in time trouble.
I drew against Wimbledon captain Stephen Carpenter, who I'd lost to rather tamely in the reverse fixture in February. On paper, this was a reasonable result, but I'd actually had a very favourable middlegame position that sadly proved to be beyond my powers of calculation. Back to the drawing board. A nice feature of the match was no fewer than three rejected draw offers – one by me, two by my opponent. We each felt on top at different points in the game when the other was willing to settle for a draw. In the end, though, it was indeed even-Stephens. Boom-boom! (My opponent has to take responsibility for this dreadful pun.)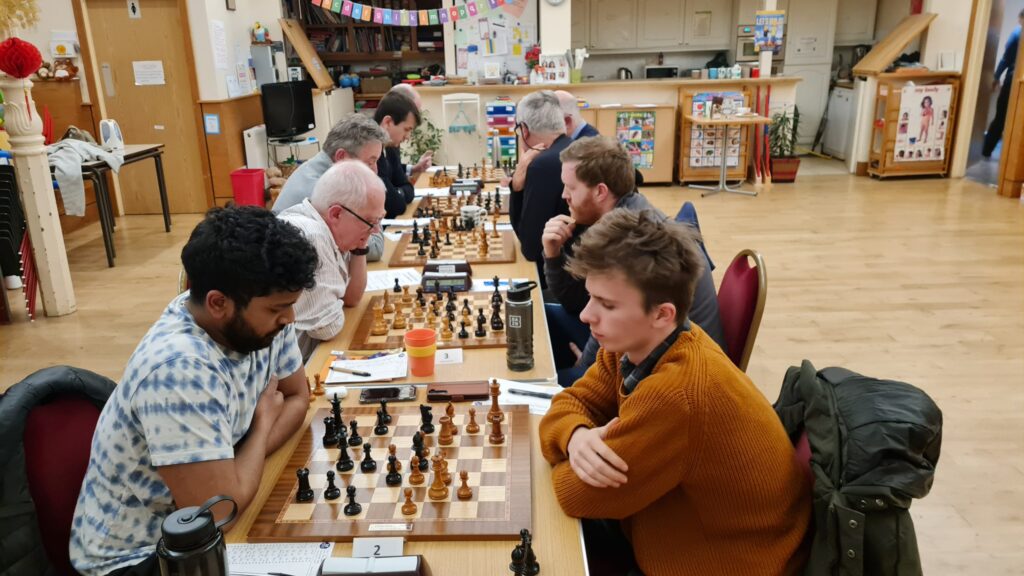 Charlie Cooke drew a hard-fought game on board 5 in which both sides' knights were to the fore. But hero of the night (no pun intended on this occasion) was Kingston junior Jaden Mistry (and his father Malcolm), who hotfooted it over to Wimbledon when the Kingston player who had been due to play dropped out just an hour before the match. Jaden thus saved the club from the ignominy of a default – it would have been our first in many years. He lost to a higher-rated player, but gave an excellent account of himself in a lengthy game (after a tough day at school, remember) and learned a great deal about the difficulty two knights have against two bishops in an endgame when the position is fairly open and the bishops can control the board.
Relegation from Thames Valley division 2 is now a very real threat for Kingston B, but all is not yet lost. Ealing B are already down, and we are contesting the other relegation place with Surbiton C, who suffered a significant loss to Hounslow B last week. We have a game in hand over Surbiton C and in theory the easier run-in, with two matches to come against Ealing B. So, as the unflappable Kingston B captain Gregor Smith says, our destiny is in our hands. Survival in division 2 is crucial for the club – we need to be in a variety of divisions to cater for players of all strengths – and we will be fighting all the way.
Stephen Moss