The event was held at Monty's Nepalese Restaurant in Kingston on 29 June 2023
One week after our AGM, 21 members gathered for the annual club dinner, this time at a Nepalese restaurant in a central location in Kingston, to celebrate the best season in our history. To facilitate conversation, there was a seating plan which placed members alongside others of a similar age and rating. This technique seems to have worked because a memorable evening was enjoyed by all.
The highlight of the proceedings was the prize-giving. This year we dispensed with our former categories, such as the player who achieved the best performance. Instead we focused on one captain and one player who made the crucial difference. David Rowson received the prize for Captain of the Year for having steered our first-team players to win both Surrey League Division 1 and Thames Valley League Division 1. The prize for Player of the Year went to Silverio Abasolo. His results during the season were admirable, but the crucial one was his game against IM Chris Baker which he managed to win from a rather dubious position to enable Kingston to retain the Alexander Cup – the premier knockout cup for the Surrey League.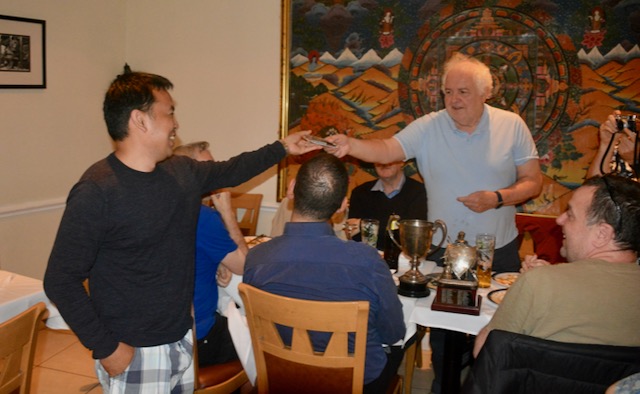 This season Kingston also won the knockout cup for the Thames Valley League, as well as Division X in the Thames Valley League under the stewardship of Stephen Daines. To add icing to the cake, our 4NCL team, having started the season in Division 4, won promotion to Division 2 (a third-division team having pulled out, allowing accelerated promotion).
The prizes were handed out by club president John Foley. Unfortunately the new secretary had forgotten to bring the glittering baubles, so a bar of chocolate was handed over as an exchangeable token instead. The president made an engaging and witty speech setting out the facts above. When he finally sat down after 15 minutes, there was relief amongst those assembled who had been warned by the secretary to expect a speech lasting at least an hour.