Lauder Trophy semi-final played at the Willoughby Arms, Kingston on 10 March 2022
Full disclosure: this is a somewhat imperfect report on a wonderful – and clinical – 5-1 victory for Kingston over Ashtead in the semi-final of the Lauder Trophy, because despite being the proud team captain I wasn't actually present, having tested positive for Covid a few hours earlier. David Rowson, who was playing on board 1, stepped into the breach as captain, and FM Julian Way, who was lending his support to the team at the Willoughby Arms, kept the wider membership informed of developments via What's App. I have accordingly pieced together this brief report from his excellent dispatches on the night.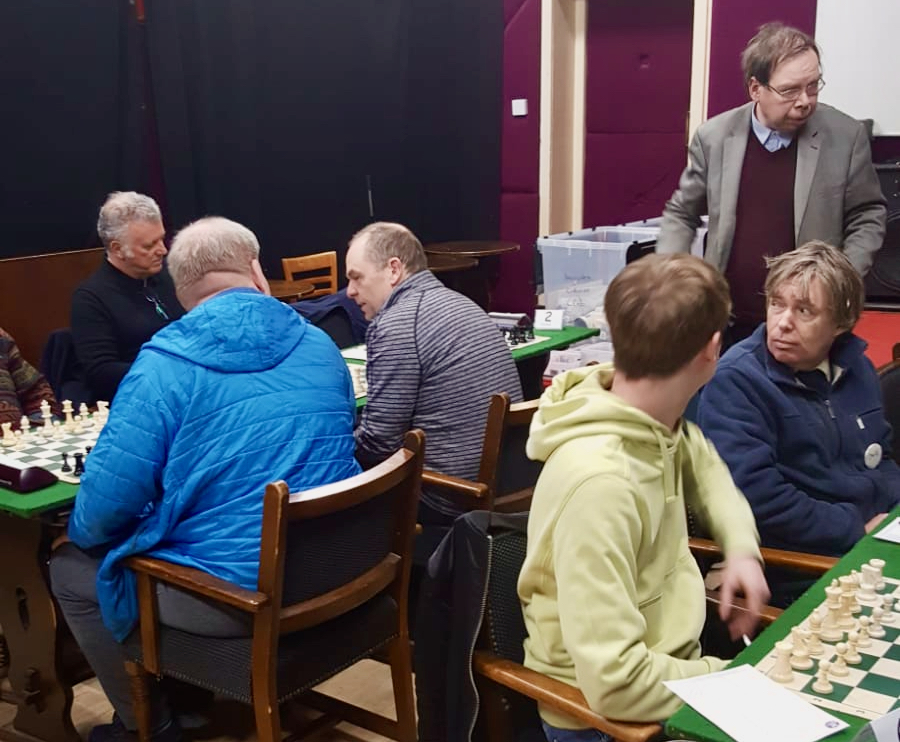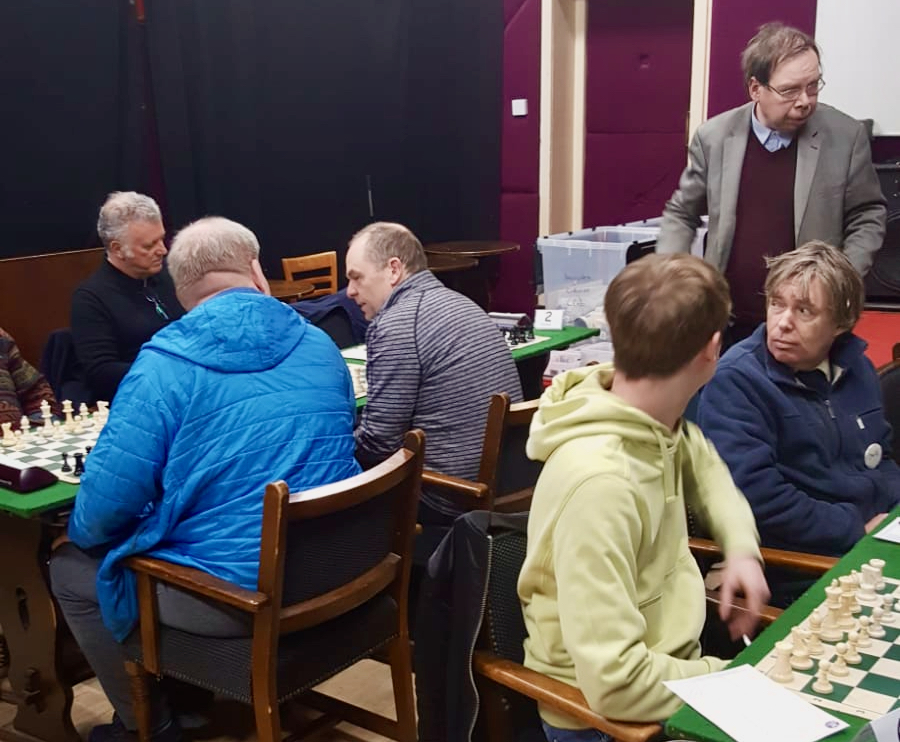 Rowson, with White, was up against Ashtead captain Bertie Barlow on board 1. Bertie opted for what Julian called his "trusted Alekhine" and the game was a fairly sedate draw. Board 2, featuring Kingston's rock-like veteran Alan Scrimgour and Ashtead's Jonathan Hinton, author of the highly regarded anthology of chess games A Gnat May Drink, was also drawn, but it was far from sedate. Hinton responded to Scrimgour's time-honoured Sicilian with the Wing Gambit – an opening Alan considers dubious – and the game descended into what Way described as "chaos". But when the smoke cleared, both players were still standing and they agreed a draw. "Unfortunately I have now lost my 100% record against the SWG [Sicilian Wing Gambit]," Scrimgour emailed me later. "I was previously 6/6, which was good as some strongish Scottish players used it." Alan learned his trade in Scotland and plays for the Scottish senior team.
The top boards were always likely to be tense battles and it was no surprise to see honours shared, but Kingston certainly had the edge on the bottom boards. Nick Grey, another Kingston veteran but playing his first game of the season for the club, swept to victory on board 4; Yae-Chan Yang played what Way described as a "beautiful" game to win on board 5, and Gregor Smith won on board 6. There was a blip in the middlegame where Way felt Smith's opponent, Nick Thynne, was getting some counterplay in exchange for two pawns, but Smith, who is having a terrific debut season for Kingston, had it all under control and won smoothly.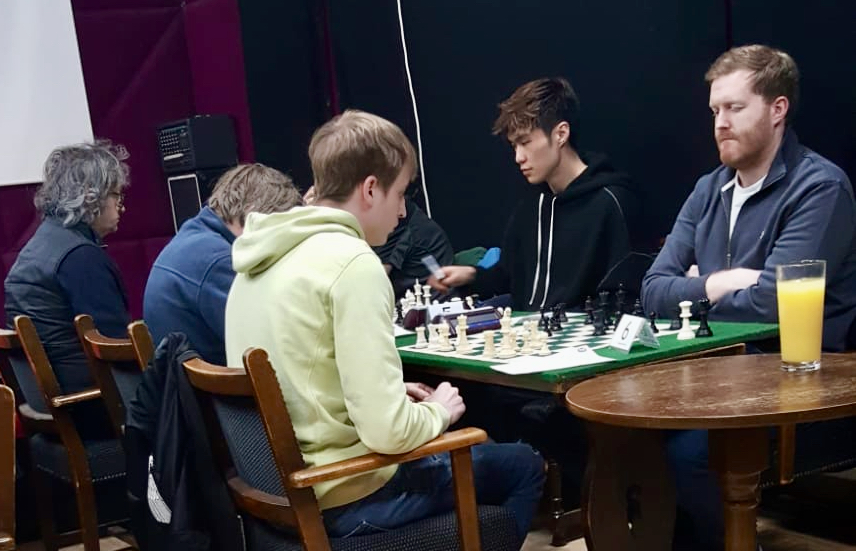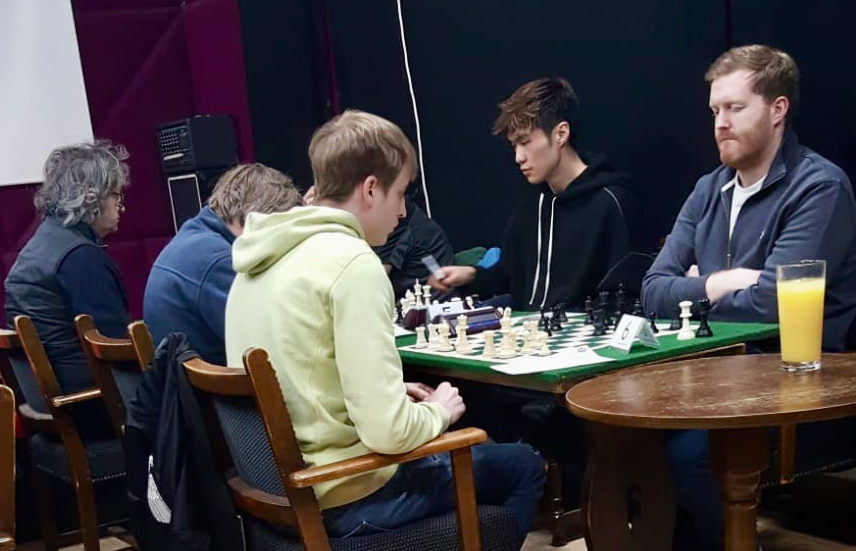 Board 3, with Jon Eckert as White up against the dangerous Ian McLeod, was a dramatic clash between two players who know each other's games well. McLeod played the Scandinavian and went the exchange up. But Eckert had three pawns as compensation, and in the end they told. That made it 5-1 to Kingston – a result far beyond my wildest brain-befogged expectations. We now face new-kids-on-the-Surrey-League-block Chessington in the final, which is likely to be played in early May. We won the Lauder Trophy in 2018/19 and would dearly like to get our hands back on the cup, but we aren't counting our chickens yet. Chessington put out Lauder specialists South Norwood in their semi-final, are nurturing some capable juniors and will be no pushovers.
Stephen Moss, (indisposed) Kingston Lauder Trophy captain