Surrey League division 2 (Beaumont Cup) match played at the Willoughby Arms, Kingston on 31 January 2022
As a rather fairweather Fulham FC fan for 50-plus years, I've enjoyed seeing the club's recent statistically improbable results (Reading 7-0, Bristol City 6-2, Birmingham 6-2). Kingston have only played two matches in the Beaumont Cup so far this season, but 6-1 and 6-0 with one game to be decided (and we have the superior position) has us beginning to parallel Fulham's run. Sadly, promotion to the first division of the Surrey Trophy will not give us a Premier League payout.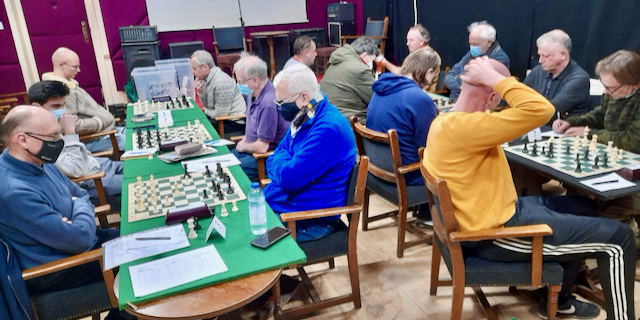 The visit of Streatham triggered memories of their absurdly strong teams of the late 1970s/early 1980s, when on different occasions I found myself playing Glenn Flear and Andrew Martin on boards 3 or 4. Streatham are now a less glitzy team, but still very competitive. So does the 6-0 score flatter Kingston? I don't think so, except, without false modesty, in my own case, as in the opening Martin Smith smoothly refuted my attempted refutation of his Sniper Defence (Attack?) and only went wrong under time pressure. The final position was very nice for me:
David Rowson v Martin Smith: The final position
Black's queen is lost, and the attempt to divert my queen by 33…e3 does not work, as after 34. Qxe3 Qxd6 I still win his queen with a knight fork. At least Martin did not leave empty-handed as he sold a couple of copies of his indispensable new book Movers and Takers: A Chess History of Streatham and Brixton 1871-2021.
All the other games were interesting, exciting or even slightly mad. Jon Eckert was the first to win, with characteristically ferocious attacking play. Alan Scrimgour and his Scottish compatriot fought over a single square, f4, and once Alan controlled that it was remarkable how his opponent's game fell apart. Julian Way converted his extra pawn by persuading Chris Bernard to go for a king and pawn ending which turned out to be easily won for Julian. John Foley established a passed pawn on the torturous square of d7 (if you're White) and methodically went about squeezing his advantage.
Peter Lalic can't help but be original. His signature flank pawn moves in the opening were a feature again, as he advanced early to h5 (I've resisted writing "Harry the h pawn", until now that is) to be gambited. His opponent, ex-Kingstonian Graham Keane, fought back well, but in the position for adjudication Peter is a pawn up with each side having rook and minor piece.
The position for adjudication on board 1
I've left the star attraction till last: the ding-dong encounter between David Maycock and Robin Haldane. David told me beforehand that he was expecting Robin to play the Göring Gambit, but when this duly happened he made what looked to me like a serious oversight on move 6, with the result that it was hard for him to defend his f7 pawn. Nevertheless, with great tactical creativity, he fought back, forcing Robin to make tough decisions on almost every move. The tables were not just turned, but overturned, and White soon had to resign.
Before the match we were, I think, quietly confident, but could never have expected such a dominant result. Our next match is probably our biggest test, against Epsom on 21 February. Unlike the English Football League Championship, this is a sprint, not a marathon, so that match, out of just five in total, is crucial.
David Rowson, Kingston Beaumont Cup (Surrey League division 2) captain
* The Lalic-Keane game was eventually agreed as a draw between the players. In the final position, White had a small plus, but it was not deemed sufficient to press for a win. That result left Kingston winners by the imperious margin of 6.5 to 0.5, but Captain Rowson and his troops are trying not to let the success go to their heads.