Thames Valley League division 2 match played at the Willoughby Arms, Kingston on 15 May 2023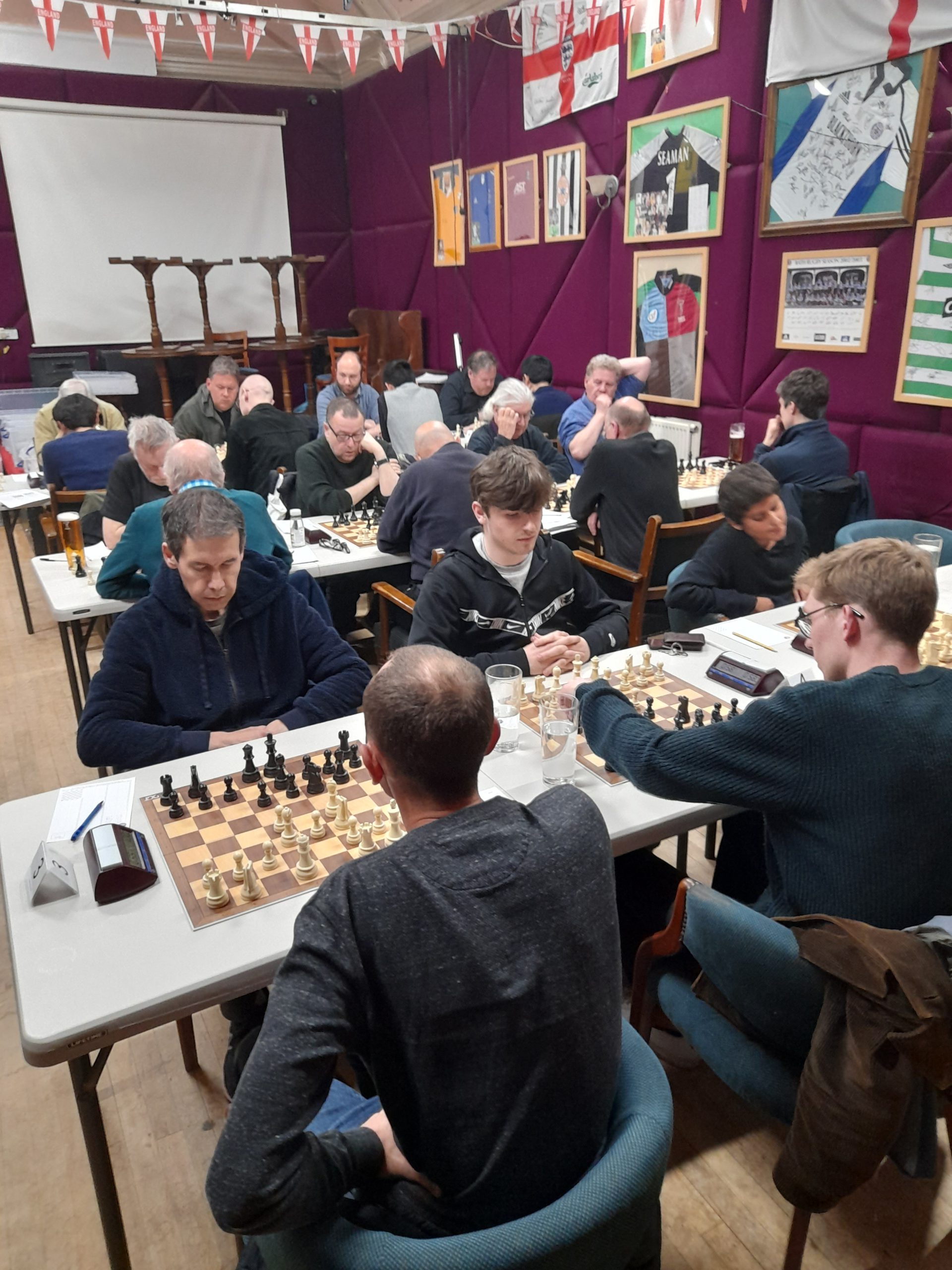 Finally safe from relegation after last week's draw at Maidenhead, it was pressure off as we welcomed Ealing B to the Willoughby Arms for the final Thames Valley division 2 home match of the season. We rang the changes and gave opportunities to two rising stars from the third team, Hayden Holden and Jaden Mistry, and they did not disappoint. 
Hayden gained his first full point for the second team with an impressive victory on board 4. He launched a scary-looking kingside attack and the pressure told as his opponent poorly assessed a recapture. That gave Hayden the initiative and he expertly converted.
Jaden and Gabriele Palmer jostled for a positional edge in a closed middlegame after an advanced Caro-Kann on board 5. Jaden, playing with the black pieces, was the first to break through, winning the exchange. However, White had counterplay, pushing pawns on the queenside, and Jaden settled for a draw. A mature, calculated performance – and great to see Jaden opening his account for the second team.
On top board, Julian Way won impressively against Ealing captain Leslie Pringle. Julian managed to trap his opponent's bishop to go a piece up early on, and Pringle duly resigned when he was about to lose the exchange for good measure.
There were draws on boards 2 and 3 from Nick Grey and Byron Eslava, the latter gaining his first points for Kingston after joining the club earlier in the year and playing only a handful of league matches. We hope to see a lot more of Byron next season. With Ealing defaulting board 6, that left the final score at 4.5-1.5 to Kingston. Our final game awaits at Hounslow next week. It will be a tough match against their first team, but it's nice to go there with our relegation worries well and truly behind us.
Gregor Smith, Kingston B captain in the Thames Valley League