Kingston star shines brightly in a tough Easter congress, showing his fighting qualities to score six out of seven
While most of us were taking it easy over the Easter weekend, the more committed among the chess fraternity were fighting it out in two tough congresses at Daventry and Southend. GMs Danny Gormally and Mark Hebden led the way at Daventry, but at Southend – in a field which, though lacking any GMs, was still very strong and had its fair share of IMs, FMs and 2200-plus players eyeing titles – Kingston's very own David Maycock enjoyed a productive weekend, taking second place and gaining a hatful of Fide rating points.
Maycock, with a Fide rating at the start of the event of 2183, was the ninth highest-rated player in the field, but he blazed a trail with four successive wins and ended the second day of the four-day, seven-round event in the outright lead, ahead of three players on 3.5/4 – Julius Schwartz of Scotland, England's Thomas Villiers and the Swedish FM Joakim 2000 Nilsson (who seems, bizarrely, to have added his birthdate to his name – perhaps it's a Swedish thing).
Maycock and Villiers met in round five. The latter, with White, ambitiously sac'd a piece but David coolly negotiated the resulting complications and attendant time trouble to simplify down to an endgame in which his bishop prevailed over Villiers' extra pawns. That made it 5/5 and David could start dreaming of winning the tournament.
The dream didn't, however, last long. He had the misfortune to have the black pieces again in the afternoon and to face another Catalan, this time against 2000 Nilsson (all Kingston players will henceforth be adding a number to their names to suggest unbending robotic efficiency). Maycock was doing well – his opponent even offered him a draw on move 10 – but, after a series of trades, the Swedish player created a passed a-pawn, the black rook was tied down in defence, and the more mobile white rook did the rest.
Maycock's decision not to take a draw, which he revealed immediately after the game, caused some consternation among Kingston club members, who had been eagerly following and discussing the game on What's App. Of course he should have taken the draw, some argued. He would have retained the lead in the tournament, and a short draw would have given him some rest ahead of the seventh and final round. The laconic Maycock had a neat answer to the draw advocates: "If I start taking short draws, it might become a habit."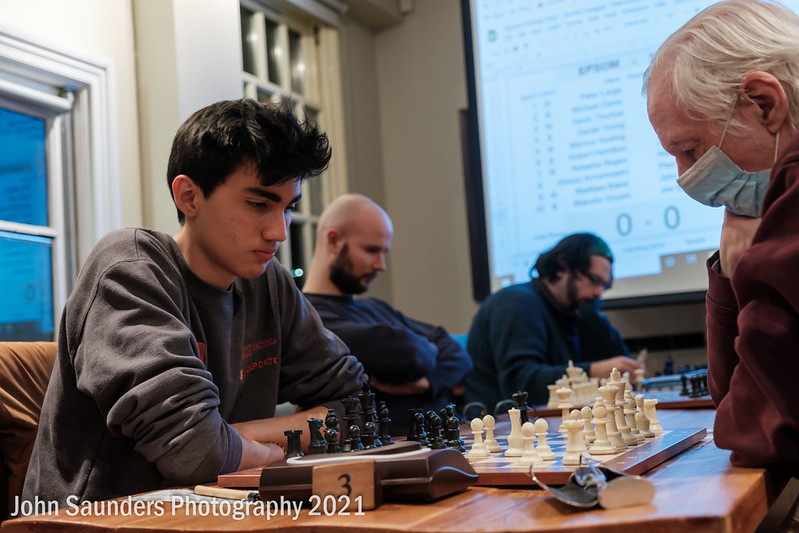 Some research by another Kingston star, Peter Lalic, revealed that in 54 rated games (classical and rapidplay) this season, Maycock has had only four draws. He's a fighter who believes in playing to the bitter end, subscribing to American GM Ben Finegold's view that you learn and get better by playing chess rather than not playing chess. "Never offer a draw; never accept a draw," insists Finegold. "You don't get better at chess by drawing. You want to go to king versus king. If you sat there and didn't play chess for a year, you wouldn't be a better chess player. You play 15 moves and you agree to a draw instead of playing 15 more moves, you just took away chess you could have played. Never even think about a draw; think about what chess move you should make. Live like a man; fight like a dog." Maycock is a streetfighter, and more power to him. Lalic reckons his opponents will fear his reputation for never suing for peace.
He got his reward in round seven with a fine technical win over Fide master David Haydon (see game below). That victory secured second place for Maycock, who finished on 6/7, half a point behind Nilsson 2000. A great result for Maycock 2003, who ended up with some prize money (always welcome when you've shelled out on accommodation over Easter), a tournament performance rating of 2412, and 37 extra Fide rating points, taking him to elo 2220. An FM title (and more!) surely beckons for this most impressive young player.
Stephen Moss