Thames Valley League division 1 match played at the Mindsports Centre, Dalling Road, London W6 on 21 February 2023
This was a famous victory that potentially sets up Kingston for a historic double this season – winning division 1 of the Surrey League and the Thames Valley league in the same year. Kingston have certainly never achieved this, and as far as we can see only Wimbledon (twice – in 2016/17 and 2017/18) have managed it.
Last season Hammersmith won division 1 of the Thames Valley League, winning nine and drawing one of their matches. Clearly, this would be Kingston's biggest challenge yet in our bid to win both this league and the Surrey League. Hammersmith had the edge on rating, but a close match was anticipated and so it proved. I had the dual role of chauffeur and reporter on the night – keeping the club updated on WhatsApp. There was a delayed start while the Leap digital clocks were reset, but eventually all the games were played at 65 minutes for all moves with a 10-second increment.
On board 1, David Maycock defended against a Catalan, while on board 2 Peter Lalić found himself playing Ali Hill, whom he had faced in a recent tournament. Silverio Abasalo played a French on board 4, while David Rowson was facing an early charge by Bajrush Kelmendi's g- and h-pawns.
The match was finely balanced after 90 minutes' play, with Peter Lalić a pawn down and David Maycock a pawn up but with tripled pawns. The match continued tensely over the next hour, with Kingston club members from far and wide (the website editor was on holiday in Florida feeling very deprived of chess news) hanging on the next WhatsApp update.
By 10pm David Maycock was playing on the increment, while Peter and his opponent were down to three minutes each. The breakthrough came with a win for Vladimir Li on board 3, followed a minute later by one for Silverio on board 4. David Rowson's draw on board 5 left Kingston close to success.
On board 2 a flurry of tactics transformed Peter's pawn deficit into a winning rook and pawn ending, which he duly converted to win the match. On board 6, John Foley's bishop was trying to stop two knights from escorting the remaining pawn to promotion, but Christof Brixel played the endgame flawlessly. David Maycock was last to finish, successfully holding a tricky rook and pawn ending. 4-2 to Kingston.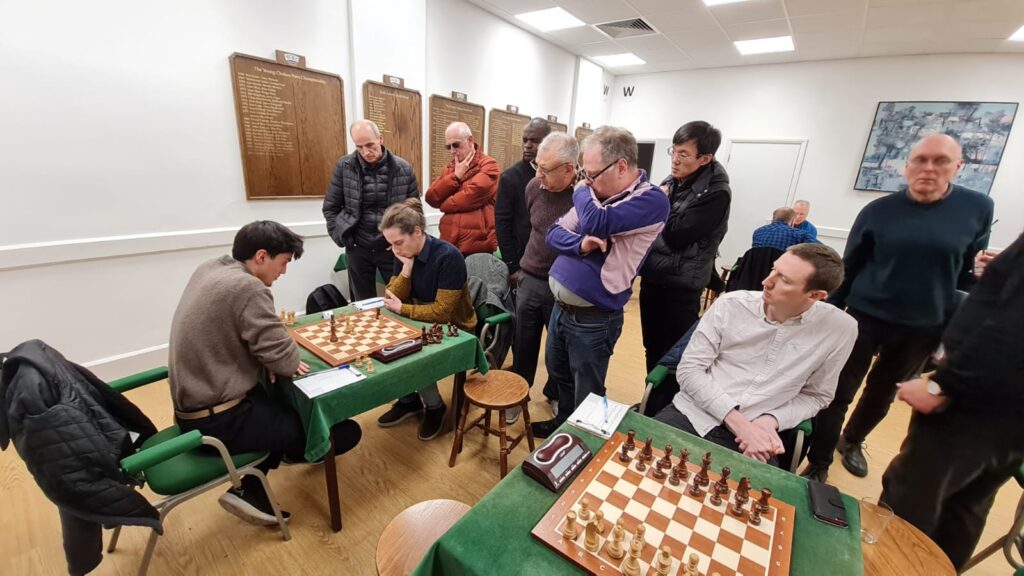 The turning point of the match was Peter Lalić's game. Peter was in an inferior position for most of the game and was reduced to moving a rook up and down on the same squares. However, his patience paid off when he spotted spectacular rook sacrifice. 41. Rxf7+ wins in all variations. The rook cannot be captured because 42. Bxe6+ wins the queen.
A tremendous move to win a memorable match.
Alan Scrimgour