Kingston's second team draws three tough matches in quick succession to kickstart a so far frustrating season and give hope in two tricky division 2 relegation battles
For Kingston's second team, the season so far has been characterised by a tough struggle in division 2 of both the Surrey and Thames Valley League. We cruised to victories last season, resulting in our first team being promoted. Our second team stepped up to the plate, but lacks the elo firepower. Nevertheless, we are still keeping our heads above water.
By a strange quirk of timetabling, we had plenty of match-free Mondays early in the season but now the fixtures are piling up. It's been an intense period, with three games in eight days, all of which ended in draws.

Kingston B v Hounslow B: Thames Valley League division 2 played at the Willoughby Arms, Kingston on 20 February 2023
The first drawn match took place at the Willoughby Arms – the return match against Hounslow B following our victory the previous week in the Thames Valley League. Hounslow turned up with some reinforcements this time and proved a stern test.

Alan Scrimgour was first to finish with a quickish draw on the top board. Hounslow's impressive junior Vibhush Pusapadi claimed another Kingston victim, defeating Charlie Cooke on board 5, but Adam Nakar – making his second-team debut this season – won nicely on board 6 with a powerful attack against Barry Fraser.

Meanwhile, I was again miserably succumbing to time pressure on board 4 and was dispatched by the quick and accurate Eugene Gregorio, who dismantled my pawn structure and forced home the victory. However, young Max Selemir won smoothly on board 3 against JJ Padam, who the previous week had held John Foley to a draw.

This left Peter Andrews and Frank Zurstiege playing until lights out on board 2. The game was stopped and an adjournment was agreed, with Peter sealing his next move. After analysing the position with silicon assistance, a draw was agreed. "The computer evaluation is drawn," Peter explained. "I made rather a mess of a good position by expecting him to succumb to my attack, but he missed a clear win as he fought back in my time trouble so I can't complain." Match drawn 3-3.

South Norwood 1 v Kingston 2: Surrey League division 2 match played at West Thornton Community Centre, Thornton Heath on 23 February 2023
With barely time to sleep and eat cornflakes, we were off to South Norwood three days later for an unaccustomed Thursday match. Acting second-team captain Alan Scrimgour assembled a strong seven-board- team to face off against our fellow Beaumont Cup basement strugglers.

Peter Andrews wasn't in the mood to hang about this time, and won swiftly with White on board 3 against Paul Dupré, deploying a neat tactical sequence that resulted in a loss of a queen or checkmate. A welcome 1-0 to Kingston.

A series of draws followed – from captain Scrimgour, Max Selemir and myself, who, again in time trouble, panicked and took the easy way out. Nick Grey was beaten on board 7 by Kaddu Mukasa, and the match was again all square. Jon Eckert was unable to convert a promising-looking attack, expertly defended by opponent Roy Reddin and a draw was agreed.
Everything hinged on the top board, where John Foley at one point held the advantage against Marcus Osborne but let it slip as they reached the time control. The players had agreed in advance to adjudication and the game position was duly noted. The engine could not find a decisive win in home analysis, so a draw was declared without having to reach the adjudicator. John had lost his previous two encounters with Marcus and was pleased to have secured a draw on this occasion. Another solid drawn match for Kingston.
The adjourned position. White (Kingston) to play – h4 should draw.



Kingston B v Maidenhead A: Thames Valley League division 2 played at the Willoughby Arms, Kingston on 27 February 2023
Having downed some breakfast tea and toast, four days later, we were back on the treadmill for an action-packed Monday night at the Willoughby Arms, where our first team were also playing in a vital eight-board match against CCF (Coulsdon). We used all our fancy competitive sets, which had been purchased for exactly an evening like this – two big matches conducted simultaneously. A tight squeeze between the tables, but a great atmosphere as we welcomed our opponents, Maidenhead A, who are flying high, unbeaten, at the top of Thames Valley division 2.
A first-team match on the same evening meant we lost our top boards, Alan Scrimgour and John Foley, who had stepped up to the first team following a couple of withdrawals for medical reasons. It was going to be a tough task, our second team being outrated on five of the six boards. However, Charlie Cooke had other ideas and won impressively on board 4, taking advantage of an open centre with a neat tactic to win a piece and put Kingston one up.
Hayden Holden, who for the second time in a fortnight had filled in at the last minute on board 6, lost but put up a brave fight against his far higher-rated opponent. Hayden was proud of his performance, despite feeling he had let his advantage slip away. Adam Nakar was also left frustrated on board 5, feeling he too had let an advantage slip as he succumbed to William Castaneda. That loss put Maidenhead 2-1 up.
On boards 2 and 3, Max Selemir and I both drew, which left Peter Andrews playing a crazy game on top board and needing to win to draw the match. With just eight seconds left on the clock at one point, Peter sacrificed a piece in order to go in hot pursuit of his opponent's king. Through a series of checks, he forced his opponent's king on to the seventh rank, first winning back the piece and then delivering a memorable mate, with Qf1 being the final blow. Has anyone else ever delivered checkmate with a piece on your own first rank?) Thus was gained a spectacular point, securing Kingston a well-earned 3-3 draw against the league leaders.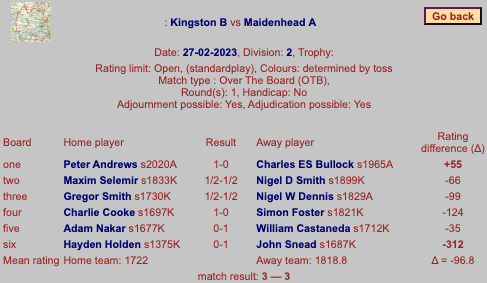 So, there it was. Three drawn matches in a busy eight days. Thanks to all who played. Particular recognition goes to Peter Andrews with 2.5/3 and Max Selemir with 2/3 across the three matches.
Gregor Smith, Kingston B captain in the Thames Valley League