Sixteen-board 'friendly' between Kingston and Surbiton played at the Willoughby Arms, Kingston, on 30 September 2021
The pandemic has had many downsides for chess, but this 16-board match – or Megamatch as the organisers billed it, pretending it was a heavyweight title fight – was one of the upsides. Paul Durrant, who has spent most of his life building up the Surbiton club from small beginnings (just seven members at one point) into a powerhouse of chess in south-west London, realised that the Surrey and Thames Valley leagues were going to be skinnier in this tentative recovery year, and wanted to give his members a bit of extra ECF-graded chess. Hence he offered a defi to smaller local rivals Kingston. Who would win bragging rights for the coming year?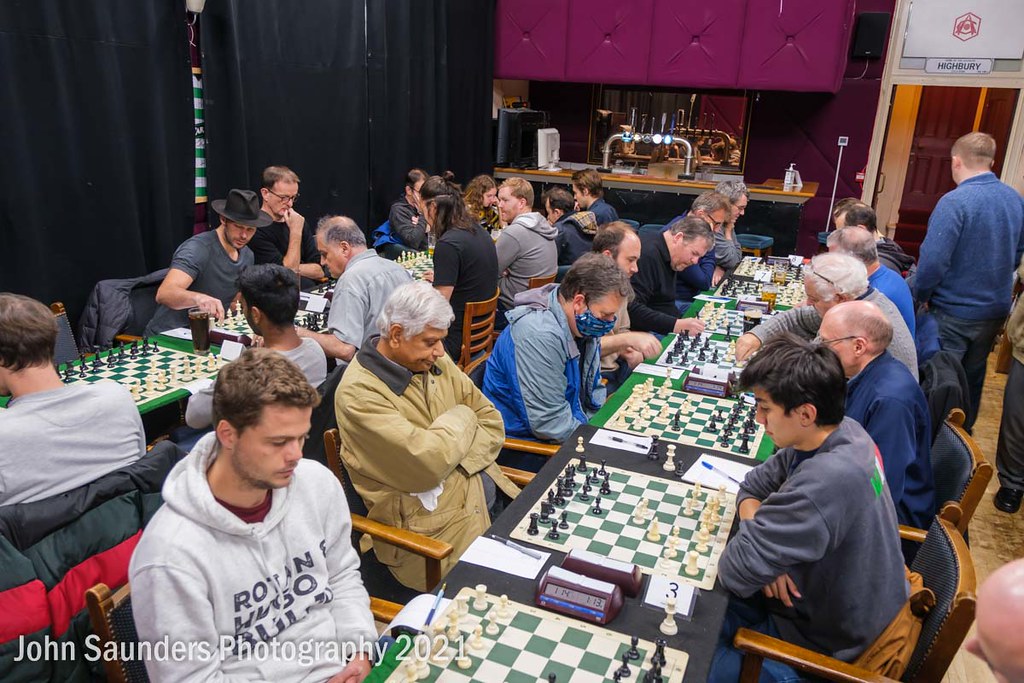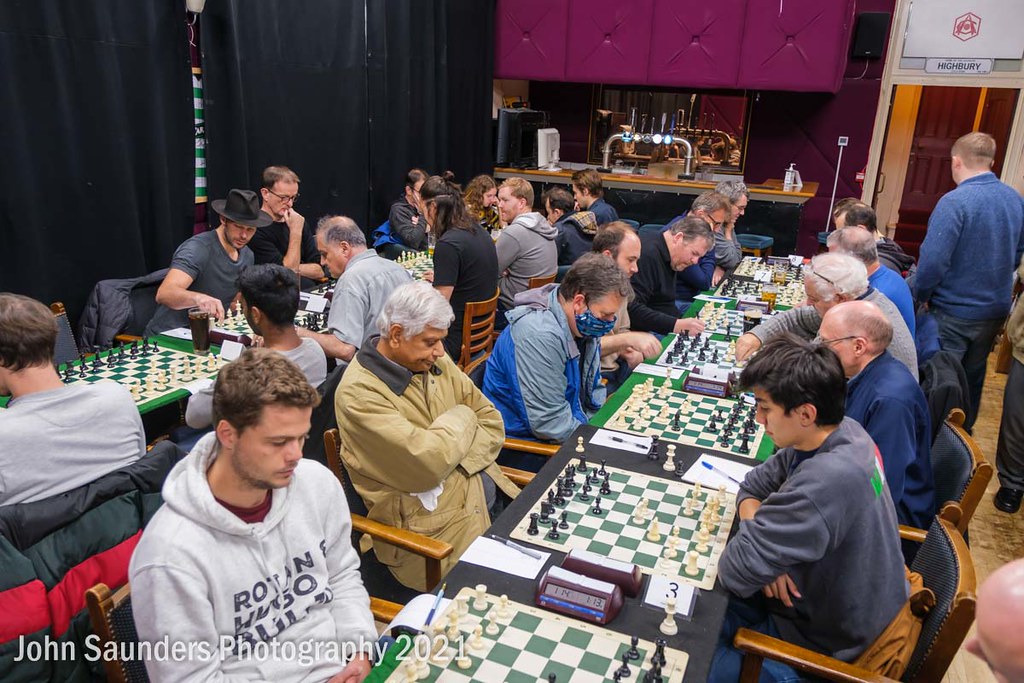 Normally Surbiton would stroll it, but they have lost a few of their top players over the past year as the pandemic altered work-life priorities – a few players have moved away, started PhDs, become monks (OK the last bit is a flight of fancy, but we have all been changed by lockdown). Several other factors also played in Kingston's favour: they have been joined by David Maycock, a 2250-rated British-Mexican who promises to be a flagbearer for the ambitious (yes we are ambitious!) club over the next few years. David is already making waves on the London chess scene and, still just a teenager, could well make IM – or more. We intend to be with him all the way and give him whatever support we can. We also fielded Peter Lalić, a friend of the club who has returned to chess and made an immediate impact (see his performance in the recent 4NCL congress in Leamington Spa where he drew with GM Peter Wells) and, on top board, the hugely talented Mike Healey. Kingston had home advantage – useful as the match was played during the fuel crisis – and the organisers' intention was to balance the grades on each board as far as possible to ensure competitive match-ups.
The top eight boards were strong and played at a time control of 75 minutes with a 10-second increment. The bottom eight boards, played with a control of 60 minutes plus a 10-second increment, were made up of stalwart club members and players who were new to over-the-board chess. Kingston fielded half a dozen players who had never played for the club before – people who had come along during lockdown and had stayed for the return to league chess. Managing this transition will be crucial to the future of the club – indeed all clubs in the UK. Chess clubs have an ageing demographic; Kingston (unlike Surbiton) does not have a vibrant junior section; so we need these twentysomethings who come to us via our website or Facebook to stick around, graduate to competitive chess, and be the captains and administrators of the future. That's the dream anyway.
I am unable to give a blow-by-blow account of the match because, with Surbiton's board 10 failing to show, I stood in for him. This was legitimate as I am a member of Surbiton as well as Kingston, though it felt a little odd as I had organised the Kingston team. I was intent on a draw, but my opponent – John Shanley, one of the Kingston debutants – had other ideas and kept pushing for a win, though in the end the spoils were shared. (I was rather pleased with this as the cider I had drunk beforehand, thinking that I didn't have to push any wood and celebrating the fact that all 16 of my players had shown up, was definitely inhibiting my already limited powers of calculation.)
Kingston's three young lions won their games on boards 1 to 3 (you will find their brilliantly annotated games by clicking the scores on the scoresheet below); the club's traditional engine room – David Rowson, John Foley and Alan Scrimgour – secured draws against strong Surbitonians; and Jon Eckert (in a splendidly violent game) and John Bussmann (with typical tactical imagination) won their games on boards 7 and 8, giving Kingston a remarkable 6.5 to 1.5 advantage on the top boards.
Surbiton clawed back some of that deficit on the lower boards, but it was not enough and Kingston ran out winners by a comfortable 9.5 to 6.5. David Shalom, playing his first match for Kingston for several years, beat Douglas Robson in a topsy-turvy, nerve-shredding struggle, and Gregor Smith, one of the Kingston debutants, got off to a winning start.
A wonderful night enjoyed by all. Thanks to the Willoughby Arms for letting us use the playing room on a Thursday, which is not our usual club night, and to John Saunders for acting as arbiter and taking a marvellously evocative set of photographs of the occasion. The match was played in honour of Ken Inwood, a Kingston player since the 1950s (yes, 70 years!), who has been in hospital recently and was unable to attend the match. There are hopes that the Megamatch will become an annual fixture as the curtain-raiser to the season, though next year it will be Surbiton's turn to host and you can bet that even now the wily and determined Durrant will be plotting his revenge, calling back his 2200-strength players from their rural retreats and monastic hideouts. This was a significant battle to win, but the war – a friendly war of course – goes on.
Stephen Moss
| | | | | | |
| --- | --- | --- | --- | --- | --- |
| | Kingston | Rating | Score | Rating | Surbiton |
| 1 | Mike Healey | 2260 | 1-0 | 2163 | Chris Briscoe |
| 2 | Peter Lalic | 2253 | 1-0 | 2133 | Jasper Tambini |
| 3 | David Maycock | 2133 | 1-0 | 2080 | Altaf Chaudhry |
| 4 | David Rowson | 2065 | 0.5-0.5 | 2058 | David Scott |
| 5 | John Foley | 2020 | 0.5-0.5 | 2050 | Liam Bayly |
| 6 | Alan Scrimgour | 1960 | 0.5-0.5 | 2013 | Angus James |
| 7 | John Bussmann | 1893 | 1-0 | 1833 | Andrew Boughen |
| 8 | Jon Eckert | 1818 | 1-0 | 1803 | Graham Alcock |
| 9 | Adam Nakar | 1660 | 0-1 | 1476 | Joshua Pirgon |
| 10 | John Shanley | 1800 | 0.5-0.5 | 1728 | Stephen Moss |
| 11 | Muragun Kanagasapay | 1600 | 0-1 | 1668 | David Cole |
| 12 | David Shalom | 1500 | 1-0 | – | Douglas Robson |
| 13 | Jake Grubb | 1200 | 0-1 | 1592 | David Razzell |
| 14 | Gregor Smith | 1200 | 1-0 | – | Roberto Franco |
| 15 | Monty Vere | 1200 | 0.5-0.5 | 1398 | Paul McCauley |
| 16 | Jack Robinson | 1000 | 0-1 | – | Alice Metcalf |
Kingston 9.5 – 6.5 Surbiton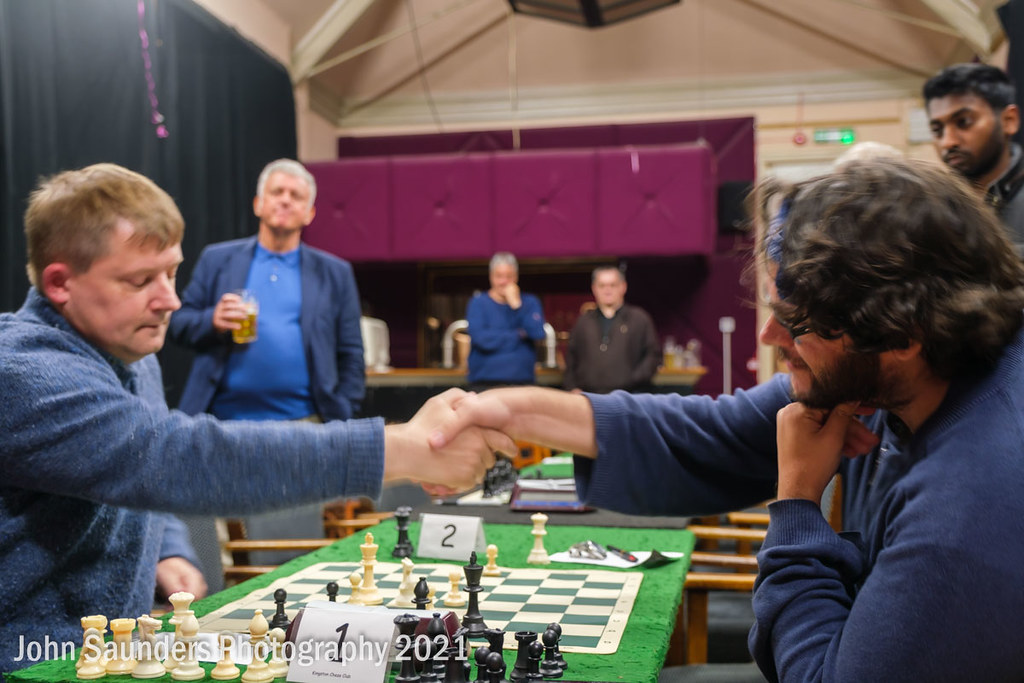 Historical footnote
There has been a Kingston-Surbiton match for over 50 years according to Paul Durrant who recalled playing in one when he first joined Surbiton at the start of his chess career. The two clubs share the same locality. Kingston upon Thames is the town in which the Saxon kings were consecrated, and the area is distinguished by being named as the Royal Borough of Kingston upon Thames. Surbiton and Norbiton emerged on to the map as locations for the railway to Kingston.
Chronological footnote
This match was the Kingston club's season opener in terms of being the first fixture of the 2021/22 season. However, it was not the first chronological match of the season because we had already played Guildford in the Lauder Cup (match report). That match was held over from the 2019-20 season, the intervening 2020/21 season having been cancelled due to Covid.