Kingston v Epsom, Lauder Trophy, Willoughby Arms, Kingston, on 10 October 2022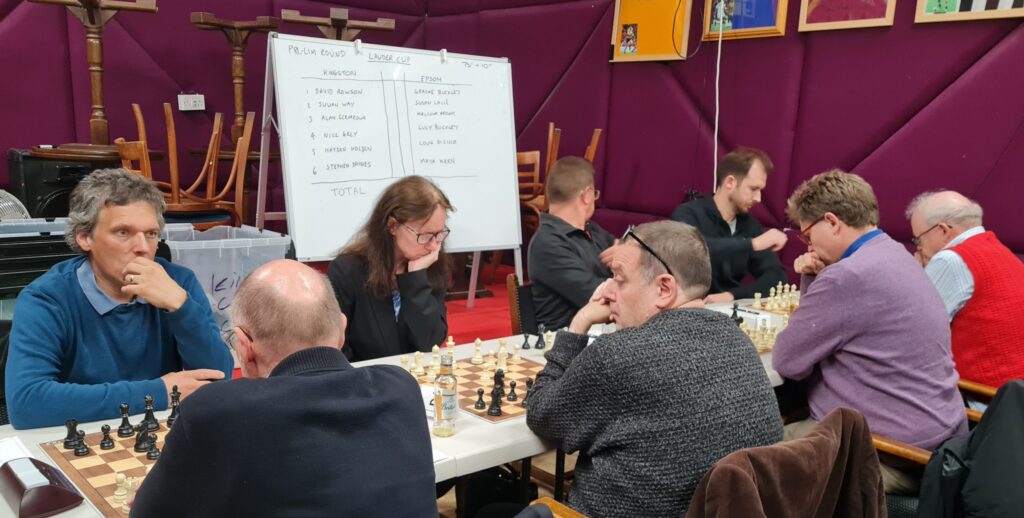 It was a bad night for Kingston, as the holders of the Lauder Trophy suffered the indignity of going out in this season's preliminary stage, beaten 4.5-1.5 by a strong Epsom team. Kingston's stellar run was brought crashing down. The last time Kingston lost a match was in November 2021 when Epsom 3 beat Kingston 2. So, Epsom has started and finished our unbeaten run.
The Lauder Trophy is a tournament in which the teams are restricted in the total rating of the players, and the main challenge to captains is to spreadsheet juggle their players to form a team which comes in under the limit. Epsom captain and prime mover Marcus Gosling has finally found the winning formula: international masters on the top boards and underrated juniors on the bottom boards.
Alas, Kingston were not able to counter this pattern and lost on the bottom three boards. David Rowson secured a draw on board 1 against IM Graeme Buckley, though did wonder later whether he should have played on given that the tide was running strongly against Kingston. The Buckley family were out in force for Epsom, with Graeme's wife Susan Lalić defeating Julian Way on board 2. Their daughters Emma and Lucy obtained a point between them on boards 3 and 4, Emma gamely stepping in after 30 minutes to face Alan Scrimgour on board 3 when the scheduled player Epsom failed to turn up. Meanwhile, Susan's son Peter Lalić was playing some thematic games in the garden, being too strong to fit into the Kingston line-up.
Being objective, the games were not of the highest quality. However, our board 6 Stephen Daines was impressed by his young opponent Maya Keen, who outplayed him in the endgame. Stephen hasn't played a rated game in 40 years, but as a Willoughby pub regular he decided to join our chess club having seen how much everybody enjoys themselves. The pub landlord, who is very keen on his trophy cabinet being filled with silverware, looks forward to asking Stephen how he got on.
The photographs show that another match was also in progress alongside the crunch Lauder clash – Kingston B suffered a surprise defeat to an outgraded Surbiton C in division 2 of the Thames Valley League. It really wasn't a great night for Kingston in terms of results, but the upside was the chess-related energy at the Willoughby. We had 24 players upstairs, together with parents and spectators. In the garden, where you can play in heated and well-lit beach huts, there were at least a dozen players. So in total there were nigh on 40 players at the club tonight. Who said chess was dead?
Kingston congratulates Epsom on a convincing victory and wishes them luck in the next round against Guildford.
John Foley