Lauder Trophy match played at the Willoughby Arms, Kingston on 1 November 2021
Epsom, the brash new boys on the Surrey club chess scene, arrived at the Willoughby Arms full of hope and self-belief for the opening round of the 2021/22 Lauder Trophy. Happily, Kingston were able to snuff out the potent threat they posed and secure a 4-2 win that put them back in the hunt for the cup they won in 2018/19 but lost to South Norwood in the recent final of the 2019/20 competition (the 2020/21 event was lost completely to the pandemic).
There was a wonderful match-up on board 1 between Kingston's bright new teenage star David Maycock, who recently came third alongside GMs Keith Arkell and Mark Hebden in the Hull Weekender, and Epsom's veteran international master Peter Large. Their game was complex (too complex for me to grasp at least), but Large – with white – gradually took control, built up a time advantage, kept squeezing, and Maycock was eventually forced to resign. A victory for experience over youth.
On board 2, the last game to finish, Vladimir Bovtramovics came out on top in a tense struggle with Epsom captain Marcus Gosling, whose piece sacrifice proved to be unsound; wily tactician John Bussmann forced a quick win on board 3 when Malcolm Groom played the London System but omitted to castle; Jon Eckert, who has made an excellent start to the season, won efficiently on board 4; Yae-Chan Yang, returning to chess after five years and making his league debut for the club, overwhelmed his opponent on board 5, sidestepping the Hillbilly attack against his Caro Kann and coolly building his own attack while playing on the increment (though he said later that the coolness was an illusion and tribute to his acting skills because inside he was shaking throughout); Jake Grubb, another Kingston league debutant, fought bravely but eventually succumbed to a tide of black pawns sweeping up the board.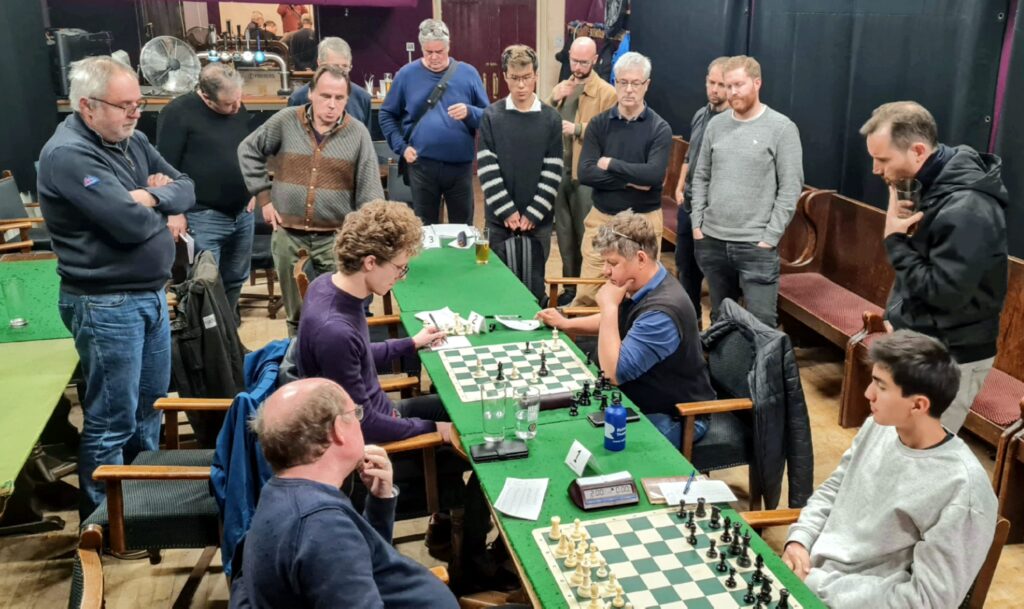 A terrific match, played in an excellent spirit in front of almost 20 Kingstonians who had come along to support. Thanks to the Willoughby, as ever, for hosting, with supporters spilling out of the playing room and into the bars and garden. "Bring us back some silverware!," bellowed Rick the landlord when he learned of Kingston's progress to the Lauder semi-final, where we will face Ashtead or Dorking. We'll do our best Rick.
Stephen Moss, Kingston Lauder Trophy captain