Lauder Trophy semi-final (resumption of the Covid-suspended 2019-20 competition) played at the Guildford Institute on 20 September 2021
Well, that was pretty amazing. Two-thirds of the way through this semi-final match, Kingston were losing 2.5 to 0.5, and looked almost certain to be beaten and to have their hands prised from the Lauder Trophy, which we had won in 2018-19. But there was to be the strangest of conclusions to this extraordinary match …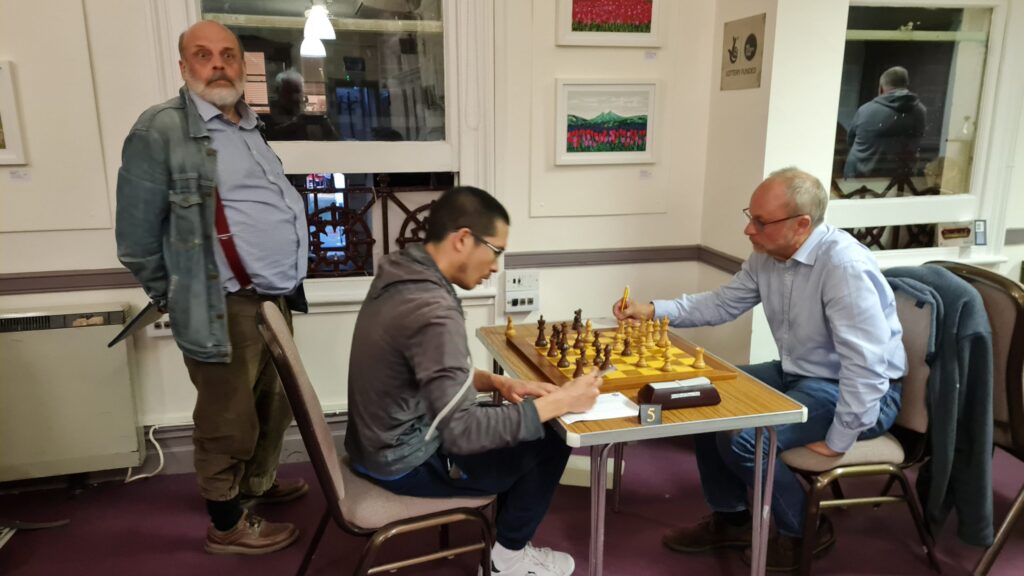 First, some context. Kingston are the holders of the Lauder Trophy, having won it in 2018-19 for the first time in almost two decades. This semi-final was part of the 2019-20 competition. The match had been due to be played in March 2020, but we all know what happened in that dire month. The Surrey Chess Association decided to play the 2019-20 tournament to a conclusion, pretend that 2020/21 never happened (which of course it didn't chess-wise) and start the 2021/22 tournament in November. Pity the poor Lauder Trophy captain who has to juggle all this.
The other key point about the Lauder is that there is a collective grade limit. We had been waiting so long to play this match that the English Chess Federation has changed the grading system from three digits to four in the interim, so what used to be an overall limit for the competition of 841 has become one of 10,505 (why not 10,500 for simplicity?). Captains can slice their team any way they like, but if you use up 2800 points by having Magnus Carlsen on board 1, you are likely to be quite weak on the bottom boards. That is the beauty of the competition: in theory you get very well-balanced matches (as we saw at Guildford). One does, however, always have to keep an eye on unscrupulous captains putting in players on dodgy estimated grades (Carlsen has no official Surrey rating, so if he did wander into the Willoughby Arms for a game I'd probably seek to play him in the Lauder at an estimated grade of around 1600).
The semi-final was played at Guildford at their terrific venue and in an excellent atmosphere. There were two titans on board 1 – John Foley for Kingston and Julien Shepley (complete with generous lockdown beard) for Guildford, and these old rivals fairly rapidly agreed a draw. Greg Heath went wrong in a good position on board 6 and lost; Jon Eckert played what he said later was a very sharp opening as black on board 3 and also came unstuck. It was 2.5-0.5 to Guildford, with the other three games looking evenly balanced and an hour still to play. Things looked ominous, and I was resigned to handing the battered trophy, which I had brought along, over to Guildford's Lauder captain, Mike Gunn.
But miracles do happen. Ljubica Lazarevic won well against a higher-rated player on board 4 – she said she'd swindled him but we are convinced she was in control throughout. John Bussmann drew on board 2 – a game he felt he should have won (but Jon always feels that): 3-2 to Guildford. Since they had won on board 3, I feared that was the match gone. Surely board count would consign Kingston to defeat.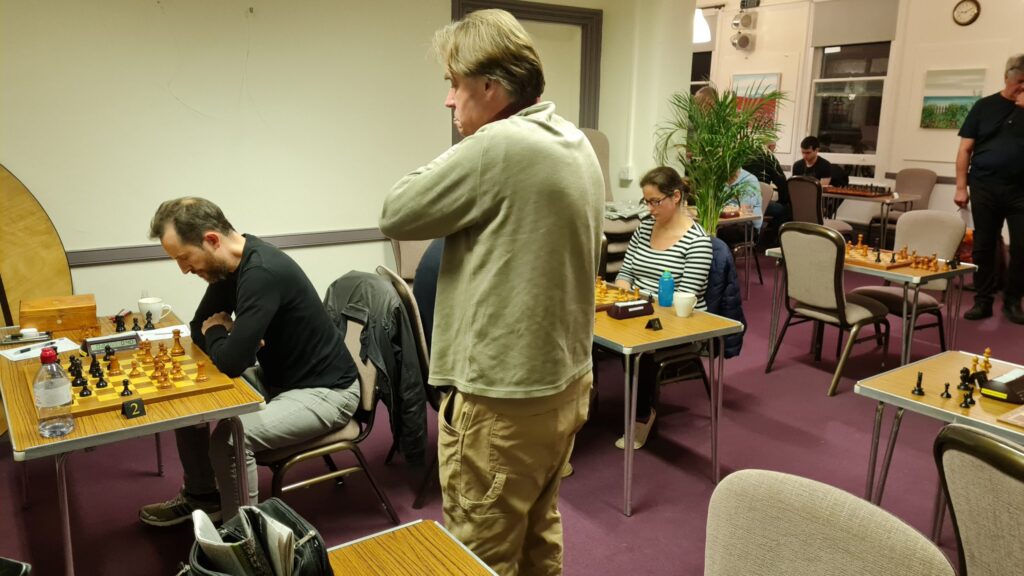 There was, though, to be one final twist: Oliver Luen won brilliantly on board 5 to equalise the score at 3-3. Board count – with top board scoring six points down to bottom board scoring just one – was also equal, with the decisive games scoring 5-5. And a quick consultation of the Surrey association rules by Julian Way, who had generously come along to support Kingston, showed that, in the event of a tie on board count, the bottom board score was eliminated first, leaving Kingston the winners.
Gunn took the news with remarkable equanimity, as Kingston had been under the cosh all night and only squeezed through on a technicality. We now face South Norwood in the final at the neutral venue of Ashtead on Tuesday 19 October. I'm not sure my nerves can take it.

Stephen Moss, Kingston Lauder Trophy captain