Surrey League division 4 match played at the Willoughby Arms, Kingston on 13 November 2023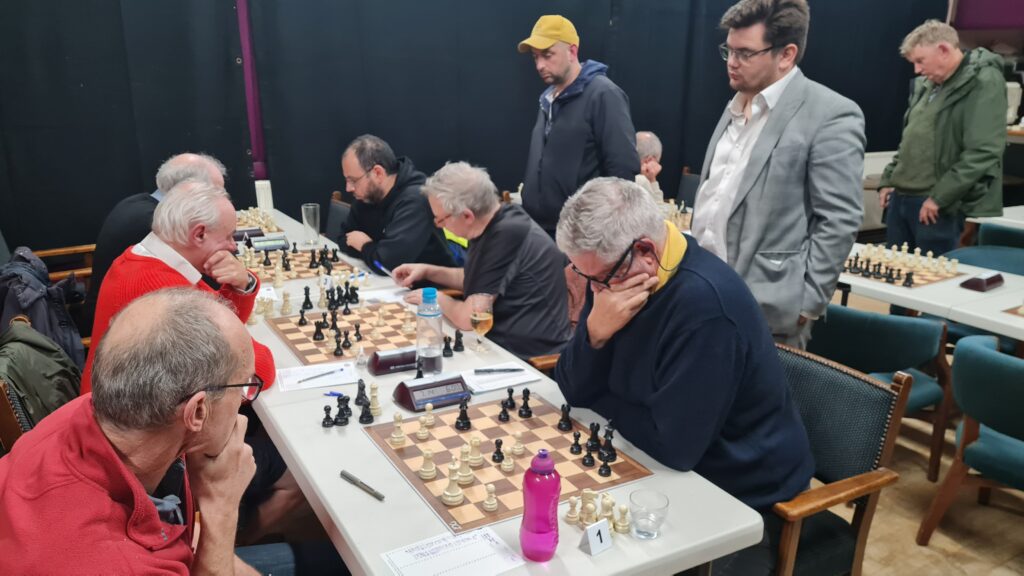 Despite the one-sided scoreline, this was an enthralling match. On paper, the two teams were fairly equally matched, but Guildford had most of the breaks and emerged as 5-1 winners. We thought we deserved more than that, but we would say that wouldn't we?!
Charlie Cooke got an excellent draw on board 4, defending well against his opponent's kingside assault. Nick Grey had a promising attack on board 2, but his opponent achieved parity in a fiercely fought contest. That secured Kingston's other half-point.
On board 6, Josh Lea went a piece down early on and never really managed to create any counterplay. Ed Mospan was a pawn down but did seem to have good counter-attacking chances until his opponent's kingside attack overwhelmed his defences and forced the exchange of queen for knight.
Stephen Moss on board 1 and Adam Nakar on board 3 both had slightly the better of their respective middlegames, but were up against wily and experienced opponents who kept their cool and turned the situation round in the endgames. Stephen had what appeared to be a nailed-on draw, but foolishly exchanged rooks, leading to a king-and-pawn endgame in which his opponent's king was more centralised and could dictate terms.
Poor time management also meant that Stephen was having to calculate on the increment in an endgame where there was no margin for error. Quickplay finishes, now standard in the Surrey League, are forcing players to think and play a little faster. Unfortunately, Stephen seems yet to have got the message. After this defeat, which left him visibly frustrated and annoyed with himself, perhaps the new demands will finally sink home.
Stephen Daines, Kingston 3 captain