Peter Lalić wins the inaugural event in a thrilling Armageddon play-off with close friend (and deadliest rival) David Maycock
Thirty players and assorted spectators gathered for the inaugural Kingston Easter Blitz played on Easter Monday. Gregor Smith, whose brainchild the event was, controlled the evening impeccably. The time control was 7 minutes per game plus 3 seconds increment per move. This is equivalent to 20 minutes per game, which is the maximum allowed for a game to qualify as a blitz. Gregor, as an official English Chess Federation ratings officer, will submit the games to the national listing.
The games were played on spacious modern trestle tables with new competition boards and sets. The time between rounds was only five minutes – enough to order a drink at the bar and look at the standings, which were displayed on a large screen at the end of the room. We used pairing software that we had first encountered last month at the London Chess Conference, which its developers attended. After each game finished, a hand signal (usually a polite one) was sufficient to notify Gregor of the result, which he then immediately updated on the pairings screen.
One participant said that he had an alternative blitz he could have attended, but he preferred Kingston because of our efficiency – there are no delays between rounds. The modern pairing software and the large screen make all the difference.
There were plenty of exciting games. In the final round, as if preordained, to force the tournament to extra time David Maycock, on 4/5, had to beat Peter Lalić, who was on 5/5, which he duly did. The play-off was then held surrounded by the biggest crowd seen upstairs at the Willoughby Arms since England were involved in a penalty shoot-out. (This is a football-loving pub – hence the flags and memorabilia which festoon the playing room.) The Armageddon format meant that the players bid to be White by giving away some time. They settled on Peter (four minutes) v David (five minutes).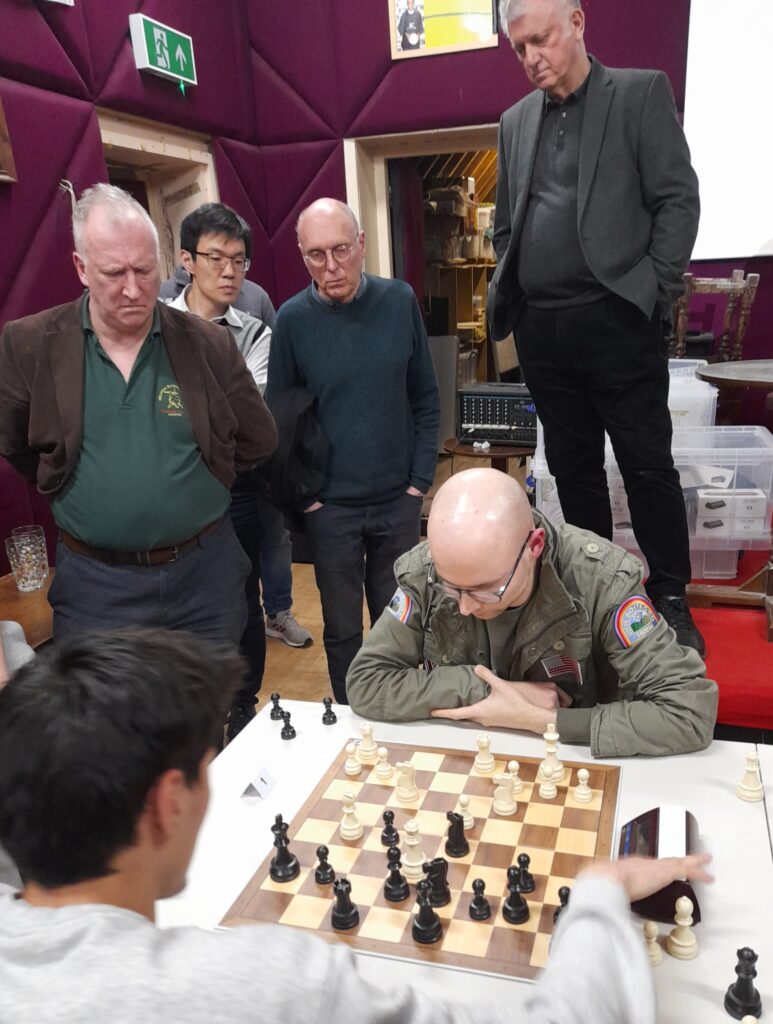 Peter won convincingly with a sacrificial attack and collected the first prize of £50. What does Peter play in the position below?
An engine suggests 12. Nxd5, with some neat tactics to follow: 12…Bxg5 13. h4 Bh6 14. Qe4 g6 15. Ne7+ Qxe7 16. Qxb7, giving White a small plus, but in blitz (and certainly in Armageddon with no increment – a recipe for chess chaos!) the route-one approach can be more effective. Peter needs no second invitation to sac a piece, and played 12. Bxh7+!? Objectively the position is level, but in blitz the initiative counts for a lot. The game proceeded: 12…Kxh7 13. Qh4+ Kg6 14. Qe4+ f5 15. Qxe6+ Kh7 16. Nxd5 Bxg5 17. Nc3 Bf6 18. Qxf5+ Kh8 19. Rd3 Qe8 20. Re1.
David is in trouble here, but far from lost. 20… Qd8 or 20… Qc8 just about hold, but he is worrying about keeping control of the e8-h5 diagonal and plays 20… Qf7??, which pretty well loses on the spot to 21. Ne5! To avoid mate, Black has to relinquish his queen. An intense game played in great spirit, and after the rivalry the two players (who have done so much to galvanise Kingston over the past two seasons) could revert to being friends. Armageddon, as the name suggests, is not, however, recommended for the faint-hearted.
The under-2000 rating prize (a chocolate confection) went to JoJo Morrison on countback over Lucy Buckley with a commendable 4/6. Greg Heath won the U1500 grading prize. The giant-killer prize (beating someone 400 Elo points higher) went to Jaden Mistry, who beat Byron Eslava in the first round. Stephen Moss would have been the recipient had he kept his nerve (or perhaps lost his moral compass) against IM Graeme Buckley. This is all the more remarkable given that Stephen was playing on the increment with only a few seconds to make his moves for much of the game.
Stephen agreed a draw in the final position.
Stephen had nothing to lose by capturing the g-pawn, leaving him with three pawns against a knight. According the the endgame tablebase, this is a win for White. As Graeme pointed out, there was no rush even to capture the pawn; simply advancing the a-pawn wins.
Stephen explained that he would not have felt comfortable taking the point given that he had been penalised one minute for an earlier infringement in the game. This saintly level of piety will see Stephen gain fast-track entry at the pearly gates (though not to the British blitz championship). However, Stephen had a point because earlier he was about to lose on time as he dithered over a move. Having decided not to move the piece to the tentatively chosen square – he realised he was moving his king into check, which is itself illegal of course – he returned it to its starting point and pressed the clock. This was also illegal and so the arbiter was called over.
During the intervening time, Stephen managed to compose himself and find a move. This is a rare example of someone being penalised for an illegal non-move. During a later game, Stephen declined a draw offer with a grumpy "No", which also immediately made him feel guilty. Methinks Stephen is never going to break into the world's top 10,000 players unless he is prepared to lower his ethical standards.
John Foley, president of Kingston Chess Club