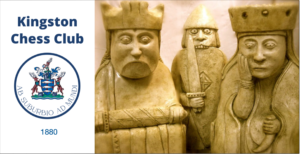 Kingston Chess Club in Kingston upon Thames meets every Monday at 7.30pm at the Willoughby Arms, 47 Willoughby Road, Kingston upon Thames KT2 6LN, close to both Kingston and Norbiton railway stations and Kingston's main bus depot (all a 10-minute walk away).

Visiting the club
We always welcome new players. On some Mondays, if the Kingston team is playing an away match, there may be depleted numbers at the club, but we always try to make sure someone is there to greet newcomers. Come along, say hello, and if you think it's for you give your details to one of the officials, who will add you to the club What'sApp group and mailing lists. We will assess your strength and soon get you playing matches if that is what you want to do. Or if you just want to play social chess and take part in general club activities, that's fine too. We try to cater for players of all strengths and ambitions, regardless of whether or not you know your Sicilian from your Sokolsky. Matches and organised events usually get underway from 7.40pm, although club officials are sometimes there a little earlier to welcome members and start preparing the room for whatever activity is planned for that evening.
Playing for the club
We don't immediately charge anyone who comes along to visit the club and play a few friendlies. It's important for us that you feel our club is a good fit before you formally join as a member. Only club members can play for our teams. For more details see our Membership page.
Keeping up to date
There is a lot more information about us on our About page. As well as detailing the club's activities on this website – where we post news, games and opinion about current issues in the chess world – you can follow and contact the club via our Twitter account. We look forward to hearing from you, and better still seeing you at the Willoughby Arms on a Monday soon. Your move.