On the same day that 10 Downing Street announced that the government was going to be funding public chess tables around the country as part of a welcome £500,000 boost to chess, Kingston Chess Club was contacted by the Royal Borough of Kingston to inform us that they were going to install public chess tables in a park in the centre of Kingston. Some might put this down to Kingston being the most efficient council in the country reacting immediately to government incentive schemes. Others may put it down to coincidence. The reality is that this project has been in the works for some time. It is the brainchild of councillor Nicola Nardelli, Kingston's deputy mayor. Her ward is central Kingston where the Fairfield is located.
The Fairfield in Kingston is a historic open space in which fairs are often held. Nowadays it is primarily a recreation ground with football and cricket pitches. There will now also be a Chess Corner located at Fairfield Recreation Ground, Fairfield Road, Kingston KT1 2PT. It is near the sports changing room and opposite the children's playground. Conveniently it is also near the Albion pub. The Chess Corner comprises three concrete chess tables with integrated seats. The chess tables have an integrated chess playing surface. The idea is that this will become a hub for regular chess sessions by members of the public. The venue, close to the centre of Kingston and to several primary and secondary schools, lends itself to community chess events.
The opening event will take place on 28th September from 4pm – 6pm. It will be attended by councillors and council officials as well as the local library and the local police officers. The event is co-hosted by Kingston Council and Kingston Chess Club. After the ribbon-cutting, members of the public will be able to play games against experts from Kingston Chess Club. All are welcome.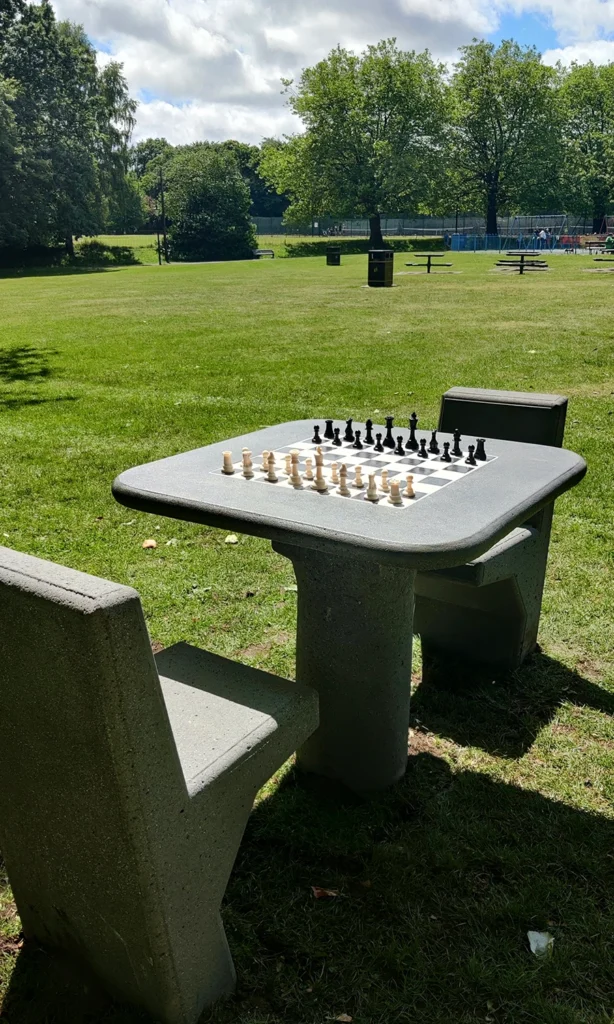 There are a few important practical matters to sort out such as how to ensure that there are pieces which can be conveniently borrowed and a registration system to control the release of the chess sets. Discussions are underway with Kingston Library which is nearby as well as with the local hostelry, the Albion.
If this project goes well, we hope to expand the number of chess installations to include other parts of Kingston such as in Canbury along the river Thames. We would love to have a chess table in the medieval Market Square but it is not easy to secure a space in such a busy place.