The origins of the chess club
Surrey honours
Famous members
Photo archive
Historic club venues
Newsletter archive
Newspaper archive
Chess sources

The origins of the chess club
The earliest record of Kingston Chess Club dates from a newspaper clipping of 1875 which announced an informal club meeting in a Kingston hostelry. Subsequent adverts for players to form a club in Kingston indicate that, although there were local enthusiasts, a regular club had not been established at a permanent venue. A notable Kingston player, R. P. Michell was playing for Hammersmith against Battersea according to the Morning Post of 4th February 1895. It is possible that he moved residence or that he played for more than one club, but the simplest explanation is that the club in Kingston was not active at the time.
Formal records of the club start from 14 October 1914, when the Thames Valley (Teddington) Chess Club and the Kingston upon Thames Chess Club amalgamated to form the Thames Valley Chess Club. This was undoubtedly due to the first world war, when leisure activities such as chess were put into the background. The two clubs were probably based in just two venues – one in Teddington and one in Kingston. Subsequently, the club met in various locations around Kingston, initially at the Scotch Café, Kingston Bridge and then at "Ye Olde Poste House" from 1927.
---
The Thames Valley Chess Club was an active member of the Surrey League, winning the Surrey Trophy (ie Division 1) in the 1924-25 season. In 1924, 1925 and 1928, it also won the Alexander Cup, the premier Surrey club knockout tournament. The team was very strong, containing the notable stalwarts R.P. Michell and J.H. Blake on boards 1 and 2.
In 1930-31, the club changed its name to the Kingston & Thames Valley Chess Club. This may have been to reflect its location whilst retaining its geographical brand. A more defined geographical location was required because many other clubs, including those along the Thames Valley, had been formed in the 1920s.
In 1931-32, the year after it changed its name, the Kingston & Thames Valley Chess Club did the "double", winning both the Surrey Trophy and the Alexander Cup, as the Thames Valley Club had in 1924-25. This feat has only been achieved once in what might be termed the modern history of the club – in 1974/75.
The club champion every year from 1931 to 1938 was R.P. Michell. The club continued to meet during the Second World War, although Surrey League matches were suspended. J.H. Blake was club champion from 1942 to 1949, apart from 1943 when Dr T.W. Letchworth won and 1947 when J.E. Redon triumphed (this truly was the age of initials – rather more formal than our current club). Dr Letchworth (obituary) was club president, and in 1941, after the club's regular venue had been bombed in the early stages of the war, it met in his living room until what passed for normal service in wartime could resume at Penrhyn House. Remarkably, J.H. Blake was 90 when he won his final club championship.
The formation of the Thames Valley League in 1947 marked a change in focus for club members. Instead of challenging themselves and focusing on the club championship, they were henceforth more concerned with playing in leagues and knockouts against other clubs. The club still participates in these two leagues: the Surrey and the Thames Valley.
In the Surrey League, Kingston has for many decades been a yo-yo club, ie it has been too strong for division 2 and, when promoted, not quite strong enough to remain in division 1, from which it gets demoted. The Thames Valley League has proved more congenial in that Kingston has tended to be reasonably comfortable in the first division (though it was demoted to Division 2 in 2019-20).
At an AGM in 2015, the name of the club was formally changed to Kingston Chess Club. This simplification was a reversion to the name chosen in 1875. Nobody could explain why it had still been named the Kingston & Thames Valley Chess Club, since that interwar name had long fallen out of use.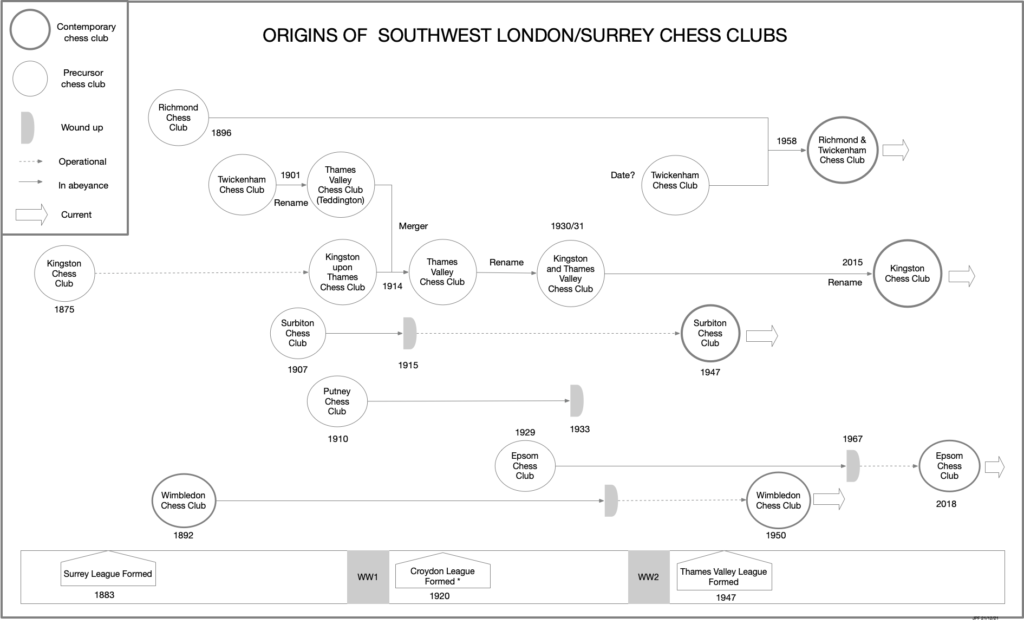 We may identify three themes in the onomatology of Kingston Chess Club: formations, mergers and renaming. The formation of a chess club can take place more than once. Just one or two well-organised individuals can set up a club and keep it running for decades. When they pass on, the club may be wound up and go into abeyance until, perhaps decades later, another enthusiast appears on the scene who may resurrect a chess club with the same name as its precursor. In this sense, we may regard chess clubs as having a continual identity. Even if clubs were already established in small neighbourhoods such as Twickenham or Teddington, inevitably the larger populated centres such as Kingston would demand their own chess centre.
Clubs comprised a common-interest social group, meeting at least once a week and usually more often. The number of members did not change very much from one year to the next. Before leagues became the dominant mode of play, with the associated grading system, chess was a more leisurely affair. Players did not necessarily use clocks; smoking was profuse; drinking – and sometimes also eating – was part of the package. There were hardly any chess books in English. Occasionally, the club had to move from its venue, in which case the players may, in the case of the major cities, have relocated to another club nearby. The two main reasons for moving were the loss of key organisers and the number of members being insufficient to support the modest financial requirements of the club.
When two clubs merged, the name of the club may have been changed, depending on the relative contribution of the clubs. In 1914, the Thames Valley Chess Club, which was based in Teddington, took over the club based in Kingston upon Thames. It may be that players from Teddington were prepared to play in Kingston if the name of their club could come with them. This arrangement proved satisfactory for 16 years until other factors led the club to rename itself Kingston & Thames Valley Chess Club. This may have been to recognise the previous name of the club, which had been lost in the merger.
Surrey honours
Kingston in what might be called its "modern" form has won the Surrey Trophy, the premier division of Surrey chess clubs, on only one occasion, in our centenary year 1974-75. In addition, under the name of Thames Valley, it won 50 years earlier in 1924-25, and then again – as Kingston & Thames Valley – in 1931-32. In both of those memorable seasons, the club did the "double", winning the Surrey Trophy and the Alexander Cup. The club target is to try to reach pre-eminence again by 2025 when we celebrate our sesquicentennial.
It is salutary to look at past winners of the Surrey Trophy, which include several clubs which no longer exist. Mitcham won the Surrey Trophy eight times between 1969-70 and 1992-93 and then, with the departure of key organisers, quickly folded. Redhill was the dominant Surrey club in the early part of this century but then fell on hard times (perhaps too much success is a dangerous thing!). And what happened to Nightingale Lane, winners of the Surrey Trophy just once in 1902-03 and then lost in the annals of chess history. Or Putney, who won the league as the First World War broke out in 1914-15 but no longer exist, despite having a large, prosperous catchment area and well-defined geographical identity. The survival of chess clubs is a capricious business, though hard work by the officials and an attempt to embed the club in the community rather than just go all out to win matches and trophies make longevity more likely. Will we one day see Putney – and perhaps even Nightingale Lane – revived? Now there's a challenge for some budding chess organiser.
Kingston (if we include its Thames Valley incarnation) has won the Alexander Cup – the principal Surrey club knockout competition – seven times: in 1924, 1925, 1928, 1932, 1946, 1975 and 1976. In 1928, as Thames Valley, it defeated Thornton Heath & Norbury 7½-2½ (see press report below in the "Newspaper archive" section). In 1946 it defeated Croydon 5-3. It narrowly lost to Surbiton in the final of the Alexander Cup in 2018 in a famous match in which grandmaster John Nunn played. It marked the first time that Surbiton had won the coveted trophy.
Famous members
[Estimated historical peak ratings from Edo ratings or ECF ratings where available]
Kingston has numbered among its membership some famous names. The grandmaster, former British champion and world chess-problem-solving champion John Nunn (2630) played for the club as a junior, his father being the club treasurer. He made a surprise reappearance for the 2018 final of the Alexander Cup, having last played 44 years earlier.
The world-class Pakistani maestro Mir Sultan Khan (2530) played many matches for Middlesex and later for Surrey, and a number also for the Imperial Chess Club and for Kingston & Thames Valley. He finally returned to his homeland (then India) in 1933. The Kingston & Thames Valley club secretary R.N. Coles wrote of him: "He was always charming and congenial company, though he never became acclimatised to or happy about our climate."
Reginald Pryce Michell (2439) was British amateur champion in 1902 and played for Great Britain in the inaugural 1927 Olympiad in London scoring +4, =4, -5, and in the 1933 Olympiad in Folkestone, scoring +0, =5, -4. He played in eight England v USA cable matches between 1901 and 1911. He played in the Hastings Premier for more than 20 years, defeating Sultan Khan and Vera Menchik (2383) in 1932-33. He finished second, third and fourth in the British championship (which was officially constituted in 1904), defeating H.E. Atkins (2580) on several occasions.
Julius du Mont, the former editor of British Chess Magazine, wrote a biography of Michell in 1947. We do not possess a copy but there is an extract here. E.G. Sergeant wrote of him: "Michell's courtesy as a chess opponent was proverbial, and on the rare occasions when he lost he always took as much interest in playing the game over afterwards as when he had won, and never made excuses for losing. Of all my opponents, surely he was the most imperturbable. Onlookers might chatter, whisper, fall off chairs, make a noise of any kind, and it seemed not to disturb him; even when short of time, he just sat with his hands between his knees, thinking, thinking."
Michell's wife Edith (maiden name Edith Mary Ann Tapsell) was British women's champion in 1931 (jointly), 1932 and 1935, and played alongside him for Kingston & Thames Valley.
Joseph Henry Blake (2436) finished equal first in the British championship of 1909, but lost the play-off to H.E. Atkins. There is a magnificent king hunt attributed to Blake in 1891 which has been lauded in chess anthologies, but chess historians have cast doubt on whether it was correctly attributed. His book, Endings for Beginners, was published in 1901. He was British correspondence champion in 1922. The Surrey Comet of 14 October 1922 reported that he had won the club knockout tournament and given a simultaneous display (won 15, drew 1, lost 6) against 22 players of the Thames Valley Club. At Hastings, he scored wins against Fred Yates (2472) and Edgard Colle (2481) and drew with Géza Maróczy (2681). These games were played in the early 1920s when he was already in his sixties, and he went on to win the Kingston & Thames Valley club championship six times in the 1940s, his last win coming in 1949 at the age of 90.
Other notable former members include the tax lawyer E.G. Sergeant (2377), who came second alongside R.P. Michell in the 1907 British championship, and the chess author P.C. Griffiths (2275), who co-wrote the book Secrets of Grandmaster Play (1987) with John Nunn.

---
We would like to capture more of the history of the club, and intend to develop this page. If anybody has material relating to the club, it would be gratefully received. Please come along to the club on a Monday with any reminiscences, and discuss how we can access any photographs or other memorabilia you have.
Photo archive
July 2022 : Peter Lalić receiving trophy from club president John Foley for winning the First Kingston Invitational

David Maycock, Peter Lalic, Vladimir Li March 2022

Alexander Cup Final 2018: John Nunn v Chris Briscoe; Martin Jogstad playing on board two

David Maycock wins Kingston club blitz, August 2021. Ljubica Lazarevic presents the trophy

Willoughby Arms blitz trophy

A new generation of players joined during lockdown. Willoughby Arms garden 'beach hut', 2021

Beer, chess and sunshine in the pub garden, summer 2021, Willoughby Arms

Masterclass from Jesper Hall, Willoughby Arms, 2020

Colin Lyle sharing a joke with Alan Scrimgour, Willoughby Arms, 2019

John Foley giving a talk on 'Fighting Chess', Willoughby Arms, 2019

Ljubica Lazarevic presenting the evening blitz award to John Foley, 2019

Ken Inwood, British U18 champion 1953, playing in simul against IM Stefan Löffler, 2019

Kingston RapidPlay, 2018

Kingston RapidPlay, 2018: Genc Tasbasi v Nick Grey

Kingston RapidPlay post-mortem, 2018: (clockwise from bottom left) John Foley, John Bussmann, Ed Mospan, Genc Tasbasi, Julian Way, Olga Eleftheridou, Stephen Moss

Gavin Wall v Richard Bates, Kingston RapidPlay, 2018

Battersea Summer League, 2018: Ljubica Lazarevic, Genc Tasbasi, John Bussmann, Julian Way

Ljubica Lazarevic marking up Swiss blitz pairings, Druids Head, 2018

John Nunn simul v Genc Tasbasi with Ed Mospan looking on (London Chess Classic, 2017)

Kingston club AGM, Druids Head, 2016

Post-match gathering, Druids Head, 2015

AGM Sep 13 at ASDA. From left: Alan Scrimgour, Nick Grey, ?, Julian Way, Peter Roche, Chris Clegg, Ken Inwood

Club night at ASDA Superstore in Roehampton, September 2012

John Nunn

Veteran organiser and former Surrey association president Bill Waterton's final visit to Kingston Chess Club (at the now demolished Quaker Hall, Eden Street) c.2011

Two club legends, now sadly deceased: Chris Clegg with Bill Waterton c.2011

Edith Michell (1872-1951), wife of R P Michell. Three-times British women's chess champion. (Photo: British Chess News)

Mir Sultan Khan

Joseph Henry Blake

R. P. Michell

E.G. Sergeant
Historic club venues
The club has played at a wide range of venues during our long history. We have moved on for reasons including a desire to be in central Kingston, the cost of rent, an unwilling janitor, not drinking enough alcohol, drinking alcohol (when we were not members of the host working club), inflexible landlords, two world wars, etc.
A collection of newsletters from the 1970s through to the noughties.
Newspaper archive
A set of newspaper clippings from the 1900s to the 1970s
Chess sources
The Surrey County Chess Association maintains records of team results and the names of officers going back to the 1880s.
The Southern Counties Chess Union comprises Surrey, Middlesex, Essex, Kent and other counties which jointly engage in organising county matches and tournaments. Historically, the counties were very important in running chess (see an overview by Anthony Fulton), but their significance has declined with the advent of the Four Nations Chess League (4NCL) and online chess. There are many references to Surrey and some to Kingston in the SCCU bulletins.
Bill Waterton was chairman of both Kingston Chess Club and the Surrey County Chess Association. He organised the centenary event for the club in 1975 and also instigated the Surrey Chess Congress in the same year. He penned a short history of the club.
Several clubs in the Surrey and Thames Valley Leagues have a history section on their website. Many of these club histories only relate to the "modern" manifestation of the club after 1950 based upon extant records and the memories of longtime club members.
Hutchings Trophy
A club trophy with engraved names 1946-69.
Chess Club Championship Cup
A silver cup with panels inscribing the winners of the club championship from 1931.
See also a historical account of the SCCU trophies.
Kingston Chess Club website and social media
The club has had a website since 2009. Details about its creation may be found here. The club started its Facebook account in September 2010 and its Twitter account in November 2015. The Facebook account was closed in July 2022 having served its original purpose.