Famous members
Kingston has always been a competitive chess club and has numbered among its membership some famous names. The grandmaster, former British champion and world chess problem-solving champion John Nunn played for the club (he made a surprise reappearance as recently as 2018 in the final of the Alexander Cup), as did the world class Pakistani maestro Sultan Khan in the 1930s (though the latter obviously did not return for Kingston in that Alexander Cup match).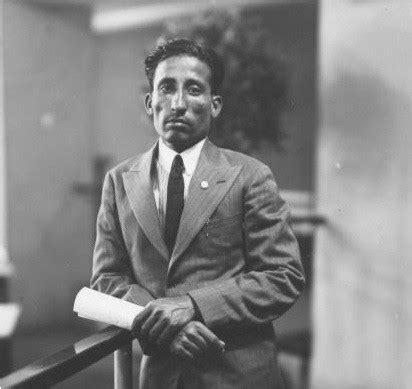 Extract from RN Coles biography of Mir Sultan Khan:

The notes about the various events in the main body of this book will give the full details of his career in European chess which came to an end with his final return to India at the very end of 1933. During these years he played many matches for Middlesex and later for Surrey, and a number also for the Imperial Chess Club and for Kingston & Thames Valley C.C., where I had further opportunities of the coming into contact with him being the club secretary at the time. He was always charming and congenial company, though he never became acclimatised to or happy about our climate.
Other notable members
Other notable former members include Joseph Blake, E.G. Sergeant, Reginald Pryce Michell (British amateur champion), his wife Edith Michell (three times British women's champion) and the chess authors P.C. Griffiths and R.N. Coles.
Joseph Blake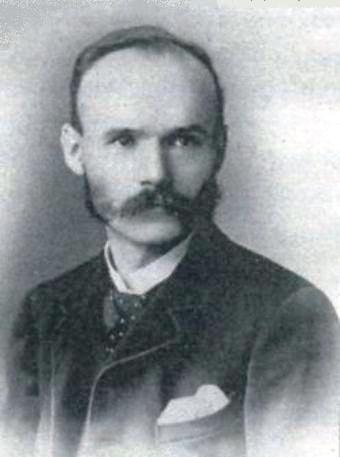 One of the strongest players ever to be a member of the club was Joseph Henry Blake, who was born on 3 February 1859 in Farnborough. He played in the famous North v South match in 1892. The Surrey Comet for 14 October 1922 reported that he had won the club KO tournament and had just given a simultaneous display (won 15, drew 1, lost 6) against 22 players of the Thames Valley Chess Club (which had amalgamated with Kingston Chess Club in 1914).
Blake was British correspondence champion in 1922 and also finished equal first in the British championship of 1909 but lost the play-off to Henry Atkins. At Hastings, he scored wins against Fred Yates and Edgard Colle and drew with Géza Maróczy. These games were played in the early 1920s when he was already in his sixties, but he went on to win the Kingston Club Championship 20 years later – in 1942, 1944, 1945, 1946, 1948 and 1949 (the last, amazingly, at the age of 90!). He died in Kingston in 1951.
Blake's book, Endings for Beginners, was published in 1901. It is now available as an ebook from chesscentral. There is an article about him on wikipedia. There is a magnificent king hunt attributed to Joseph Blake in 1891 (see chessgames) which has been lauded in chess anthologies, but chess historians have cast doubt on whether it was correctly attributed.
Historic club venues
The club has played at a large number of venues during its history:
Pre-1927: The Scotch Café, Kingston Bridge
1927: Ye Olde Post House
c.1929: the Zeeta Café (previously the Scotch Café)
1937: Penrhyn House
1940: The drawing room of Dr T.W. Letchworth, the club president
(enemy bombs having damaged Penrhyn House)
1941: Penrhyn House
1947: Tiffin Boys' School
1951: Richmond Road County School
1964: Bonner Hill Road School
1967(?): Kingston Workmen's Club, London Road
Nov 1970: All Saint's Church Hall, Ashdown Road
Feb 1971: The Castle pub, the Fairfield
Late 1971: The Grove Tavern, off Hawkes Road
1972(?): The Friends' Meeting House, Eden Street
2003: The Royal Oak pub, New Malden
2007-May 2012: The Friends' Meeting House, Eden Street
Sep 2012: Asda superstore, Roehampton Lane
Sep 2015: The Druids Head, Market Square
Sep 2019: The Willoughby Arms
March 2020 – July 2021 Zoom (during Covid pandemic)
July 2021- present: The Willoughby Arms
We would like to capture more of the history of the club, and intend to develop this page. If anybody has material relating to the club, it would be gratefully received. Please come along to the club on a Monday with any reminiscences, and discuss how we can access any photographs or other memorabilia you have.
Surrey honours
The records show that Kingston has won the Surrey Trophy, the premier division of Surrey chess clubs, on only one occasion, in our centenary year 1974-75. In addition, under the name of the Thames Valley Club, it won 50 years earlier in 1924-25. The club target is to try to reach prominence again by 2025, when it celebrates its 150th anniversary.
Kingston has won the Alexander Cup (the Surrey club knockout competition) five times – in 1928, 1932, 1946, 1975 and 1976. In 1928, as Thames Valley, it defeated Thornton Heath & Norbury 7½-2½ (see press report below). In 1946 it defeated Croydon 5-3. It narrowly lost to Surbiton in the final of the Alexander Cup in 2018 in a famous match in which grandmaster John Nunn made his first appearance for 44 years for the Kingston club, for whom he first played as a junior. It marked the first time that Surbiton had won the coveted trophy.
Photo archive
Alexander Cup Final 2018: John Nunn v Chris Briscoe; Martin Jogstad playing on board two

David Maycock wins Kingston club blitz, August 2021. Ljubica Lazarevic presents the trophy

Willoughby Arms blitz trophy

A new generation of players joined during lockdown. Willoughby Arms garden 'beach hut', 2021

Beer, chess and sunshine in the pub garden, summer 2021, Willoughby Arms

Masterclass from Jesper Hall, Willoughby Arms, 2020

Colin Lyle sharing a joke with Alan Scrimgour, Willoughby Arms, 2019

John Foley giving a talk on 'Fighting Chess', Willoughby Arms, 2019

Ljubica Lazarevic presenting the evening blitz award to John Foley, 2019

Ken Inwood, British U18 champion 1953, playing in simul against IM Stefan Löffler, 2019

Kingston RapidPlay, 2018

Kingston RapidPlay, 2018: Genc Tasbasi v Nick Grey

Kingston RapidPlay post-mortem, 2018: (clockwise from bottom left) John Foley, John Bussmann, Ed Mospan, Genc Tasbasi, Julian Way, Olga Eleftheridou, Stephen Moss

Gavin Wall v Richard Bates, Kingston RapidPlay, 2018

Battersea Summer League, 2018: Ljubica Lazarevic, Genc Tasbasi, John Bussmann, Julian Way

Ljubica Lazarevic marking up Swiss blitz pairings, Druids Head, 2018

John Nunn simul v Genc Tasbasi with Ed Mospan looking on (London Chess Classic, 2017)

Kingston club AGM, Druids Head, 2016

Post-match gathering, Druids Head, 2015

Club night at ASDA Superstore in Roehampton, September 2012

Veteran organiser and former Surrey association president Bill Waterton's final visit to Kingston Chess Club (at the now demolished Quaker Hall, Eden Street) c.2011

Two club legends, now sadly deceased: Chris Clegg with Bill Waterton c.2011

Edith Michell (1872-1951), wife of R P Michell. Three-times British women's chess champion. (Photo: British Chess News)
Newsletter archive
Newspaper archive
1928
Alexander Cup Final result: Thames Valley (headed by Michell and Blake) 7½ Thornton Heath & Norbury 2½ (Croydon Times 17 October 1928)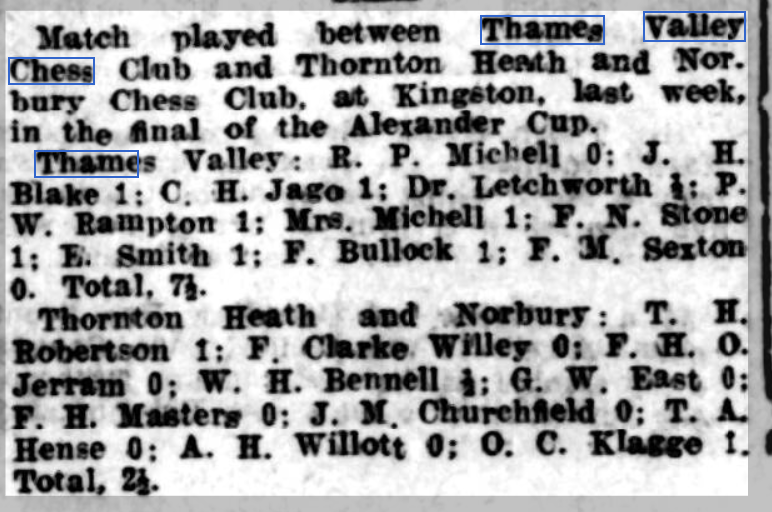 Other sources
The Surrey County Chess Association maintains records of team results and the names of officers going back to the 1880s.
The Southern Counties Chess Union comprises Surrey, Middlesex, Essex, Kent and other counties which jointly engage in organising county matches and tournaments. Historically, the counties were very important in running chess, but their significance has declined with the advent of the the Four Nations Chess League (4NCL) and online chess. There are many references to Surrey and some to Kingston in the SCCU bulletins.
Bill Waterton was chairman of both Kingston Chess Club and the Surrey County Chess Association. He organised the centenary event for the club in 1975 and also instigated the Surrey Chess Congress in the same year. He penned a short history of the club.
Hutchings Trophy
A club trophy with engraved names 1946-69.