South Norwood v Kingston, Lauder Trophy, West Thornton Community Centre, 5 October 2023
This was always going to be a tough match and so it proved. The rules of this excellent competition dictate that the collective ratings of the six players in a team must be less than 10,500. This tends to make for very close and exciting matches, and this was no exception.
South Norwood have won the Lauder four times in its 23-year history and are expert at bringing in their team just under the 10,500 threshold to maximise their chances. They had the strong Tariq Oozeerally on board 1, the dangerous (and underrated) Simon Lea on 2, and solid players all the way down to captain David Howes on 6. We knew this was a difficult assignment.
Jon Eckert, playing with the black pieces on board 3, drew first blood for Kingston with a fine win over Kaddu Makusa, opening up the g-file and using his queen and rook to inflict an irresistible mate. It looked very good for the away team because Dieter McDougall, making his debut for Kingston, was a piece up against John Ganev on board 5 and seemed nailed on to make it 2-0. But he got into horrendous time trouble, tried to play for an age on the increment and eventually blew up, falling into a mating net. South Norwood were back in the hunt.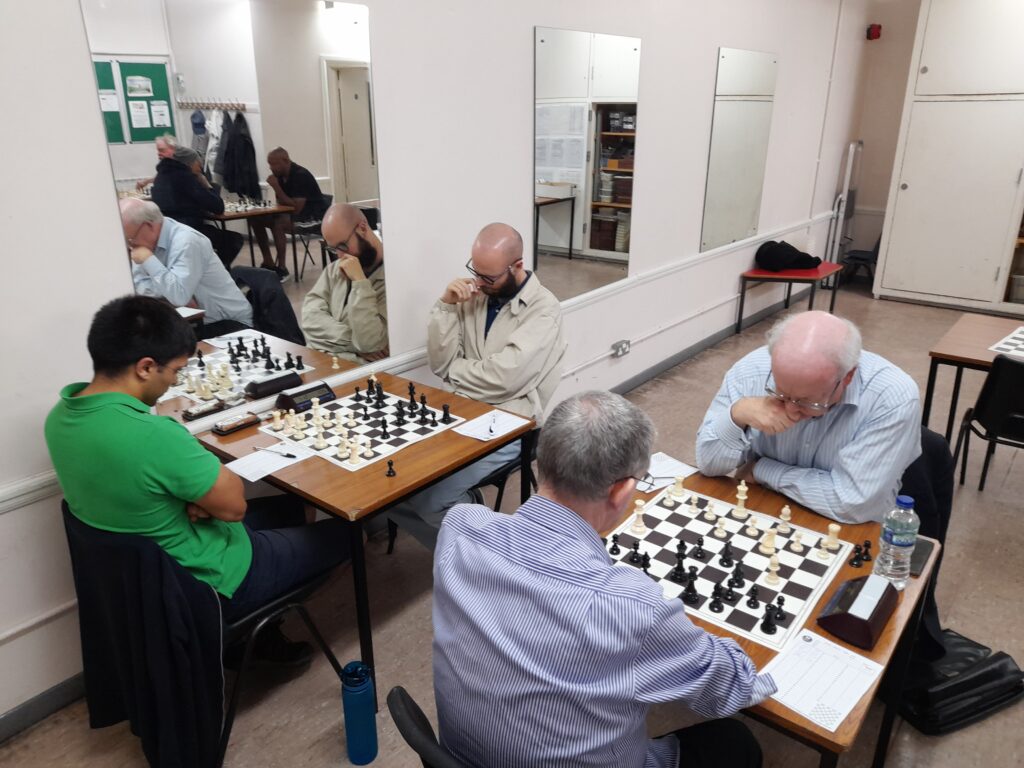 Another new Kingstonian, Ergo Nobel, drew with the experienced Howes on 6 and Sean Tay was doing fine against Ken Chamberlain on 4, but Peter Andrews was in trouble against Simon Lea on board 2, having played what he later admitted was an unsound sac of piece for two pawns. Everything pointed to the match hingeing on the heavyweight clash on board 1 between Oozeerally, with White, and the ever reliable (indeed inspired) Peter Lalić, who has often been Tariq's nemesis in these clubs' encounters in the past.
This was a tremendous game, later described by a veteran Kingstonian as "one of the most amazing I've ever seen". This was the position after White's 14th move:
Four moves later, Black's queen was trapped in the opposite corner:
But in moving between prisons, it had managed to account for both White rooks. Tariq resigned in a position which was hopeless, despite Peter's queen still resting on h1. A quite extraordinary game, over in 19 moves.
Peter's win and Sean's eventual draw on board 4 took Kingston to 3-2, which guaranteed victory on board count – the top boards are given higher numerical values in the event of a tie and Kingston had won on boards 1 and 3. Peter Andrews battled on and got a pawn to the seventh, but with knight and two rooks against queen and two rooks it was going to take a miracle to get it any further. No miracle was forthcoming, so the match ended up tied at 3-3. But the wins by Lalić and Eckert were enough to secure a 12-9 win on board count, and Kingston march on to the next round, where we will face Coulsdon or Dorking.
Stephen Moss, Kingston Lauder Trophy captain