Thames Valley League division 1 match played at the Willoughby Arms, Kingston on 15 May 2023
This was the first team's last league match of the season – there is just the Thames Valley Knockout final to come on 22 May – and they signed off in emphatic style with a 5.5-0.5 win (later adjusted to 4.5-0.5 for reasons explained below) over Surbiton A. This was pretty well the strongest team of regulars we could muster, and David Maycock, Vladimir Li, Silverio Abasolo, Will Taylor and captain David Rowson all recorded victories on the night.
Surbiton's David Scott held Peter Lalić to a draw on board 2 to prevent a whitewash, though Vladimir Li was unhappy about the circumstances of his win on board 3. Vladimir felt that his opponent had been distracted by a disturbance in the playing room – another player was complaining that his clock had not been working properly – in a horribly double-edged position in a time scramble, and he asked the league to consider declaring the game void.
Will Taylor's game against Paul Dupré was the first to finish. Paul played Alekhine's Defence and the game was super-sharp, with both players throwing caution to the wind – it is end of term after all. In this position, Will played 10. g4, which is not necessarily objectively the best move but certainly succeeded in setting up a slugging match.
In his post-match analysis, Will reckoned this was the key position:
Paul played 15…h5, which Will says weakens the kingside. "After that it was one-way traffic. 15…e6 was the way to go, with the idea 16. dxe6 Bc6 17.Nf3 Qe7. Black has activated his pieces and will pick up the pawn at his leisure. With the centre open he will always have counterplay. White will continue to attack with Kf1 and h5, but Stockfish gives a slight advantage to Black."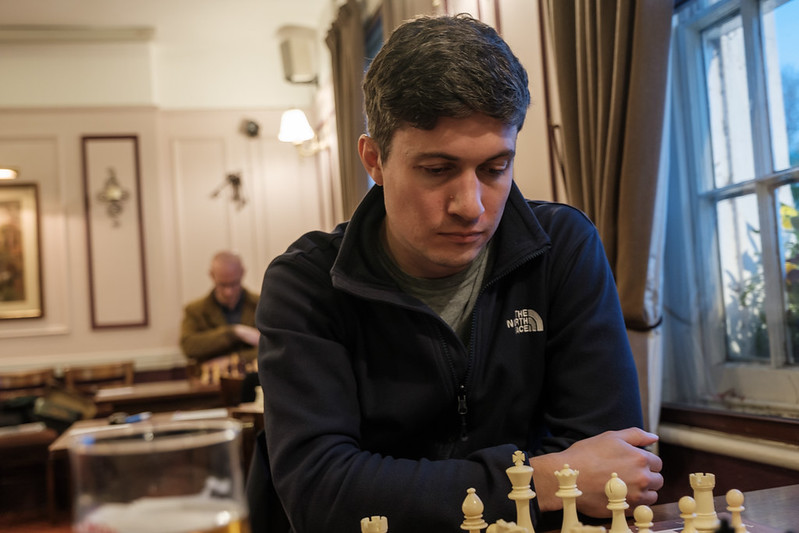 On board 1, David Maycock was up against Altaf Chaudhry, always a difficult opponent. Altaf played a Sicilian, and this was the position after 16 moves with White to play:
David plays a wonderful move here, which he had clearly been preparing for some time: 17. Rxf7! Grabbing the rook would lead to disaster: 17…Kxf7 18.Qxd7+ Kf8 19.Rf1+ Bf5 20.Qxe6 g6 21.Qf6+ Kg8 22.Bf3 h5 23.Bxa8. Altaf sensibly didn't take it and defended well, but used so much time pondering his response to David's bolt from the blue that he lost on time. Definitely a candidate for move of the season and brilliantly calculated by David.
On board 4, Silverio Abasolo continued his superb run of recent form, showing his characteristic directness and aggression to beat Surbiton captain Angus James with the black pieces, and on board 6 David Rowson also won with Black against Nick Faulks. "The story of the game was that Nick gave up a pawn to try to get a kingside attack," David said afterwards, "but it turned out that he couldn't make anything of this and in the end I rather fortuitously engineered a position where he either had to give up a rook or his queen."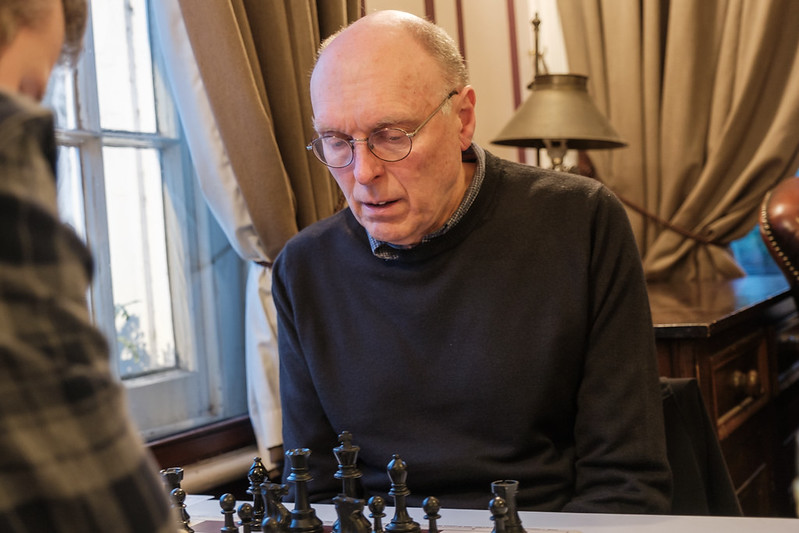 Typical modesty from the Kingston captain, who has lead his team to an astonishing 19 wins in 20 matches across both the Surrey and Thames Valley leagues. The only match the Rowsonites did not win was the surprise home draw against Surbiton B back in early February. So a 95% win rate. Should we fret about half-point that got away? Didn't the makers of Ming vases put in the odd flaw because they believed only God could achieve perfection? This will be our get-out too (though secretly that off-night still rankles).
The draw on board 2 between David Scott and Peter Lalić was a largely technical struggle. So technical, in fact, that Peter wondered afterwards if he was losing his appetite for what might be called bread-and-butter chess. "I did not enjoy this game," he complained. "I miss sacrificial attacks!" One cannot be Tal every night, Peter. Sometimes you have to play like Petrosian.
Vladimir Li's vigorously contested game against Liam Bayly ended with Liam making a game-ending blunder. But Vladimir, who is a great chess purist and thought Liam generally had the better of the game, believed his opponent's concentration had been affected by the noises off and asked that it either be declared a draw or voided completely. After a week's deliberation, the Thames Valley League acceded to this request and the result of the Li-Bayly game was annulled, making the official match score 4.5-0.5. One of the stranger episodes in Thames Valley chess history.
Stephen Moss